Guilin Transportation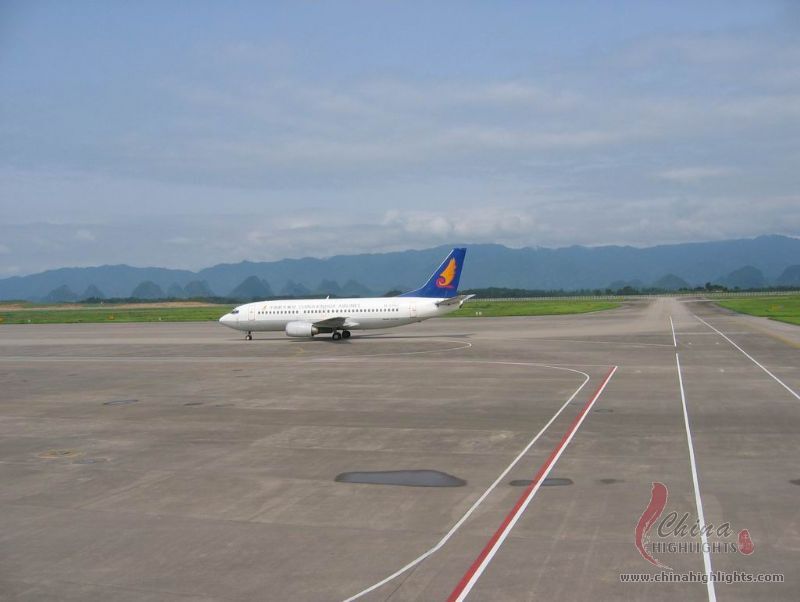 There are many ways to get to Guilin. Good air, train and bus services are available from most part of China and abroad. The most convenient to get around for tourists is to take a tour (Check out our Guilin tour packages). Taxis are plentiful and cheap. The city is flat so biking is also a good option.
Air
Flying is the most convenient way to travel to Guilin . There are many domestic airlines serving Guilin from many parts of China. Direct flights to and from Hong Kong, Japan, Korea, Macau and Thailand are also available.
Guilin's small airport, Guilin Liangjiang International Airport, is 30 kilometers west of the city (about a 40 minute, 80 to 100 yuan taxi ride). Most large hotels have a shuttle bus service available (with prior notice). Other airport shuttles cost 20 yuan and operate without a fixed schedule. A shuttle bus (20 yuan) leaves for the airport every 30 minutes from the CAAC (Civil Aviation Administration of China) building on Shanghai Road.
Railway
China's vast train network is focused on serving China's huge population, who understand how the train network operates and, of course, speak and read Chinese. Traveling by train is certainly achievable and can be a great way to get to know the people, the culture and to see the countryside at a more leisurely pace. It is also a much cheaper means of transport that traveling by air.
Bus/Coach
Intercity express coaches arrive and depart from the intercity station. The coach network in China is very good. Most routes from major cities are serviced by new long distance coaches that are comfortable and have seatbelts fitted to the coaches. Tickets are obtained from the bus station.
Most short range buses that service nearby towns like Yangshuo and Xing'an leave from the old railway station in the west. These buses should be inexpensive (RMB10-20 to Yangshuo).
Cruise Boat to Yangshuo
The most popular and spectacular way to get from Guilin to Yangshuo is by taking a tour on the Li River.
City Transportation
Taxis are relatively inexpensive compared to other cities. Bicycles can be rented by the day at hotels throughout Guilin (RMB15-20) and at many cafes and hostels in Yangshuo (RMB10).

China Highlights
Planning a trip? Ask us here 800-2682918 (USA & CA)
86-773-2831999 (Int'l)
Q:
Evelien Huismans
Asked on 2013-09-23
Reply
Hi, is there a bus from Guilin to Hanoi? How long would it take me by bus and where would I book? I will leave Guilin on Monday 28 October. Thanks, Evelien
There is no bus from Guilin to Hanoi, you can take train or bus to Nanning first, then take the direct bus from Nanning to Hanoi.
Lily Guo Replied on 2013-09-23
Q:
Clemence
Asked on 2013-09-08
Reply
Hello, i''m arriving at guilin airport at 1:10 AM, so i''d like to know if there will still be some shutlle buses available to go to CAAC. Thank you !
Dear Clemence, Yes, the shuttle bus will wait for the last flight and drive to the CAAC building. Doris Huang Replied on 2013-09-10
Q:
LEONG MEE YOYE
Asked on 2013-08-08
Reply
HI, i want to go to guilin on 06.09.13 from guang zhou to guilin and i want to take a bus or coach to guilin . That day i need to reach at guilin as early as can. Can u tell me where buy the ticket and what time is the early bus to guilin? thank you
Dear LEONG, You could take a bus from Guangdong province bus station(广东省汽车客运站), which is located at No.145, Huanshi West Road, Yuexiu District(越秀区环市西路145号). The earliest bus sets off at 9:10am, it costs about CNY160/US$26 per person. I suggest you buy the ticket there and check the exact information. Lussie Lu Replied on 2013-08-09
Q:
M/ Wib.
Asked on 2013-04-24
Reply
Are there have bus from Guilin to Huangshan?
Sorry, no such bus.
Whitney Liao Replied on 2013-04-24
Q:
Brittani
Asked on 2013-03-27
Reply
Hello!What is the best way to take a bus from Yangshuo to Shanghai? I know we would have to transfer in Guilin but what is easiest from Guilin to Shanghai. Please include some prices!!
Dear Brittani, There is no direct bus from Yangshuo/ Guilin to Shanghai. I suggest you take a train or flight from Guilin. It takes about 20-24 hours by train and about 2 hours by plane. You could find a good one and book the flight ticket on our website directly. Please click:http://www.chinahighlights.com/china-flights/ Lussie Lu Replied on 2013-03-27
Guilin Travel Guide