Guilin Transportation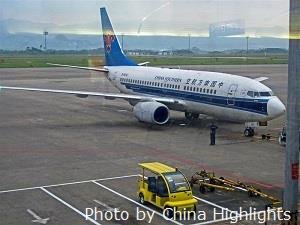 Guilin Liangjiang International Airport
There are many modes of transport you may use to get to Guilin; still more ways to get around it when you're there. Air and rail links, as well as bus services, are manifold given the attraction of Guilin as a tourist destination both for Chinese and for visitors from abroad. Upon arrival, taxis are plentiful and cheap, while getting about under your own steam with a bike is always an option given the flat terrain between Guilin's characteristic karst peaks.
Nonetheless, it can all be a little confusing for the first-time visitor and so here is our guide to getting there and getting around once you've arrived
Air
Flying is the most convenient way to travel to Guilin. There are many domestic airlines serving Guilin from many parts of China. Direct flights to and from Hong Kong, Japan, Korea, Macau and Thailand are also available, as well as others as Guilin's airport increases its options for international travel.
Guilin's small airport, Guilin Liangjiang International Airport, is 30 kilometers west of the city (about a 40 minute, 80 to 100 yuan taxi ride). Most large hotels have a shuttle bus service available (with prior notice). Other airport shuttles cost 20 yuan and operate without a fixed schedule. A shuttle bus (20 yuan) leaves for the airport every 30 minutes from the CAAC (Civil Aviation Administration of China) building on Shanghai Road.
Railway
China's vast railway network is largely concentrated in the east of the country, tending rather to peter out the further west you travel. Guilin is well-catered for, however, and now has high-speed links to several Chinese destinations making the rail option still more comfortable and convenient, albeit somewhat more expensive. Though rail travel can seem anarchic in the extreme on the more regular trains, with care and attention the rail network is readily usable, and can be something of an adventure in itself. It's certainly a great way to get up-close and personal with the locals in the hard sleeper compartments, though soft sleeper is better if you want some privacy. Hard seat compartments are not recommended. This can be not only rather too crowded and uncomfortable, but also considerably more risky when it comes to protecting your luggage.
Bus/Coach (Intercity)
Intercity express coaches arrive and depart from the long-distance coach station, one bus stop north of the main railway station on the main Zhong Shan Road. This proximity is handy should you want to compare prices and journey times in deciding between taking a coach or a train, the distance between the two being a fairly easy walk of a kilometer or less.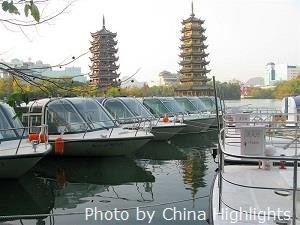 Two Rivers Four Lakes cruise boats
Ticket prices on coaches tend to be cheaper than on trains, but there are some penalties for using them. Roads between cities tend, sometimes, to be less than ideal and the ride can be bumpy. Toilet facilities may be absent, and stops few and far between. Arrivals are more frequently late, given the anarchic nature of the road system and, for those of a nervous disposition, the way the Chinese drive can be a white-knuckle experience. This is particularly true if you get an overnight sleeper coach with your hold on your narrow bed board feeling precarious at best as the bus rides the bumps and swerves around the opposition, (or so fellow road-users seem to be regarded by drivers).
With that list, you may wonder why you would bother? Cheapness aside, however, there are some advantages over the rail network. Given the relative unpopularity of the coach services, these can be a good bet for seats if rail journeys are booked out, particularly problematic over the Spring Festival, (Chinese New Year), period when pressure on the rail network is enormous and trains are almost invariably overbooked. Another advantage is travel time. In many instances the journey may be quicker than by train, given that the line out of Guilin heads south first to Liuzhou before turning itself in the right direction for those taking a northbound journey. Some southbound destinations may also be quicker given the course the railway line has to take in order to swing around the hills in the area. Roads are able to take some steeper inclinations as short cuts.
You will find the coaches cover most intercity destinations, so don't rule them out. They may suit your requirements from time to time, and enquiries are worth making, particularly if you are stuck.
Bus/Coach (Short-Range)
Short-range buses may also be caught from the long-distance bus station, the price range usually in the area of RMB10 to RMB 20. For further information on two of the more popular destinations, travel there, and transportation once you arrive, see our items on Yangshuo and Longsheng.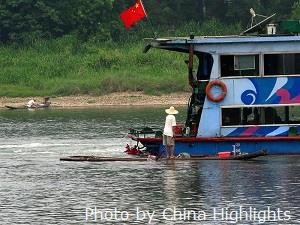 Li River cruise ship
Coaches to more popular destinations, Yangshuo in particular, may also be caught from the railway station or street-side, but be warned; such services can be on rickety, aged rolling-stock, and journey times may be excessively prolonged as passengers are touted for at every street corner along the way. Moreover, such services do not appear to understand the idea of a bus being 'full', and a crowded bus for an hour or two, particularly when you find ducks and chickens amongst your fellow passengers, can be something of a strain.
Cruise Boat to Yangshuo
The most popular and spectacular way to get from Guilin to Yangshuo is by taking a tour boat down the Li River. For further information on the cruise, see our Li River Cruise item, and contact us if you would like us to make the arrangements for you.
City Buses
These may be single- or double-decker with little seeming rhyme or reason for why this route is one, that the other. Most of the rolling stock has been upgraded in recent years, but you may still find some services with elderly charabancs which, in their clattering progress, you may fear you'll end up getting out of and pushing.
If you can't identify a bus number from the front readily in its approach, try having a look on the rear-view mirror on the sidewalk side and squinting.
Getting On and Off
Buses don't need to be flagged down. They will invariably stop. Usually they will invariably stop. Okay, in theory there's no need to flag a bus down, but you may want to anyway if they appear to have forgotten they invariably stop.
Most buses have a front entrance, strictly entry-only; and a mid-exit, equally limited to the purpose. Don't try and get on in the middle or off at the front.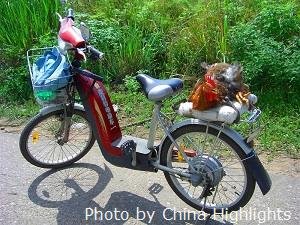 Ebike and chicken
When getting on the bus, look both ways. Electric bikes and other side-of-the-road users are notorious in Guilin for going every which way but up. The same goes when alighting. For safety's sake, put your head — carefully — out the door and check in both directions first if not getting off in a crowd.
Most buses have maps of their routes inside, and if you sit by the sidewalk-side window you will be able to see the names of stops as you pass them and to chart your progress if you find it difficult to decipher the Chinese announcements.
Pricing
Guilin's bus service makes life simple for the traveler. In the vast majority of instances, there is a flat rate payment of RMB1 or RMB2, regardless of the distance traveled. The price is often marked clearly at the entrance to the bus, particularly if the route is RMB2. Pay as you enter. No change will be given, so be sure to have the right amount.
What distinguishes the two services is the latter having air conditioning. Appealing as this may sound on a hot day, the likelihood is that you'll get on the bus to find all the windows open and the blessedly cool air flying out the window. Fresh air, even if clammy, is more healthful in the opinion of most Chinese, and many can't get enough of it. There was a time when drivers would protest loudly about these open windows, but they appear to have given up.
If you are staying for a while, it may be worth picking up an electronic bus pass. These cost RMB30, and are available from an office on the opposite side of the road to Guilin's railway station. Go past the bank and down the alleyway to where it bends left, and the office is on the corner. The advantage is a 10% saving on each journey taken, so this is only worth considering either for convenience, or because you intend taking a few hundred journeys to cover the initial cost of the card.
In the past, a very few routes were made free, but that practice seems to have fallen out of favor in recent times.
Etiquette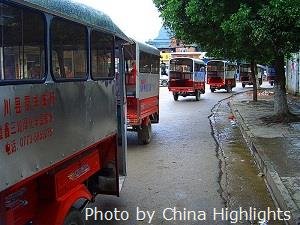 Guilin Auto Rickshaws
There is a tendency for people to barge onto buses, though year by year the problem is ebbing. More and more people, (most notably younger men), are inclined to hang back, some so politely that you may find yourself doing to 'After you, no, after you' dance.
There was a time when people would also barge their way off the bus as if fearful there would not be room on the pavement, but thankfully this has seen a still more marked decline.
All buses are strictly non-smoking and, unusually for non-smoking areas in China, the vast majority of smokers abide by the rule.
It is usual to stand and give a seat for people in obvious need, such as the elderly or women in an advanced state of pregnancy. However, there is also a tendency to give up seats for children who seem quite old enough to look after themselves.
If you expect people to take window seats to permit easy access to the aisle seats for oncoming passengers, you will be disappointed. Though people will move if you indicate the window seat next to them, they can do so fairly grudgingly. Be patient with this, it can be easy to become frustrated when squeezing your way past someone who is making it fairly evident they would rather you sat somewhere else, even if there is nowhere else to sit.
Buses can be exceptionally crowded, particularly during the rush hour, and no limit to the number of standing passengers is adhered to. Be prepared at such busy times to find your nose in someone's armpit while someone else's baggage appears to be trying to gain intimate access to your nether regions. Try to reflect philosophically upon the fact that someone has their nose in your armpit, and your luggage is probably being equally bold in its own explorations. Please be wary in these situations, and at crowded bus stops in busy periods — it is a pickpocket's paradise.
Some Main Bus Routes
99 — RMB2, air-conditioned, this bus follows the main route north to south through the city, Zhongshan Road. At its northern end, it passes Guilin North railway station, moving south past Yu Hill Park; Diecai Park; Solitary Beauty Peak; the city's central square and the central lakes at the Glass Bridge; the coach station; the main railway station; and Nanxi Park.
10 — RMB1, this bus is useful for the old university district on the north-eastern side of the Li River. From the Botanical Gardens, it joins Zhongshan Road at the main railway station, following it in accordance with the route above, (99), to the city center in heading north. There it turns right to cross the Liberation Bridge, then on past Seven Stars' Park; the Guilin University of Technology; the Medical University; terminating at the Guilin University of Electronic Technology old campus.
5 — a new bus route that heads out into the new university district south of the city, out in the wilds on the road to Yangshuo. The most convenient starting place for this is the main railway station, though you can pick it up along the Zhongshan Road beyond that. However, be warned, for some reason best known to itself the bus does not stop at all the usual places, having its own stops separate from some of them along the way. For that reason it may be best to take the bus from the railway station so as to avoid confusion.
16 — a single-decker bus, unusual in that it has an RMB2 ticket-price, the 16 bus follows a strangely meandering route which proves useful sometimes. At its easternmost end, it begins somewhere around the back of the Guilin University of Technology, Guangxi Normal University and the Guilin Teachers' College on Putuo Road heading south. It then joins the Lijiang Road to pass Jiatianxia Square and the Conference Center, and thence on to the Shanghai Road. Common sense would then see it head off to the railway station, but it doesn't. Instead it takes a left, heading north past Elephant Trunk Hill Park, joining Zhongshan Road a little south of the Glass Bridge and the lakes. Here it changes its mind and heads north again, following the same route as the 99 until it finally does indeed reach the railway station, at which point it turns off and heads for the Botanical Gardens for reasons of its own. Though undoubtedly eccentric in its trajectory, the 16 may prove surprisingly useful in its meanderings in joining otherwise unexpected locations and in its opening-up of the east of Guilin.
3 — with most of the sights of the city covered in the above routes, the number 3 fills a useful gap. Following the route along Zhongshan Road from the railway station to the city center as above with the 99, it takes a left and heads west, enabling access to the very extensive Xishan Park, before becoming over-adventurous, turning west again and losing itself completely somewhere out in the middle of nowhere. We would advise the traveler to get off at Xishan Park before that happens.
Other City Transportation
Taxis are relatively inexpensive compared with other cities. However, be warned; you may find that you are charged an additional RMB1 or RMB2 over the price on the meter given local bylaws on fuel surcharges. You will probably see a notice to that effect on an often torn piece of paper stuck on the dashboard in front of the passenger seat but, of course, it is in Chinese. It is also best not to take a taxi from those waiting within the railway station concourse. The drivers there have a habit of bargaining rather than using the meter, so flag one down from the road outside the station. Click here to learn how to take a taxi wisely.
Bicycles can be rented by the day at hotels throughout Guilin (RMB15-20) and at many cafes and hostels in Yangshuo (RMB10). However, if you are using a bicycle in the city center, please be wary. Chinese drivers can be rather anarchic, and though Guilin is well-served by bicycle lanes on main roads, getting across intersections can be risky, while some drivers quite like the idea of using bicycle lanes as short cuts. Beware also the silent but deadly electric bikes, particularly when they're heading the wrong way.
If you're thinking of using either taxis or bikes to get around Guilin, why not contact us so we can arrange personal transportation for you? Go to the link at the bottom of this item, and let us take the hassle out of the language barriers and steer you clear of some of the difficulties facing a newcomer to the city in providing you with your own personal transport options.
Other Unconventional Modes of Transportation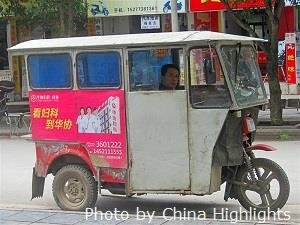 Guilin Auto Rickshaw
As many another Chinese city, Guilin hosts a variety of more basic modes of transport for getting around the city. The most common, and most conventional of these are the motorcyclists who are not backward when it comes to introducing themselves to foreign travellers. You are sure to be hailed by several in the course of your stay in the city. Though popular, particularly with younger locals, these are not recommended both for the rather daring way in which many of the cyclists negotiate busy traffic, and for the fact of language difficulties which may lead to disputes over payments at the journey's end.
Motor tricycles, the rickshaws of the modern China, are to be found everywhere if you want a particularly jolting ride. Occasionally, at the city's edges should you find yourself there, you may have no choice and here the roads can be particularly uneven. In the city itself, though, these are again to be avoided. They are not particularly stable, and see more than their fair share of accidents on busy roads.
Alongside these, you may find other means of conveyance which we would also not recommend. A passing driver may hail you having decided to set himself up as an impromptu taxi service. However, this offers the same risks as getting into the car of any other unlicensed, (and unmetered), stranger. It is not unknown for bicycles with flatbed rear attachments to be offered for personal transportation. Again, this is a risky way of getting around and it's best to consider something more conventional.
Why Not Let China Highlights Take You Around?
If you are considering coming to Guilin and find all the options for travelling about the city rather daunting, or if you are here already and have had enough of trying to work it all out for yourself, China Highlights can offer you the option of private transport with English-speaking guide on a customized tour, tailored to your own specifications. Why not contact us and see what we can do for you?
Questions and Answers About Guilin Transportation
daman thakore
2014-03-17
Show Answer
hi, we are a group of 12 adults and are interested in taking renting a mini van for travel between Macau and Guilin along with one day cruise on the li river. Let me know the cost of renting the mini van as well as the cruise. Awaiting your prompt reply. You can also suggest any other activity in guilin. We have two days.
Hi Daman, thanks for your inquiry. I have sent you a detailed itinerary about your Guilin tour via email. Please check it. If you could not find it, please check your spam. Thanks, Whitney Whitney Liao replied on 2014-03-18
Terry Phillips
2014-01-14
Show Answer
How can I get from airport to Fast Train? I want to travel to Change ha.
Dear Terry, You could take a shuttle bus from Guilin Liangjiang Airport to Minghang Hotel which is about 2 km to the train station, then take a taxi to the train station. It take about half an hour from the airport to downtown(CNY20/US$3.3 per person). You also could take a taxi from the airport to the train station, it costs about CNY80/US$13 per car. Lussie Lu replied on 2014-01-14
Evelien Huismans
2013-09-23
Show Answer
Hi, is there a bus from Guilin to Hanoi? How long would it take me by bus and where would I book? I will leave Guilin on Monday 28 October. Thanks, Evelien
There is no bus from Guilin to Hanoi, you can take train or bus to Nanning first, then take the direct bus from Nanning to Hanoi.
Lily Guo replied on 2013-09-23
Clemence
2013-09-08
Show Answer
Hello, i''m arriving at guilin airport at 1:10 AM, so i''d like to know if there will still be some shutlle buses available to go to CAAC. Thank you !
Dear Clemence, Yes, the shuttle bus will wait for the last flight and drive to the CAAC building. Doris Huang replied on 2013-09-10
LEONG MEE YOYE
2013-08-08
Show Answer
HI, i want to go to guilin on 06.09.13 from guang zhou to guilin and i want to take a bus or coach to guilin . That day i need to reach at guilin as early as can. Can u tell me where buy the ticket and what time is the early bus to guilin? thank you
Dear LEONG, You could take a bus from Guangdong province bus station(广东省汽车客运站), which is located at No.145, Huanshi West Road, Yuexiu District(越秀区环市西路145号). The earliest bus sets off at 9:10am, it costs about CNY160/US$26 per person. I suggest you buy the ticket there and check the exact information. Lussie Lu replied on 2013-08-09
April Offer $25 Coupon
Send your inquiry before Apr. 30, 2014, and we will email you a $25 coupon.
The coupon is valid till Dec. 31, 2014, for paying tour packages worth $250 or up.
The coupon cannot be used for paying flight tickets, train tickets, hotel rooms and day trips.
Travel Advice or Question? Ask us here

China Highlights
Guilin Travel Guide