Guilin Facts
Beautiful view of Guilin
Name: Guilin (桂林; Guìlín; (/gway-leen/)
Meaning: "osmanthus tree woods"
Previous name: Guizhou
Features
Main Attractions
Most Popular Souvenirs and Local Products
Cultured pearls, landscape paintings, souvenirs, Luo Han Guo (a kind of fruit for beverages), osmanthus flowers (herbal tea), paper fans, Chinese painting and calligraphy
History
A city region renowned for its scenic beauty in China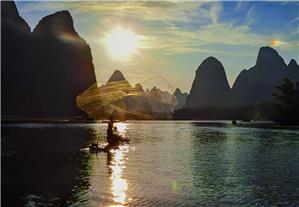 Li River, the most beautiful river in China.
Geography
Location Information
Economy
Transportation
Facts of major cities and attractions in China
Questions and Answers About Guilin Facts
Jalal
2013-07-05
Show Answer
Hi,I want to visit important and historic places in Guilin
Hi Jalal, I recommend the Mausoleum of Jing Prince, Xingping Ancient Town, Daxu Ancient Town to you. When will you come to Guilin, please? How long will you stay here? We are very glad to help arrange your Guilin tour. We are based in Guilin, on the LiRiver side, welcome to visit our office.
Whitney Liao replied on 2013-07-06

China Highlights
Guilin Travel Guide