Guilin Facts
Beautiful views of Guilin city
Name: Guilin (桂林; Guìlín; (/gway-leen/)
Meaning: "osmanthus tree woods"
Previous name: Guizhou
Features
One of China's main tourist cities
It is renowned for its mountain-river scenery.
Yangshuo and northern Guilin regions are especially scenic.
Main Attractions
Natural: Li River, Elephant Trunk Hill, Reed Flute Cave, Longji Terraced Fields, Xingping Ancient Town, Solitary Beauty Peak, Yulong River in Yangshuo, Moon Hill, Yao Mountain, Gudong Waterfall, Bajiaozhai Geography Park, Two Rivers and Four Lakes Water System

Longji Terrace in spring

Adventure: Li River Hiking, Rafting Yangshuo's Yulong River
Ancient: Ling Canal, ethnic villages in Longsheng, Qin Family's Courtyard, Huangyao Ancient Town, Jiangtou Village of Jiuwu Town, Daxu Ancient Town, The Mausoleum of Jing Jiang Prince, Sanjiang Wind and Rain Bridge
Amusement: Merryland Theme Park, Yuzi Paradise, Seven Star Park and Zoo
Read more about Guilin attractions
Most Popular Souvenirs and Local Products
Cultured pearls, landscape paintings, souvenirs, Luo Han Guo (a kind of fruit for beverages), osmanthus flowers (herbal tea), paper fans, Chinese painting and calligraphy
History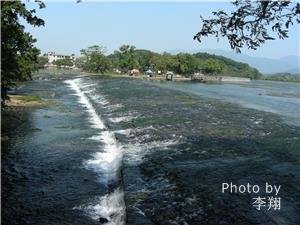 The Ling Cannel
A city region renowned for its scenic beauty in China
314 BC A small village existed at the site
214 BC The Ling Canal linked the Yangtze River and the Li River and Pearl River
507 AD The town was named Guizhou
1921 Became a base for the Northern Expeditionary Army
1981 Chosen by the government to be one of four especially protected cities
Geography
Significance of city: a favorite area for Chinese and foreign tourists
Municipality terrain: eroded limestone hills, the Li River and many streams and canals

Sunrise of Li River

Average altitude: 153 (502 feet)
Main rivers: Li River
Location Information
Municipality location: 24.20N to 26.07N, 109.61E to 111.24E; South China
Municipality Population: 5,000,000
Municipality Area: 27,809 sq km (10,737 sq mi)
Core districts and inner suburbs area: 1,000 sq km (386 sq mi)
City proper population: 1,340,000
City proper population density: 1,340/sq km (3,471/sq mi)
North to south distance (including suburbs): 28 km (17 mi)
East to west distance (including suburbs): 35 km (22 mi)
City center: Central Square (25.275 N, 110.296 E)
Average high temperature in August: 32.8 °C (91 °F)
Average low temperature in January: -5.4 °C (41.7 °F)
The weather is humid subtropical with monsoons; annual precipitation: 1901.3 mm (74.9 in).
Economy
Average annual income: 19,435 RMB (2,858 USD)
Development: developing; the city is open for foreign tourists and is famous for its scenery
Industry: 37.2 tertiary industry (tourism, service), 39% secondary (industry, construction), 18.9% primary (agriculture)
Business area: corner of Zhongshan Zhong Road and Jiefang Road (25.27N, 110.29E)
Shopping Streets: Zhongshan Zhong Road
Transportation
Guilin Liangjiang International Airport
1 main ring road
2 train stations: Guilin Train Station and Guilin North Station
1 large intercity bus station
Facts of major cities and attractions in China
Questions and Answers About Guilin Facts
Jalal
2013-07-05
Show Answer
Hi,I want to visit important and historic places in Guilin
Hi Jalal, I recommend the Mausoleum of Jing Prince, Xingping Ancient Town, Daxu Ancient Town to you. When will you come to Guilin, please? How long will you stay here? We are very glad to help arrange your Guilin tour. We are based in Guilin, on the LiRiver side, welcome to visit our office.
Whitney Liao replied on 2013-07-06
April Offer $25 Coupon
Send your inquiry before Apr. 30, 2014, and we will email you a $25 coupon.
The coupon is valid till Dec. 31, 2014, for paying tour packages worth $250 or up.
The coupon cannot be used for paying flight tickets, train tickets, hotel rooms and day trips.
Travel Advice or Question? Ask us here

China Highlights
Guilin Travel Guide