Rock Climbing in Yangshuo, Guilin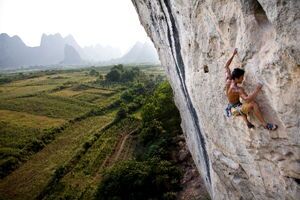 Rock Climbing in Yangshuo
Yangshuo is the most popular rock climbing destination in China. It is a backpackers mecca, famous for its tooth-like hills, only 90 minutes by road from Guilin.
Something for everyone: There are plenty of nice "juggy" beginners routes, a vast array of 5.8 to 5.10 routes, and then there is more and more being logged by the serious climbing fraternity for you to discover and try your finger tips at. Yangshuo's karst has its own guidebook being circulated locally.
Famous rock climbers to set the toughest routes in Yangshuo include Todd Skinner (first 5.13) and Chris Sharma (5.14b).
Easy access: Flat valleys between the karst hills and a network of highways and decent dirt roads mean that you never have to walk far. There are many crags within 30 minutes by minibus or cycling from the little town.
Top Rock Climbing Places around Yangshuo
Climbing Grades Described
Most local Yangshuo climbers use the USA Yosemite Decimal System by preference for grading climbs.
5.6-5.7: Most climbing beginners start from these levels.
5.8-5.9: Climbing skills and techniques are required, but not very difficult for experienced climbers.
5.10: The top level for amateurish climbers, requiring proficiency in climbing skills and techniques.
5.11-5.13: Expert level. Talent and lots of application is needed.
5.14-5.15: Only the best in the world do these.
Swiss Cheese
The crag has holes like a Swiss cheese, hence the name. The easiest grade is 5.6, and the most difficult is 5.10a. It's a crag for beginners.
Wine Bottle
This crag is named after the supposed resemblance of a nearby hill to a wine bottle. The cliff is one of the best in Yangshuo, having lots of easily accessible, high-quality routes on good rock. The cliff is just off vertical and the climbing is generally technical rather than strenuous. The cliff has every grade of climbing difficulty from 5.6 to 5.11d.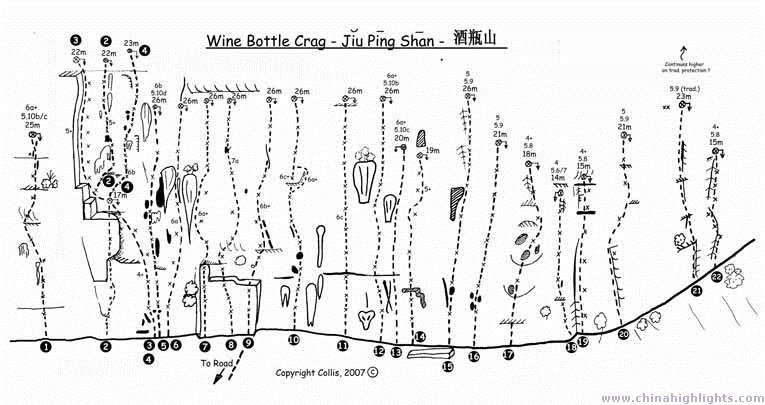 White Mountain
200 meters long and 60 meters high, White Mountain is steeper than other crags, so it is a challenge for climbers. The middle part is most precipitous. 60 meters west along the face climbers encounter 15° overhangs. White Mountain is a good choice for experienced climbers. Famous Hong Kong climber Chu Kai Wai finished a 5.14 route on White Mountain in 2008.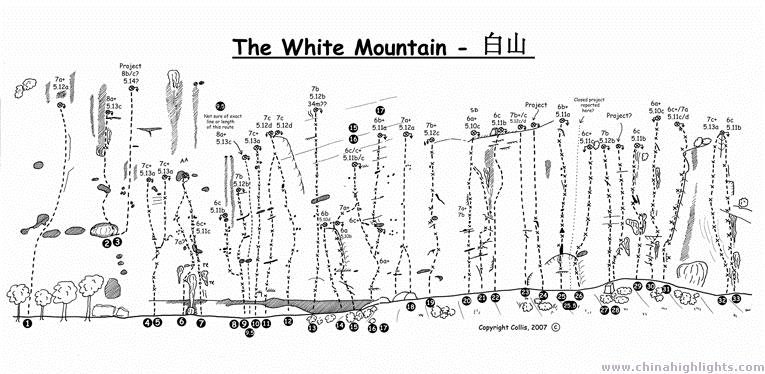 Moon Hill
Moon Hill is a top place to have a bird's view of Yangshuo's countryside. Its natural stone arch attracts master climbers. Legendary American climber Todd Skinner bolted the first route, a 5.13 climb called "Moonwalker" traversing the underside of the arch, in 1992. Now there are 15 routes, eight on the arch wall, two traversing the arch, and four between cliff and arch, with different elevations. Above average climbers will like it there.

Fuli New Rock Climbing Area
A new area was developed for the 2013 Yangshuo Rock Climbing Festival. Dozens of routes have been bolted from 5.7 to 5.12 on two adjacent mesas. It's a few kilometers into the rural area from the market town of Fuli, which is 6 km east of Yangshuo.
The Best Time to Climb
See Guilin Weather. Fall is the best time to climb, with warmth (but not too hot) and lower rainfall from late September through November.
Winter is generally cold, damp (though low rainfall), and generally unpleasant on the rock faces. However, when the southerlies blow temperatures can get into the sunny 20s °C, dropping off quickly at dusk. There is daylight from 7:30am to 6pm even in the middle of winter. If you don't mind the cold you can have the rock to yourself in the low season.
Spring, from mid-March to mid-May, is wet with rising temperatures.
Summer is scorching with high rainfall, but it generally falls in torrential bursts that dry up an hour after you've sheltered. Some crags have faces that don't get soaked even in the worst downpours. Sun protection is a must for the fair skinned.
Yangshuo Climbing Festival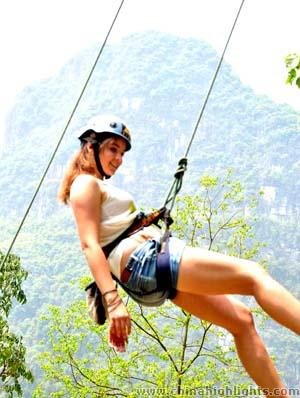 Anyone (within reason) can try rock climbing in Yangshuo
Yangshuo Climbing Festival has now been going for five years.
It takes place over a weekend (in October/November), and includes bouldering and other climbing competitions, climbing training, taster climbing opportunities, and other outdoor activities.
Professional Rock Climbing Trip Providers
There are five or so climbing outfits in Yangshuo providing climbing guides to set up the routes and keep you safe, equipment, and transport to the cliffs. A typical price for a day's climbing is 200–300 yuan.
Karst Climber — one of the pioneers of rock climbing in Yangshuo, established in 2000, it has a strong brand reputation.

Insight Adventures (formerly pioneer Chinaclimb) — established 2010 under the new name, but still specializing in school group adventures.
X-Climber — established in 2002, they boast the best climbers, well-trained guides, and flexibility
Terratribes — founded in 2008 by two Chinese outdoor enthusiasts, they offer high-quality, community/environmentally-sensitive trips
Spiderman Climbing — a small outfit offering half-day and day-tours for beginners and advanced climbers.
Include Yangshuo Climbing in Your China Tour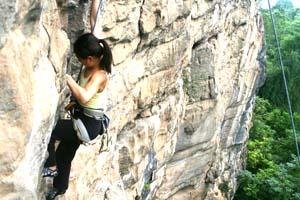 Try your limbs at climbing in Yangshuo
Book a Yangshuo tour with China Highlights. We can seamlessly include a half-day or a day of climbing in your itinerary, with professional climbing staff, equipment, and routes suited to your requirements, without you needing to book up with a climbing outfit or make arrangements yourself.
List Yangshuo climbing on our tailor made form along with the other things you would like to do in China, and we will design you a custom-made tour from scratch. Free consultancy and unlimited changes ensure that you can discover China your way.
Related Reading
Questions and Answers About Rock Climbing in Yangshuo, Guilin
April Offer $25 Coupon
Send your inquiry before Apr. 30, 2014, and we will email you a $25 coupon.
The coupon is valid till Dec. 31, 2014, for paying tour packages worth $250 or up.
The coupon cannot be used for paying flight tickets, train tickets, hotel rooms and day trips.
Travel Advice or Question? Ask us here

China Highlights
Guilin Travel Guide