Xitang Water Town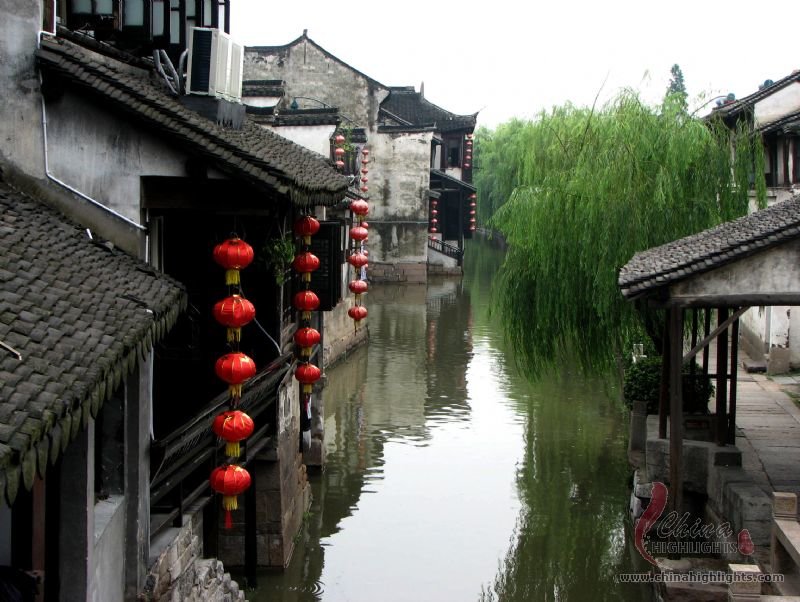 Xitang Ancient Water Town, about a one-and-a-half-hour drive from Shanghai, is a beautiful town that seems like a completely different world from the hustle and bustle of Shanghai. Cobbled streets, old buildings, bridges arching over canals, rowing boats lingering on the river, locals singing folk songs—this is Xitang, a charming, ancient water town. Mornings in Xitang bring fresh air and light fog; during the evening, the setting sun casts a rosy glow on the old tiled roofs. Xitang truly is a world away.
Something that makes Xitang so special is the number of bridges that it contains. The city has 104 bridges, each built in varying styles spanning the Ming and Qing Dynasties. Some look like rainbows over the river and others like long flutes. Life for Xitang locals is calm and easy, full of comfort and peace, no difference from the lifestyle of their ancestors thousands of years ago. The elderly play with their grandchildren on the bridges and in the lanes, and women wash vegetables and clothes in the rivers that run beside their houses. If you need a break from the stresses of Shanghai, there's really no better place for chilling out and experiencing the quieter side of Chinese life.
Attractions
Ancient lanes
Ancient time-worn streets crisscross Xitang town. In total, the town has about 122 small lanes, and all are paved with stone slats. Along these lanes sit hundreds-years-old houses that still serve as homes to the locals. Of the 122 lanes, the Shipi Lane is the best preserved. Located on the west side of Zhongfu Hall on West Street, it has a total length of 68 meters, is about 1 meter at its widest, and its narrowest point is only 80 centimeters wide. Shipi Lane is paved with 166 stone planks, each only 3 centimeters thick, making them difficult to be chisel from granite. This is why the lane is called Shipi (which means "the skin of the stone") Lane. Walking through these long, quiet lanes with tall, stained walls is like traveling through the town's long history in a spatio-temporal tunnel.
Xiyuan Garden
In Xiyuan Garden, trees, grass, flowers, towers, bridges, lakes, and waterfalls are harmoniously integrated.
Xue's House
Xue's House is a typical wooden building owned by a rich merchant of the region during the later years of the Qing Dynasty.
Wangxian Bridge
Wangxian Bridge was built during the Song Dynasty more than a thousand years ago. The name of the bridge is associated with an interesting legend in which a Taoist once stood on the bridge to watch immortal spirits. Wangxian means "to watch immortal spirits."
China Highlights can help you design a tour to see the best of Xitang Ancient Town.

China Highlights
Planning a trip? Ask us here 800-2682918 (USA & CA)
86-773-2831999 (Int'l)
Q:
Kelly
Asked on 2012-08-14
Reply
Hi, is it possible spend only 1 day at Hang Zhou and 1 day at Wu Zheng? (1) Which place worth to go at west lake?(2) any recommend hotel to stay close to west lake?(3) any buses or train to west lake from railway station? I will be taking train from shanghai(4) any places can be hanging out at night?(5) how to go from hang Zhou to Wu Zheng? Duration?(6) plan to go village Wu Zheng and taking boat cruise, so any recommend hotel?
Hello Kelly, yes, you can stay one night in Hangzhou and one night in Wu Zheng. For the hotel close to West lake, i'd like to suggest Sofitel Westlake Hangzhou. You can take public bus from train station to wesk lake. We can arrange the tour to Hangzhou and Wuzheng for you. Please feel free to let me know if you like me to arrange the tour for you.
Simon Huang Replied on 2012-08-14
Q:
Tom Fo
Asked on 2012-07-12
Reply
If we are only able to spend 2 days in Hangzhou what are the most important things to see?
I think you can visit The West Lake(including the Island on the lake), Lingyin Temple, Six Harmonies Pagoda in two days. Please feel free to let me know if you like me to arrange the tour for you.
Simon Huang Replied on 2012-07-13
Q:
Marry
Asked on 2012-01-10
Reply
Which one is better Xitang or Wuzhen Water town?
I would like suggest you visit Wuzhen. It is more local and less commercial. Lee Li Replied on 2012-01-10
Q:
sue
Asked on 2011-11-20
Reply
How do I get to Xi Tang from Hangzhou? How much time is it to drive there? How long do you need to be in Xi Tang (how many hours) to see the main atractions?
Dear Sue, You can take a bus at Hangzhou bus station which is located at Jianggan district. It takes about 2 hours. It costs about US$7 per person. You need to spend one day to visit there at least. Please click here to check the information:http://www.chinahighlights.com/xitang/tours.htm Lussie Lu Replied on 2011-11-23
Q:
sasha
Asked on 2011-05-19
Reply
how do i get from xitang to hangzhou west lake?
Hi Sasha, thank you for your inquiry. I'm Nora, trip adivsor of China Highlights. Glad to offer you some information. From Xitang to Hangzhou, there are 6 direct bus everyday. You could buy ticket and take the bus at the Xitang Bus Station. The bus sets off at 06:35, 07:30, 08:55, 11:30, 13:20, 16:05. It takes about 2.5-3 hours and costs about CNY35-40 per person. When you arrive in Hangzhou, you could take a taxi to the West Lake. If you would like us to customize a Xitang and Hangzhou tour for you, please feel free to contact me at nora@chinahighlights.com. Have a nice day! Nora Ou Replied on 2011-05-19
Hangzhou Travel Guide