Huangshan Transportation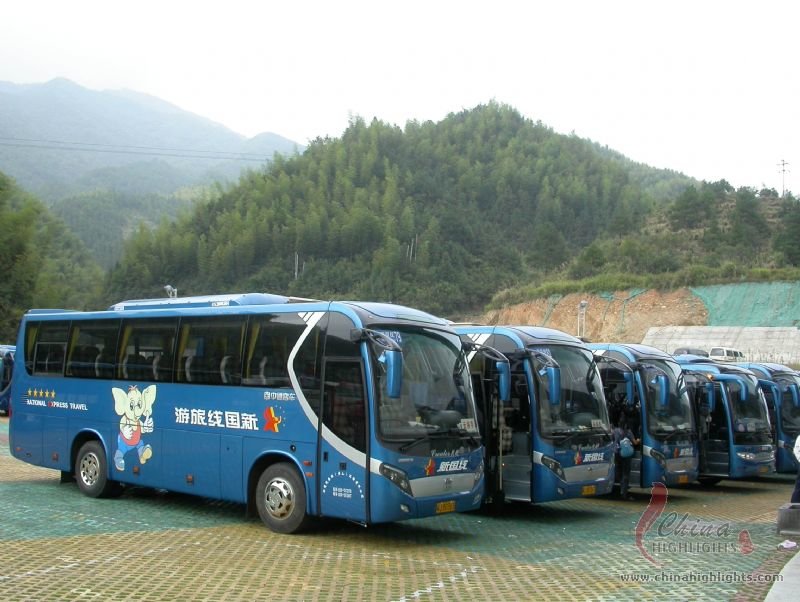 Air
Huangshan Airport is located in Tunxi District, 7 kilometers (4 miles) from the center of Huangshan City. Huangshan Airport is a first class national airport. Planes such as the Boeing 737 and MD 90 can take off and land there.
It costs 5 yuan to take the shuttle bus or 15 yuan for a taxi from the airport to the central Huangshan City. The air ticket offices are located on Huashan Road, Tunxi District, near Christ Church and Huangshan International Hotel. There are flights to Beijing, Guangzhou, Shanghai, Hefei, Tianjin, Haikou, Shenzhen, Fuzhou, Hangzhou, Wuhan, Xi'an, Guilin, Kunming, Xiamen, Zhuhai, Hong Kong, and Macau.
Airport Inquiries: 0559-2934111/4144
Click here to search for China Domestic Flights and Airfares
Railway
The Wan-Gan railway runs through Huangshan City from Beijing, Shanghai, Qingdao, Nanjing, and Hefei in the north to Jingdezhen, Nanchang, Xiamen, Yingtan and Fuzhou in the south. Huangshan Railway Station is on Qianyuan North Road, Tunxi District.
Bus/Coach
Road travel to Huangshan City is convenient. Huangshan is connected with nearby major tourist destinations, such as Shanghai, Hangzhou and Nanjing via expressway. Huangshan City Bus station is on Huangshan East Road. The railway station is about 10 minutes away. It takes around 9 hours to get to Shanghai from Huangshan City and about 3 hours to Hangzhou. There are direct buses from Hangzhou to Huangshan Scenic Area, which take about 3 hours 45 minutes.
There are buses to the front gate of Huangshan Scenic Area (Tangkou) every five minutes by day. The journey takes about 1 hour 30 minutes.
Distance between Tunxi and nearby Attractions
From Huangshan Tangkou Bus Station to Nearby Cities
| Destination | Departure Time | Approximate Ticket Price | Approximate Duration |
| --- | --- | --- | --- |
| Shanghai South Long-Distance Bus Station | 06:30, 13:30, 15:30 and 16:30 | 140 yuan | 6 hours |
| Hangzhou West Bus Station | 06:30, 07:30, 14:30, 15:30 and 16:30 | 100 yuan | 4 hours |
| Hefei East Bus Station | 07:30, 09:30, 15:30, 16:00 and 16:30 | 93 yuan | 5 hours |
| Wuhan Fujiapo Bus Station | 08:30 (soft seat) and 17:35 (soft berth) | 190 yuan (soft seat) and 235 yuan (soft berth) | |
| Jiuhuashan | 06:30, 14:00 and 16:30 | 65 yuan | |
| Jiujiang City in Jiangxi Province | 07:30 | 130 yuan | 6 hours |
| Wuyuan | 12:00 | 70 yuan | |
Transportation at Yellow Mountain Scenic Area
Bus
Yellow Mountain Bus Station is located on National Route 205 at Tangkou Town. It's 64 kilometers away from Huangshan City (Tunxi) Bus Station. It takes 1 hour 30 minutes. People need take a bus or taxi from Tangkou to the Ciguang (Kind Light) Pavilion for the Jade Screen Cableway or Yungu (Cloud Valley) Temple for Yungu Cableway. Tickets are 10 yuan.
There are long-distance coaches direct to Shanghai, Nanjing, Zhenjiang, Yangzhou, Wuxi, Suzhou, Hangzhou, Huzhou, Hefei, Huainan, Bengbu, Ma'anshan, Wuhu, Anqing, Tongling, Jiuhua Mountain, Shexian, Jingdezhen and Jiujiang.
Taxi
The starting price for taxis in Huangshan City is 5 yuan. After 3 kilometers (2 miles), it's 1.5 yuan every kilometer. There are many human-powered tricycles in front of the railway station. It's usually 2 yuan per person. It takes about 6 minutes to take a taxi from the railway station to Tunxi Old Street.
A taxi to Yungu (Cloud Valley) Cablecar Station costs 30 yuan from city center.
Transportation from Huangshan City to Thousand Islets Lake near Hangzhou City
Huangshan City is about 180kilometers (112 miles) from Thousand Islets Lake near Hangzhou City. There is no direct transportation between the two. Travelers can take ships to get to Thousand Islets Lake. Travelers can first get to Shendu Dock (深渡码头), where they can take ships to Thousand Islets Island.
Passenger ships depart at 7:40 and 11:30, and it takes 5 hours to get to Thousand Islets Lake. Tourist ships are also available, which are more expensive but they include visits onto some islands along the journey.

China Highlights
Planning a trip? Ask us here 800-2682918 (USA & CA)
86-773-2831999 (Int'l)
Q:
Malene
Asked on 2013-05-07
Reply
Hi, I hope you can Help me. We will visit Yellow mountains may 11-13th and we have bus tickets from Shanghai to Tongkou. We will stay on the mountain for one night and the next day we will go to Xidi. Can you help me suggest how to get there? and how do we get back to shanghai from Xidi?
Dear Malene, You could take a bus from Tangkou to Xidi. There are two buses every day, it sets off at 9:40am and 15:40pm. It costs about CNY16/US$2.6 per person. There is no direct transport from Xidi to Shanghai. You need to take a bus to Huangshan city center, then take a bus, train or a flight to Shanghai. Lussie Lu Replied on 2013-05-08
Q:
George
Asked on 2013-04-09
Reply
1. Number of people in your group = 8 (4 adults and 4 children below 8 years old)2. Length of stay in China = 7 days3. Inbound / outbound city = Nanjing/Nanjing4. Starting date of the tour = 22 Jun to 29 Jun (Arriving at 15:50 pm and departing 5pm from Nanjing airport)5. Besides Huangshan, any other destinationsWe would like to basically see Nanjing and Huangshan6. Class of Hotel: 3 / 4 / 5 star = 4 star and only 2 bed rooms require.Pls give me a quotation we dont need a tour guide.
Hi George, you said that you don't need a tour guide. Can you speak Chinese? Please kindly advise. As our driver could not speak or understand English, if there is no tour guide, it would be quite difficult for both of you to communicate. Besides Nanjing and Huangshan, Hangzhou/ Suzhou/ Shanghai are all charming places to visit, and not quite far away.
Whitney Liao Replied on 2013-04-09
Q:
Woon
Asked on 2013-02-19
Reply
We want to join the Yangtze cruise in Yichang. What is the best way to get there from Huangshan? What is the distance ? Thank you . Woon.
Hi Woon,you can take a bus from Huangshan to Hangzhou and connect an overnight train to Yichang. The train takes about 20 hours. The other option is take a train or flight from Huangshan to Shanghai and connect a bullet train to Yichang which takes about 8 hours. Michael Hu Replied on 2013-02-20
Q:
alessio tozzi
Asked on 2012-12-14
Reply
Hi, i''d like to know if is there a bus from Hangzhou to Taiping in the afternoon (I''ll arrive in Hangzhou at 01.00 pm) or wich is the best solution to reach Taiping from Hangzhou. Do you know if the Xihai Canyon is open in March?thank you
Hi Alessio, you can take bus from Hangzhou West Bus Station. The bus to Taiping departs at 06:20 & 07:40. The price is about CNY100. Xihai Canyon is not open until April 1.
Whitney Liao Replied on 2012-12-15
Q:
May
Asked on 2012-11-24
Reply
Hello... We are planning to take the train from Guilin-Yingtan-Huangshan on Dec 26, arriving on Dec 27. I have heard that the Taiping cable car has the best views. How do I get from the train station to the Taiping cable car entrance (there are 3 of us) and what is the cost, schedule etc? Is the Paiyunlou Hotel the best place to stay for this (how far is walk from cable car, and is it too slippery in December)? Or do you think a different cable car/hotel is better for winter scenery in December? Many thanks for your help!!!
Hello May, it is about 100 km from the train station to Taiping cable car entrance. You can take a shuttle bus from train station to Huangshan secenic area which will cost you about US$5/person or you can take a taxi from train station to Taiping cable car entrance. It will cost you around US$100/person. There are not many hotels on top of the mountain and Taiping cable car entrance. Paiyunlou Hotel is a 3-star hotel and very basic one. You may consider a better one Xihai Hotel if you have a higher requirement about hotel. Of course, the price is usually doulbe of Paiyunlou Hotel. How you arranged your tour, if not, we can arrange a 4 day Huangshan tour for you at US$650/person with 4-star hotels. If feel free to let me know if you need the service.
Simon Huang Replied on 2012-11-24
Huangshan Travel Guide