Jiuzhaigou Transportation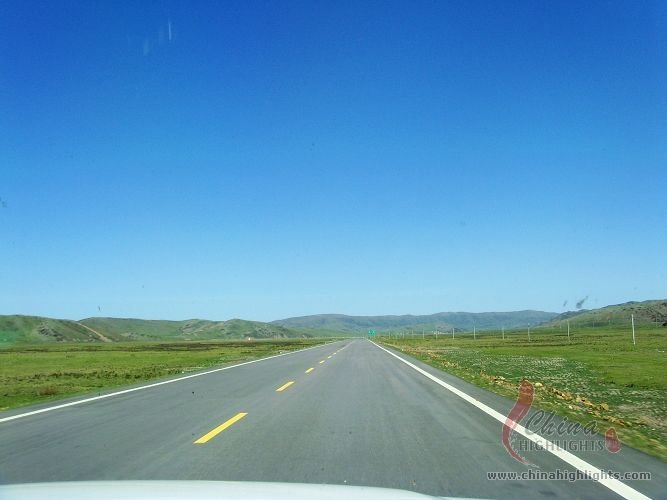 Jiuzhaigou nestles in big mountains, which is isolated from other cities in the province. Chengdu, the capital city of Sichuan Province, remains the gateway to Jiuzhaigou.
There are both flights and buses connecting Jiuzhaigou with Chengdu.
Chengdu to Jiuzhaigou By Bus
Jiuzhaigou is about 460 kilometers away from Chengdu. Bus travel from Chengdu to Jiuzhaigou takes about 8 hours. There are regular buses heading to Jiuzhaigou from Chengdu each day. Bus to Jiuzhaigou departs from Xinnanmen Bus Station(新南门车站) and Chadianzi Bus Station (茶店子车站). Bus departing Xinnanmen Bus Station, in general, are newer with better conditions with those in Chadianzi Bus Station. Ticket price is about 30 yuan higher. Most buses depart before 8 am. The latest bus leaves around 10 am, there is no night bus.
Natural scenery on the way is beautiful with valleys, lush mountains and snow-capped mountains in the distance.
Chengdu to Jiuzhaigou by Air
The most easy and time-saving way to travel to Jiuzhaigou is by air. There are about 20 flights each day between Chengdu and Jiuzhaigou. The journey takes about 40 minutes. The ticket price is about 1000 yuan. Travelers hardly get any discount on this route because of its popularity. There are also a few flights from Chongqing. Air travel from Chongqing to Jiuzhaigou takes 1 hour or so.
Jiuzhaigou is served by Jiuhuang Airport. The airport is located in Chuanzhusi Town in Songpan County, about 88 kilometers away from Jiuzhaigou and 43 kilometers from Huanglong. In peak travel season there are also a few flights to the following cities: Xi'an, Kunming, Zhangjiajie, Shenzhen, Guangzhou and Shanghai.
Transportation between the airport and Jiuzhaigou
There are airport buses running between the airport and Jiuzhaigou, and the airport between Huanglong. It takes about 1 hour to travel from the airport to Jiuzhaigou. 45 yuan for single way, and 80 yuan for a round-trip at the time of writing. Price for hiring a bus is around 200 yuan. Bargaining is essential to get a good price.
China Highlights recommend you take a tour to visit Jiuzhaigou Vallye, given the remoteness of the place.
Songpan to Jiuzhaigou
The only way from Songpan to Jiuzhaigou is by bus. Two bus stations, Songpan Town Bus Station (松潘县车站) and Aba prefecture bus station (阿坝州运输公司车站) have buses to Jiuzhaigou each day. All buses depart between 6 am to 7 am.
Jiuzhaigou to Huanglong
The two attractions are about 128 kilometers away. To travel to Huanglong from Jiuzhaigou, travelers need to take buses back to Chengdu or Songpan and get off at Chuanzhu Temple (川主寺), and change to a bus heading to Pingwu and take off at Huanglong Temple. Huanglong Temple is about 41 kilometers away from Chuanzhu Temple.

China Highlights
Planning a trip? Ask us here 800-2682918 (USA & CA)
86-773-2831999 (Int'l)
Q:
Harry Chan
Asked on 2013-04-27
Reply
I live in Hong Kong. I am planning to visit Juizhaigou and Huanglong in June this year. What is the weather like at that time? Is that time a peak season? If I stay in the Sheraton Hotel, what is the safest and comfortable way to get to and from the hotel with destinations like Jiuhuang Airport and Huanglong? Is it necessary to book tickets to go into the Jiuzhaigou Valley in advance or it is rather easy to buy tickets at the ticket office on the day(s) of my visit. I am planning to get into the Jiuzhaigou Valley on three consecutive days. Would I get a discount on the tickets fare? If I wish to try out the local Chinese cuisine, what restaurants would you recommend. If I book the above hotel through your company, would that be cheaper than my booking with the hotel direct?
Hi Harry, June is a normal time for touring to Jiuzhaigou and Huanglong, so not crowded. It is hot in most part of China, but comfortable in Jiuzhaigou and Huanglong.
The Sheraton Hotel is good located, with about 2hrs drive from the airport.
You can buy the tickets on the day(s) of your visit. Sorry, I don't know any discount for the tickets.
There is no much choice for the restaurants in Jiuzhaigou, so if don't wish to try the local Chinese cuisine, you can bring some snacks for yourself.
If you book hotels from us, we will try our best to offer some discount.
Whitney Liao Replied on 2013-04-27
Q:
spymama
Asked on 2013-04-27
Reply
Hi, I have a free weekend in May and would like to know what is the best way to get to Jiuzhaigou (from Shanghai) without flying into Huanglong. I am worried about altitude sickness. Thank you
Hi Spymama, the altitude in Jiuzhaigou and Huanglong are no big difference.
The altitude sickness varies from person to person, so it is suggested that you consult your doctor.
If you don't wish to fly directly to Huanglong, you can fly to Chengdu first, then take bus to Jiuzhaigou.
But the bus tour takes about 10hrs, and the road condition is not good.
Whitney Liao Replied on 2013-04-27
Q:
Ooi
Asked on 2013-03-22
Reply
Hi, any private bus that I can book for 4 persons for one way only from Chengdu to Jiuzhaigou? Thanks.
Dear Ooi, It will be too expensive, the cost is about CNY1500/US$240 per van. We also can arrange the private van for you, but it is more expensive. I suggest you ask the hotel you will stay to arrange the van for you. Lussie Lu Replied on 2013-03-22
Q:
Ooi
Asked on 2013-03-22
Reply
Hi, is it safe to take the 8 hours bus from Chengdu to Jiuzhaigou?
Dear Ooi, In general, it is safe to take a bus from Chengdu to Jiuzhaigou, but it will be too tired, so I suggest you take a flight instead of bus. Lussie Lu Replied on 2013-03-22
Q:
farrell
Asked on 2013-03-17
Reply
Hi, we plan to go jiuzhaigou july this year, is it ok if we bring an 8 months baby? if it''s ok, is there any special precautions we should take? what is the best way to get to jiuzhaigou, meaning cheap and enjoyable, we have 7 days to spend there,thanks.
Hi Farrell, it should not be a problem to take your 8 months baby to Jiuzhaigou. Please prepare some medicine against the high altitude and some mosquito repel for him/her. As to the transportation, flight is recommended. Taking a bus would be too tired to your baby.
Whitney Liao Replied on 2013-03-19