Jiuzhaigou Transportation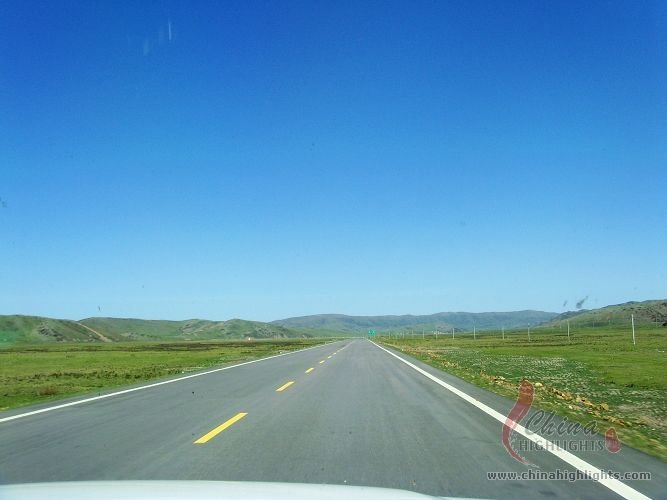 Jiuzhaigou nestles in big mountains, which is isolated from other cities in the province. Chengdu, the capital city of Sichuan Province, remains the gateway to Jiuzhaigou.
There are both flights and buses connecting Jiuzhaigou with Chengdu.
Chengdu to Jiuzhaigou By Bus
Jiuzhaigou is about 460 kilometers away from Chengdu. Bus travel from Chengdu to Jiuzhaigou takes about 8 hours. There are regular buses heading to Jiuzhaigou from Chengdu each day. Bus to Jiuzhaigou departs from Xinnanmen Bus Station(新南门车站) and Chadianzi Bus Station (茶店子车站). Bus departing Xinnanmen Bus Station, in general, are newer with better conditions with those in Chadianzi Bus Station. Ticket price is about 30 yuan higher. Most buses depart before 8 am. The latest bus leaves around 10 am, there is no night bus.
Natural scenery on the way is beautiful with valleys, lush mountains and snow-capped mountains in the distance.
Chengdu to Jiuzhaigou by Air
The most easy and time-saving way to travel to Jiuzhaigou is by air. There are about 20 flights each day between Chengdu and Jiuzhaigou. The journey takes about 40 minutes. The ticket price is about 1000 yuan. Travelers hardly get any discount on this route because of its popularity. There are also a few flights from Chongqing. Air travel from Chongqing to Jiuzhaigou takes 1 hour or so.
Jiuzhaigou is served by Jiuhuang Airport. The airport is located in Chuanzhusi Town in Songpan County, about 88 kilometers away from Jiuzhaigou and 43 kilometers from Huanglong. In peak travel season there are also a few flights to the following cities: Xi'an, Kunming, Zhangjiajie, Shenzhen, Guangzhou and Shanghai.
Transportation between the airport and Jiuzhaigou
There are airport buses running between the airport and Jiuzhaigou, and the airport between Huanglong. It takes about 1 hour to travel from the airport to Jiuzhaigou. 45 yuan for single way, and 80 yuan for a round-trip at the time of writing. Price for hiring a bus is around 200 yuan. Bargaining is essential to get a good price.
China Highlights recommend you take a tour to visit Jiuzhaigou Vallye, given the remoteness of the place.
Songpan to Jiuzhaigou
The only way from Songpan to Jiuzhaigou is by bus. Two bus stations, Songpan Town Bus Station (松潘县车站) and Aba prefecture bus station (阿坝州运输公司车站) have buses to Jiuzhaigou each day. All buses depart between 6 am to 7 am.
Jiuzhaigou to Huanglong
The two attractions are about 128 kilometers away. To travel to Huanglong from Jiuzhaigou, travelers need to take buses back to Chengdu or Songpan and get off at Chuanzhu Temple (川主寺), and change to a bus heading to Pingwu and take off at Huanglong Temple. Huanglong Temple is about 41 kilometers away from Chuanzhu Temple.

China Highlights
Planning a trip? Ask us here 800-2682918 (USA & CA)
86-773-2831999 (Int'l)
Q:
Pamela
Asked on 2013-10-17
Reply
Can I hire a car & driver to take us from Jiuzhaiguo t Chengdu? If we take the bus, are the roads safe at this time of the year?
Hi Pamela,
Generally speaking, we don't recommend our clients to take bust from Chengdu to Jiuzhaigou. Please note that you will suffer about 10 hours on the mountain road. The bus will stop if there are landslides. You can fly to Jiuzhaigou. If you are interested in it, please check our website http://www.chinahighlights.com/china-flights/for discount tickets.
Christy Luo Replied on 2013-10-18
Q:
Minh
Asked on 2013-10-04
Reply
could you please tell me what time is the first bus from Jiuzhaigoo to Chengdu(in winter) because i have to catch the last bus from chengdu to Emei city. Thanks a lot.
Hi Minh,The first bus from Jiuzhaigou to Chengdu is leaving at 08:00. Please check with the bus station. The phone number is +86 837 772 6030. Michael Hu Replied on 2013-10-04
Q:
Hadi Tanumiharja
Asked on 2013-09-28
Reply
I and my wife planning visit Jiuzhaigou and changjiajie, we dont want follow tour group, we prefer go by ourself, would you like guide me when is the best time and how to go there. Thank you
Dear Hadi,
The best time go visit Jiuzhaigou and Zhangjiajie is on May, June, September and October. Flights from Beijing, Shanghai, Xian, Chengdu and Guangzhou to Jiuzhaigao are available, and flights from Beijing, Shanghai, Chengdu and Guangzhou to Zhangjiajie are available. As a travel agency, we glad to arrange a tour package including tours, hotels and flights for visiting Jiuzhaigou and Zhangjiajie. Please feel free contact me at nancy@chinahighlights.net any time.
Yours,
Nancy

Nancy Deng Replied on 2013-09-29
Q:
Chris
Asked on 2013-07-07
Reply
We''re currently in Shanghai. How do we purchase bus tickets (for Chengu to Jiuzhaigou) ahead of time, here in Shanghai?
Hi Chris, sorry, we don't know the website from which you can book the bus tickets.
Whitney Liao Replied on 2013-07-08
Q:
Marianne
Asked on 2013-06-22
Reply
Hi, we are three French backpackers, and will spend 3 days in SiChuan in two weeks. We will arrive from BeiJing by train and we want to visit Chengdu Pandas Breeding and Research Center, HuangLong and JiuZhaiGuo.The order doesn''t matter, the only constraints are the price (we are students so we need to book hostels and take buses) and the time (3 days). Thus, we would like to know how, according to you, to organize everything..? Plus, after those three days, we planned to go to KunMing (by train from Chengdu) to visit YunNan for about 6 days. What would you recommend us (and in which order, as well). Thank you for your help.
Hi Marianne, 3 days by train or bus cannot cover the tour to Chengdu, Jiuzhaigou and Huanglong. The bus takes about 10-12hrs from Chengdu to JIuzhaigou. And usually you need 2 days for Chengdu, 2 days for Jiuzhaigou and Huanglong.
Whitney Liao Replied on 2013-06-24

Hi I am a french backpacker and I have exactly the same plan lolll... Can I have your contact ?? guest Replied on 2013-06-27

What would you recommend then? guest Replied on 2013-06-27
If you need any tour service, please feel free to contact me via whitney@chinahighlights.net. Whitney Liao Replied on 2013-06-27
I suggest that you take air from Chengdu to Jiuzhaigou. From Jiuzhaigou to Huanglong, take bus. Whitney Liao Replied on 2013-06-27