Jiuxiang
Jiuxiang Scenic Spot is 20 sq km in area and includes 5 tourist attractions, Diehong Bridge (5 km southeast from Jiuxiang Street, famous for the karst caves, the twin waterfalls and the huge natural stone dam cluster), Dasha Dam (consisting of picturesque karst caves and thick forest), Sanjiao Cave (5 km north of Jiuxiang Street, famous for the karst caves), Alu Long [a scenic area 6 km west of Jiuxiang Street, famous for the excavated Yi Nationality cliff paintings of Qin 221BC-206BC) and Han (206BC-220AD) dynasties] and Mingyue (meaning the bright moon) Lake.
Jiuxiang is known as the "museum of karst caves", which boasts its caves as the largest in scale and number (there are about a hundred karst caves) and has the most wonderful in-cave scenes in China. The caves in Jiuxiang fall into 4 cave clusters: Sanjiao Cave, Dashang Cave, Diehong Cave and Dasha Dam Cave. 66 out of the numerous caves in the area are profitably exploitable and the karst cave cluster is the largest of its kind on Yunnan-Guizhou plateau. The caves in the area are praised for their grandeur, wonder grotesquerie and natural beauty.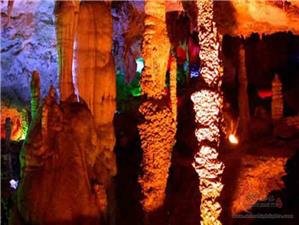 Beautiful scenery of karst caves in Jiuxiang Scenic Spot
Jiuxiang, the birthplace of the aboriginal Yi ethnic people, has a strong minority custom color, a long cultural history, and widely spread old myths and tales. These include Hunting Festival, the Worship the White Dragon Festival, Love Song Contest, Bullfighting, Wrestling, Sanxian Dance (Sanxian is a three-stringed plucked instrument), Rattle Stick Dance and so on.
Tourists should take enough clothes since they may get wet in boats when they visit the karst caves and the gorges. The folk songs and dances and the local food are also special. What's more, Yangzonghai Lake Scenic Spot and Little White Dragon Forest Park are not far from Jiuxiang Scenic Spot. Tourists can take buses at the gate of the Jiuxiang to go there.
Questions and Answers About Jiuxiang
Su
2014-02-12
Show Answer
We are traveling with 1.5 year old baby. Do you recommend going to Jiuxiang Caves?
Hi Su, I think he/she may also be interested in those fantastic caves with colorful lights.
Whitney Liao replied on 2014-02-13
wilson
2013-01-07
Show Answer
we have six people,we want to rent a minivan with driver or take a one day tour to stone forest and jiuxiang caves? how much the minivan ? and how much the tour?
Hi Wilson, when will you take it, please? Are there any children or elderly people in your group? Do you need English speaking tour guide? Waiting for your kind information. Thanks,Whitney
Whitney Liao replied on 2013-01-07
louisa
2012-11-05
Show Answer
what is the entrance fee to jiuxiang and stone forest
Dear Sir or Madam, The entrance is CNY120(US$19) for Jiuxiang and CNY200(US$32) for Stone Forest. Lussie Lu replied on 2012-11-05
Melinda
2011-10-03
Show Answer
How do we travel from Kunming to Jiuxiang?
No direct bus or train from Kunming to Jiuxiang, need connect at Yiliang city. Kunming Xin Dongbu Bus Station to Yiliang, available every 30 minues, price is around CNY15.00 per person, then connect the local bus #21 to Jiuxiang, available every 30 minutes, price is CNY6-10 per person. If it is just one day tour to and return from Kunming, we would suggest join in a local group tour or hire a taxi to (CNY500-600 for one day). Karen Karen Yang replied on 2011-10-04
salma
2010-09-24
Show Answer
are the jiu xiang caves and the alugu caves the same?
Hi, Salma, They are not the same. Jiuxiang Caves are located in Jiuxiang Yi and Hui Autonomous Township of Yiliang County 90 km away from central Kunming. Alugu caves are located in Luxi County, 160 kilometers from Kunming. Alugu caves are collections of 18 caves underneath nine peaks. The scenery in the two caves looks similar. Ruru Zhou replied on 2010-09-24
April Offer $25 Coupon
Send your inquiry before Apr. 30, 2014, and we will email you a $25 coupon.
The coupon is valid till Dec. 31, 2014, for paying tour packages worth $250 or up.
The coupon cannot be used for paying flight tickets, train tickets, hotel rooms and day trips.
Travel Advice or Question? Ask us here

China Highlights
Kunming Travel Guide