Kunming Nightlife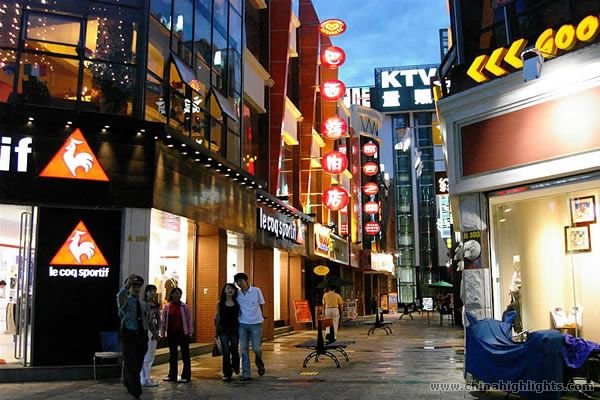 As for nightlife activities, Kunming does not differ a lot from other cities in China. Bars, KTV, disco and other clubs can easily be found around the city. Kun To Night Market gathers a lots of bars and clubs for people to enjoy their night in Kunming.
The fantastic Yunnan ethnic folk dance is also one of the most wonderful nightlife activities for you to take part in. Among all the dances there, Peacock Dance is the most popular one, which will be introduced later.
Generally speaking, there are special cultural activities in Kunming all the year round, including flowers and plants exhibitions, festivals, photography exhibitions and so on.
Popular Nightlife Destination: Kun To Night Market
This night market is simply the biggest night spots of Kunming. The area consists of a few streets, full of bars, discos, night clubs, and live music place. There's even a big gay nightclub located near to the entrance, with attractive big nude male posters. Cannot imagine China is so open nowadays.
More Nightlife Destinations
Yunnan Dianju Theater
Add: 276 Dongsi Street, Kunming
Description: Featured Yunnan Opera
Hours: Sundays
Yunnan Provincial Arts Performance Hall
Add: 81 West Dongfeng Road, Kunming
Description: Latest movies from home and abroad will be shown, as well as local Yunnan opera
Yunnan Modern Drama Theater
Add: 27 Yanhe Road, Kunming
Hours: 8:00pm - 11:00pm
The Party Room of Kunming Huangchao International Club
Bars and Clubs
Kunming International Club
Add: 57 Xiba Road, Kunming
Hours: 8:00PM - midnight
Diwang Nightclub
Add: 216 Huannan Road, Kunming
Hours: 8:00PM - midnight
New Culture Bar
Add: 60 Tudong Road, Kunming
Hours: 8:00PM - 5:00AM
Top One Disc
Add: 3rd floor, King World Hotel, Kunming
Hours: 8:00PM - 5:00AM

China Highlights
Planning a trip? Ask us here 800-2682918 (USA & CA)
86-773-2831999 (Int'l)
Q:
paulus
Asked on 2013-08-28
Reply
i will be in kunming on the 13-17 of september, and would like to know how much, it cost for a two day English speaking tour guide.
Dear Paulus, Thank you for your inquiry. We are happy to provide an English speaking tour guide for you. Would you please let me know in which city do you need the guide? Usually the working hour for the guide is 8 hour/day. Do you need a private vehicle? Kind Regards Doris Huang Doris Huang Replied on 2013-08-29
Q:
Ilias
Asked on 2013-06-15
Reply
i will visit kunming on 10th july for 13 days. i travel alone and my first time in China. i don''t know nothing about the language. Tips for language and communication. advice for lonely traveller like me to create new iternational friends. tips to visit lijiang. others tips and advice.
Hi Ilias, we can arrage a private tour for you, with private English speaking tour guide and van. Then you don't have to worry about the language barrier or where to visit, etc. Do you have interest? Whitney Liao Replied on 2013-06-19
Q:
Shyam Choudhary
Asked on 2013-06-08
Reply
reaching kunming on 20th june stay 4days good hotel &guide reqd thanks
Hi Shyam, how many people, please?
Whitney Liao Replied on 2013-06-08

we are two .booked hotel horizon at yunnan need your help in sightseeing english speeking guide reqd. guest Replied on 2013-06-10
Hi Shyam, thanks for your information. Sorry, I wish to send you the quotation today, but the system is updating so could not send it. From tomorrow I will be off for the Dragon Boat Festival for 2 days. I will send it on June 13, in the morning, okay? Sorry for the inconvenience. Whitney Liao Replied on 2013-06-10
Q:
SB
Asked on 2013-04-06
Reply
I''ll be in Kunming 8th April and planning to go to Luoxiaguo. There are four of us guys. What''s the cheapest way there?
Hi SB, you can take a bus from Kunming to Dongchuan first. Then rent a car to Luoxiaguo.
Whitney Liao Replied on 2013-04-07
Q:
D.Baby
Asked on 2013-03-24
Reply
My layover in Kunming is 15 hrs during travel from Kolkata to shanghai. Here I need to change the airport from international to domestic .Please guide me how to reach from international to domestic airport by public transport. Kindly suggest me where I could get cheap accommodation+ restaurants and street food on the way to domestic airport So I could enjoy the 15 hrs stay in Kunming. It will be fine if it is nearer to domestic airport. I am looking forward to here from you.
Hi Baby, we can arrange a tour guide and car to take you to the hotel, restaurants, airport and some attractions, what do you think?
Whitney Liao Replied on 2013-03-28
Kunming Travel Guide