Sanya Transportation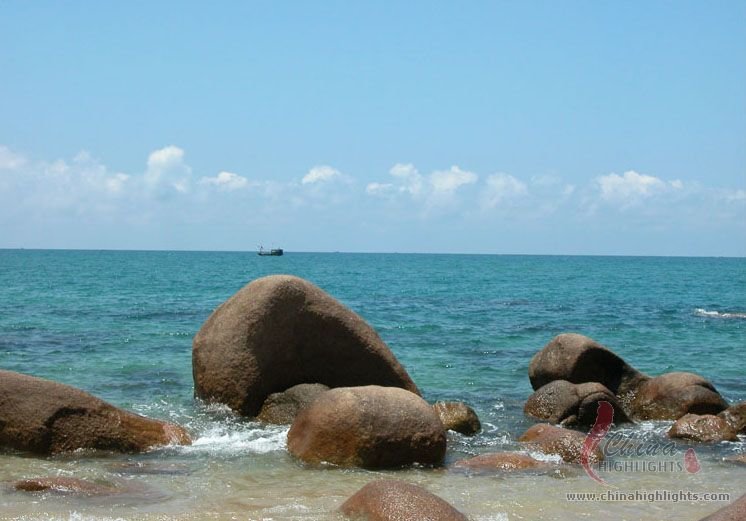 Air
Phoenix Airport went into service on July 1st, 1994. According to 2001 data, the passenger handling capacity of the airport was ranked No.29 among 143 airports in the country. At present, it has 106 flights of which 103 are national direct and 3 international flights. As well, more than 20 flights are continuing tourism charter flights. Altogether the flights connect with 63 cities, including 23 international cities.
Located 11 kilometers away from Sanya city in the northwest, the airport is surrounded by the famous landscapes of romantic Sanya Bay and Luhuitou in the east and the well-known "Tianyahaijiao" in the west. The green Phoenix Mountain in the north, after which the airport takes its name and to the south, the vast South Sea.
Bus is the most convenient and economical way to reach the city; 10 yuan from the airport exit to Jiefang 1 Road right in the heart of the urban area.
You can ask the driver to stop at your hotel if you stay at Sanyawan; you can take Taihe No.102 tourism bus at 5 yuan if you stay at Sanyawan; and you can take No.2 and No.4 buses at 1 yuan to the urban area if you stay at Dadonghai.
Also, you can take a taxi to the downtown at the airport exit. Bargain with the driver for a reasonable price which is normally about 30 yuan. Tell the driver to take the Binhai Road, and you will enjoy the amazing landscape of the "Coconut Tree Dream Corridor".
Railway
Sanya Railway Station is the southernmost train station in China. Currently there are only three trains at Sanya Railway Station, which connect Sanya with Beijing, Shanghai and Guangzhou. When taking the train, travelers can see tropical forests and enjoy the sea view along the way.
City Transportation
Transportation in Sanya is very convenient. The buses will lead you to every county and region in the city as well as every scenic spot and area. Their main line is from Dadonghai to Minhang station with a distance of 10 kilometers. The bus will stop at the stations in intervals of about 500 meters or at your waving it down to board. Also, new tourism lines have been opened from the city center to Yalong Bay, the End of the Earth and the Corner of the Sea and Nanshan Cultural Tourist Zone. The buses run on these lines every hour are No.2 and No.4 buses. Cost is 1 to 4 yuan.
Taxi
Sanya has altogether more than 1000 taxis with a round sign symbolizing Sanya city on the car top and of different models, mainly VW Santana, VW Jetta and Toyota Xiali, providing passengers with sound service. Paying RMB5 for the taxi cost, you can get to the city center but to the scenic spots you should bargain with the taxi driver first. Generally speaking, from city center you have to pay RMB25 to Sanya Bay, RMB10 to Dadonghai beach and RMB 50 to Yalong Bay.
Renting Cars
It is a good choice to rent a car to drive around Hainan Island. Haiqi Self-driving Co, Ltd in Hainan has lots of cars and minibuses of 30 kinds for renting, varying from the most economical Xiali to the most luxurious Benz with a daily rent fee from 160 yuan to 1500 yuan. You may need a deposit to rent one.
Bus/Coach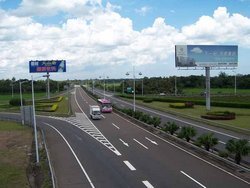 Sanya Highway
There are three main lines leading passengers to every corner of the province, the east, middle and west lines. Each day, up to a hundred. coaches depart from Sanya Passenger's Station to other counties and cities in Hainan Province.
With the main station being located at No.16, Jiefang 2 Rd, passengers can take coaches to go other places from here. The coaches running between Sanya and Haikou depart every 20 minutes commencing at 7.00a.m and the last one leaving at 11.00p.m. Two standards of coaches are available, luxury and standard; it is your choice. In addition, about 20 long-distance coaches are available for you to go to Guangdong, Guangxi, Hunan, Jiangxi and other provinces everyday.
Waterway
The Port Now open is the Sanya Port for passengers. One of the most luxurious steamships in the world, the Lion Star has commenced sailing the regular Hong Kong - Sanya - Vietnam line. It is very fast (over 24 mph) and has in excess of 980 guestrooms with capacity for 1960 passengers on board.

China Highlights
Planning a trip? Ask us here 800-2682918 (USA & CA)
86-773-2831999 (Int'l)
Q:
Lisa
Asked on 2013-01-08
Reply
I was hoping to get a bus from nanning to sanya this Friday. Do you know how long this bus journey is? How much is it?Thank you
Hi Lisa, the bus from Nanning to Sanya departs from Nanning Jiangnan Coach Station 南宁江南客运站 at 16:00 19:00. It takes about 15 hrs. The price is about CNY250-300.
Whitney Liao Replied on 2013-01-09
Q:
Joe
Asked on 2012-12-24
Reply
Hi! I am going to Sanya later this week and would like to ask if there is any place to rent a decent bike for 2-3 days? Would like to bike in the mountains so the bikes that the hotels provide might not be good enough. Thanks!
Dear Sir or Madam, You could find many places rentng a bike and you could rent it from a club or a hotel. The rental fee depends on the kind of bike, how long you will use it, and so on. In general it ranges from CNY20/US$0.2 to CNY100/US$16. Lussie Lu Replied on 2012-12-24
Q:
Bonnie
Asked on 2010-10-30
Reply
I am on a cruise (Costa) and Sanya is one of the destinations. I would like to visit Luhuitou Park and Tianyahaijiao on my own, do I have to take a taxi or are there buses I can take after getting off the cruise ship? Do you know where Costa cruise ship usually docked in Sanya? how far is where the ship is docked from the city? Thank you
The Costa cruise anchor at Sanya Phoenix Island International Cruise Terminal. Costa should have land excursions for Sanya. You can join in. If you want to explore Sanya on your own, you can take a taxi to the Luhuitou where have bus to Tianyahaijiao Park. It takes about 1 hour drive from the warlf to downtonw. Cindy Feng Replied on 2010-10-30
Q:
Henry Goh
Asked on 2010-05-19
Reply
Dear sir, and Mdm, could you tell where can i get the directory for public bus from Sanya to Nanning include the schedule
Hi! Sanya City is very far away from Nanning City. It takes more than 12 hours to go by bus. It is suggested that you take a flight, which takes only about 1 hour and 10 minutes, and the tickets discount is very good. You can search for flights and book at http://www.chinahighlights.com/china-flights/ Mia Yang Replied on 2010-05-20
Sanya Travel Guide