Shanghai Transportation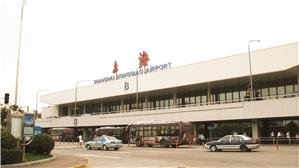 Hongqiao International Airport
Shanghai, in southeast China, is bordered by the East China Sea to the east, Jiangsu province to the northwest and Zhejiang province to the southwest. It covers the south portion of the Yangtze Delta. As the most metropolitan city in China, Shanghai is very accessible and can be reached by air, land and water. Check out Beijing-Shanghai Transportation and Shanghai-Hangzhou Transportation.
Air
Shanghai is served by Pudong International Airport and Hongqiao International Airport, which offer direct international flights to some European and US cities. Click here to search China Domestic Flight Schedule and Airfare.
The Shanghai Pudong International Airport is located on the South coast at the mouth of the Yangtze River, around 30 km (19 miles) from central Shanghai and 40 km (25 miles) from the Hong Qiao International Airport, which is situated 13 kilometers from the city center toward the western suburbs of Shanghai. Currently, Pudong International Airport accommodates aircraft movement over 400 times per day, on average, and accounts for approximately 60% of total aircraft movement in Shanghai. It also serves about 50 domestic and foreign airlines and connects with over 70 international and regional destinations and 60 domestic destinations. Check the timetable for the Pudong International Airport shuttle bus.
Visitors can take a taxi to the airport for about 150 RMB. Now, a more popular alternative is available: the newly opened maglev train, which runs as fast as 431 km/h and takes you from the city center to the airport in about 8 minutes.
Related Links
The existing Hongqiao International Airport Hongqiao International Airport, though slightly aged, works quite well and is easily accessed from the central business district where many airlines have offices. Twenty-one domestic airlines and 20 foreign airlines now use the airport. The two Shanghai-based airlines, China Eastern Airlines (CEA) and Shanghai Airlines (SAL), have made substantial investments in Hongqiao and are probably reluctant to move quickly to Pudong. Book hotels near Shanghai Hongqiao Airport
There are four main railway stations in Shanghai, including Shanghai Railway Station (上海站), Shanghai South Railway Station, Shanghai West Station and Shanghai Hongqiao Railway Station (上海虹桥站). Shanghai Railway Station is the largest railway station in Shanghai, and more than 70 pairs of trains run from here to large- and middle-sized cities. At Shanghai North Railway Station, the trains mostly depart to Jiangxi Province, Zhejiang Province and places in South China. There are only 11 bullet trains departing from Hongqiao Railway Station, and they go to Hefei, Liu'an, Wuhan, Hankou and Wuchang. Shanghai West Railway Station mainly operates trains running between Shanghai and Nanjing, Suzhou and Changzhou.
Shanghai has an advanced highway network. Three westward National Highway Lines, 312 (stretching from Shanghai to Yining City in Xinjiang Uyghur Autonomous Region), 318 (stretching from Shanghai to Zhangmu Town in Tibet) and 320 (from Shanghai to Ruili in Yunnan Province), all starting from Shanghai. Yantai–Shanghai National Highway 204 and Tongjiang–Sanyan National Highway run through Shanghai and link North China to South China. Four main expressways (Shanghai–Nanjing, Shanghai–Jiading–Taicang, Shanghai–Qingpu–Pingwang and Shanghai–Hangzhou) provide convenient transport between Shanghai and its neighboring cities.
Shanghai's ideal location by the Yangtze River makes it easily accessible by boat. The main passenger port is the Shiliupu Passenger Port located at Zhongshan Nan Road about 1 km south of the Bund. There are boats from Shanghai along the Yangtze River up to Jiujiang, Wuhan and Chongqing. There are also boats between Shanghai and some of China's neighboring countries, such as South Korea and Japan.
Related Links
City Transportation
City Buses
Public buses in Shanghai are often packed, but they are the most convenient and inexpensive way to loop the city. More than 1,100 bus lines in Shanghai run to every corner of the city proper. Shanghai's public bus system is quite comprehensive. Buses preceded by the numbers "2", "3" and "9" are rush-hour buses, night service buses and double-decked/tourism buses, respectively, and buses 1 to 199 run from 5:00 am to 11:00 pm. Fares range from 1 yuan to 3 yuan depending on the length of the routes or bus conditions: as a rule, the cost is 1 yuan for routes less than 1.3 km, 1.5 yuan for routes over 1.3 km and 2 yuan for air-conditioned buses (indicated by a snowflake next to the bus number).
The city bus and the subway together form the main transport within Shanghai. City buses in Shanghai can be divided into day lines, peak lines and all-night lines. Generally, a single run by a bus costs 1 yuan or 1.5 yuan, while an air-conditioned bus, a long-distance city bus, a shuttle bus or a double-decker bus costs 1 yuan or 2 yuan. In addition, for some buses passengers pay based on distance.
Notes: 1. Shanghai Railway Station, People's Square, Xujiahui and Zhongshan Park, are hubs on the public bus network. Public buses in China are often crowded and the buses in Shanghai are no exception. If you choose to take a bus, please pay special attention to your belongings as pick-pocketers usually take advantage of the crowded conditions.
2. Travelers can request a Shanghai Transport Card, which can be used to pay for subway, city bus, ferry and taxi rides. There are two kinds of Shanghai Transport Cards: the Common Card and the Commemorative Card. Purchasing a common card costs 30 yuan for a guarantee deposit.
At present, there are 11 subway lines in Shanghai. A ticket costs 3 yuan to 6 yuan based on distance. Subway Lines 1 and 2 link many famous scenic spots in Shanghai, and the most popular subway lines among travelers, and the departure interval is about 4 minutes. Subway Line 3 is light railway; hence, it is slower than other trains and has a departure interval of about 7 minutes. Subway Line 5 was built to bring convenience to students and residents in the Minxing District; its travel distance is short and it contains few scenic stops.
Ferries
More than 20 ferry lines link Shanghai's Pudong and Puxi Areas. The fare is a flat 1 yuan/person, 1.3 yuan/bike and 2 yuan/motorcycle.
Taxis
Taxis are the most convenient means of transportation in Shanghai. Taxis in Shanghai are mainly Santana. There are five main taxi companies in Shanghai, and different companies operate taxis of different colors: Qiangsheng Taxi Company has yellow taxis, Dazhong Taxi Company has sky blue taxis, Haibo Taxi Company has white taxis, Bashi Taxi Company has light green taxis and Jinjiang Taxi Company has mazarine taxis. A passenger can request a receipt when getting off the taxi. If a passenger loses his or her luggage or is not satisfied with the service, he or she can file a claim for the lost luggage or a complaint about the service at the company noted on the receipt.
Hot Lines
Qiangsheng Taxi (yellow): 021-6258 0000
Dazhong Taxi (sky blue): 021-6318 3880
Haibo Taxi (mazarine): 96965
Bashi Taxi: 96840 or 6445 8484
Jinjiang Taxi: 96961
Charges
From 05:00 to 22:59
Charges are 12 yuan for the first 3 kilometers (1.9 miles) and 2.4 yuan for each additional kilometer (0.6 miles).br /> From 23:00 to 04:59
Charges are 13 yuan for the first 3 kilometers and 3.1 yuan for each additional kilometer.
Hiring a Bike
Shanghai is a large city with an area of about 6340 square kilometers (2448 square miles). What's more, riding a bike is forbidden on some downtown roads because they have no bicycle lane. Hence, it is difficult to get to all of the scenic spots in Shanghai by bike.
Questions and Answers About Shanghai Transportation
Rose Ann Ferrer
2014-03-19
Show Answer
I have a flight on June 2 from Winnipeg, Canada to Philippines but I have a stop over at Shanghai. I''m wondering, do I still have to pick up my baggage and transfer it to the other plane? Need an answer asap. Thanks
Hi Rose, if it is only a stop, then you don't have to pick up your baggage and transfer it to the other plane, because it would be the same flight. Whitney Liao replied on 2014-03-19
yogesh
2014-03-06
Show Answer
I am coming from India and want to do some electronic shopping where can we have in Shanghai
Hi Yogesh, sorry, we don't have those information. We are a travel agency. If you need any tour service, please feel free to contact me. Whitney Liao replied on 2014-03-07
H. Pham
2013-10-17
Show Answer
We plan to leave a Shanghai hotel(right around People''s Square) and to arrive at Pudong international airport departing at 8:30AM. How early do Subways or buses start in AM to take us there on time? What would be the best way to get to the airport besides Taxi? Thank you so much.
Dear H. Pham, Thank you for your inquiry. As your flight departs at 8:30am, you need to get the airport at around 6:30 if you want to catch an international flight. The subways start at 6:00 and it takes about 2 hours to the airport, it will be too late. The shuttle bus will also be too late for you, so I'm afraid that you have to take a taxi. Doris Huang replied on 2013-10-19
Prof. Pramod Tandon
2013-09-01
Show Answer
My wife and I have to attend a conference in Tiacang. We will reach Shanghai PVG Airport on 19th September at 20:20 hrs. How to reach Taicang at that time? Please advise.
Express buses are available from Shanghai to Taicang. You may take express bus from Pudong bus station to Taicang. The bus station is in airport area. The contact number of bus station is +86-21-68345743 and you could get detail information by calling. Carol Wang replied on 2013-09-02
Express buses are available from Shanghai to Taicang. You may take express bus from Pudong bus station to Taicang. The bus station is in airport area. The contact number of bus station is +86-21-68345743 and you could get detail information by calling. Carol Wang replied on 2013-09-02
Sudhakar
2013-08-08
Show Answer
Hi am now in Jiaonan, Qingdao. for a official visit, am free from tomorrow, I wish to do China Shopping, Visit Great Wall of china and go to Shaolin Temple if possiable, can you arrange my travel and stay and have a plan for me. Thank you.
Hi Sudhakar, the Great Wall is in Beijing while the Shaolin Temple is in Henan Province. They cannot be covered in one day.
Whitney Liao replied on 2013-08-08
April Offer $25 Coupon
Send your inquiry before Apr. 30, 2014, and we will email you a $25 coupon.
The coupon is valid till Dec. 31, 2014, for paying tour packages worth $250 or up.
The coupon cannot be used for paying flight tickets, train tickets, hotel rooms and day trips.
Travel Advice or Question? Ask us here

China Highlights
Shanghai Travel Guide