China Transportation
China has created a comprehensive transportation system of railways, highways, and airports.
China Air Travel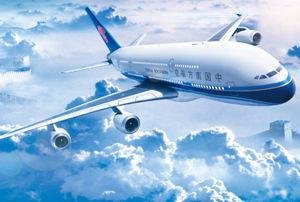 Airplane can save your time and energy
Airplane is the most convenient, and fastest means of transportation, although the most expensive. Air travel can save precious time and energy for enjoying the attractions in your destination.
China's Airlines have witnessed dramatic improvements year upon year.
The hubs of China's air travel are Beijing, Shanghai, Guangzhou and Hong Kong, with international flights to major cities around the world, as well as domestic flights to major cities within the country.
There are two cities in China that have two airports: Beijing (Capital International Airport and Nanyuan Airport) and Shanghai (Pudong International Airport and Hongqiao International Airport). If you choose to board a plane by yourself, please make sure of your flight information: departure time, flight terminal and airport.
Please let us know if you are a member of a certain airline company. When you book flights with China Highlights, we will contact the airline company and consult about membership points for you.
Book Discount China Flights with China Highlights: real-time search, lower prices, and easy booking. Check it now.
China Train Travel
Traveling by train is one of the cheapest ways to travel some of the longest distances in China, and is popular with the local population.
Even Tibet, one of the most inaccessible regions in the world, can be reached via train with the Qinghai-Tibet Railway.
Tourists can get to Moscow (Russia), Ulan Bator (Mongolia), Hanoi (Vietnam) and Pyongyang (North Korea) by taking international trains from China.
For those looking for something more special, there is the Shangri-La Express.
What to Expect
It is important to know what to expect if you decide to travel by train in China.
English is generally not spoken by any of the staff on the trains or in the railway stations, and there are limited English signs on the railway stations.
China Highlights recommends booking a soft sleeper, as a separate waiting lounge and priority boarding is available on the railway stations for passengers traveling in the soft sleeper section.
More information about Train Travel in China, including classifications, accommodation classes of China's trains, and tips for taking trains in China.
International Trains: Beijing–Ulan Bator, Beijing–Moscow, Beijing–Hanoi, and Beijing–Pyongyang.
Out-of-the-Ordinary Trains
Shanghai Maglev Train is the first commercial maglev line in the world, and was listed by Guinness Records in 2003 as the fastest train in the world in commercial use. It can reach 431 km/hr (268 mph) during the journey. See ;detailed introduction of maglev train.
Bullet trains: Bullet train was first introduced into China in 2008, and since then this fast, comfortable and convenient way of transportation across the country has increased in popularity.
Shangri-La Express, formerly known as Orient Express, is a luxury, privately owned hotel train, traveling the route of the caravans of the ancient Silk Road.
China by Bus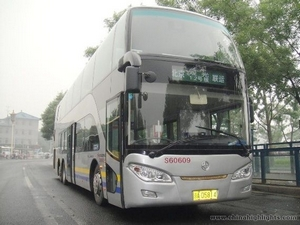 Tourist Bus in Beijing
The total mileage of highways in China reached 3,457,000 kilometers (2,148,080 miles) by the end of 2006.
Almost all towns, counties, and cities are accessible by highway, and buses can take you almost anywhere. Road conditions are usually very good, but be prepared that in remote areas, such as Guizhou, Tibet and Xinjiang, they can be poor. It is suggested that travelers lower their expectations for facilities or comfort in these areas.
The frequent departures available for buses make the tickets easier to get than train tickets. Buses are also often cheaper than train travel for the same distance.
Sleeper buses are available for longer trips. Bed space is very cramped and you should take extra special care of your belongings. Theft is more common on buses than on trains.
More information about highway travel in China, including how to buy bus tickets, how to find and board the bus, bus travel tips, and conditions in China's buses.
Waterways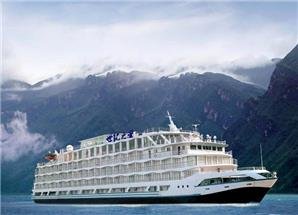 Yangtze River Cruise Ship
China now has over 140,000 kilometers (86,992 miles) of navigable inland waterway.
Major navigable rivers include the Heilongjiang River, the Yangtze River, the Pearl River, the Huangpu River, as well as the Beijing – Hangzhou Grand Canal, which is the longest artificial canal in the world.
More introduction to China's waterways.
Subways
Subways are found only in Beijing, Shanghai, Tianjin, Nanjing, Guangzhou, Shenzhen, and Hong Kong Special Administrative Region.
Although in Mainland China the subway lines are not yet fully developed, and the coverage is limited, it is still a good way to get around. Subways stop at central hubs, where you can conveniently transfer to other means of transportation.
More information about China's subways, such as boarding and tips.
Cycling in China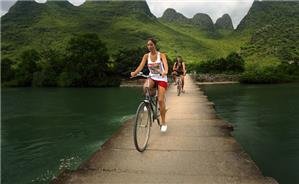 Cycling in Yangshuo, Guilin
Cycling is an excellent method for getting around in China's cities or seeing tourist sights.
China still impresses many as the kingdom of bicycles. China had 500 million bicycles in 1987; one for every two citizens.
Bicycles are ingrained in everyday life; they are an important means of transportation and visible everywhere, which is quite different from bike-riding for physical exercise or for a sport.
Taking a Taxi in China
Taking a taxi is the most comfortable and secure way of getting around. Taking a taxi is a very fast and convenient way to get to your destination, be it a hotel, a scenic spot, an airport, or a railway station.
You can find taxis in almost every city, and the fare is relatively inexpensive for Western travelers. Simply wave your hand and a taxi will stop for you. Prices vary by city but are usually very cheap. The meter should always be activated. Pay the driver upon arrival. Tipping is not the custom.
You can order a taxi from your hotel and ask the concierge to write down your destination on a card. Tourists can also hire a taxi for a half or a whole day, but make sure you first agree on a price with the driver.
More information about taxis in China, including the differences between taxi fares in the main tourist cities, and tips for taking taxis in China.
Walking in China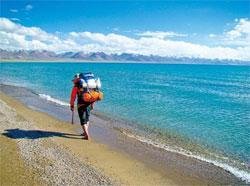 Hiking around Yamdrok Lake, Tibet
There is probably no better way than walking around to offer you an authentic experience of ordinary people's life. By walking in the lanes or the neighborhoods, you will see things you might never notice from the tourist coach.
However, before you hit the road, here are some tips:
When crossing the street, you need to look BOTH ways, even if the green light is on.
Pickpockets are very common, especially in crowded tourist spots. Don't carry your valuables and passports in a backpack. Keep them in the hotel safe, or put them in a waist bag or shoulder bag, and keep an eye on it.
Remember to get a business card of your hotel, in case you get lost or want to get a taxi back. Or you can ask the hotel staff to write down the places you want to go in both Chinese and English.
Buy a tourist map of the city; maps with street names and sights in both English and Chinese are preferable, in case you want to ask for directions.
Take some small change with you, in case you get tired or lost, and want to take a subway, bus or taxi. Taxi drivers are reluctant to break 100 Yuan notes, and you might end up getting fake notes.
Transportation Between Main Tourist Cities

China Highlights
Questions and Answers About China Transportation
Jose
2014-04-01
Show Answer
Does anyone know if this china eastern or ''Shanghai Airlines works with American Airline mileage/point system, AA didn''t know if they were partners?
Hi,
Both China Eastern and Shangahai Airline do not work with AA, but both AA and Air China belong to Star Airlines.
Regards,
Coco
Coco Yang replied on 2014-04-01
dharam
2013-07-30
Show Answer
I will be arriving tianjin airport on 16/9/2013,7.30am,is there a direct bus service to erlianhot.(mongolia border town) or from beijing to erlianhot.(mongolia border town),schedule,time & place or station of departure,fare & service.
Hi Dharam, sorry, I didn't find any information on the Internet. We can offer the private transfer service for you. Would you please let me know the number of people in your group and the exact time?
Whitney Liao replied on 2013-07-31
dharam
2013-04-24
Show Answer
Is there a express bus or train service from shengyang to erlian(ereen) & return,fare amount & time schedule pls.
Hi Dharam, sorry, I don't know where Erlian(Ereen) is. Can you send me the Chinese character or some information about it, please?
Whitney Liao replied on 2013-04-24
Makhosonke
2013-01-25
Show Answer
I traveling to China and will arrive thru Shanghai and I want to travel to Shenzhen. How best can i travel using the train? how much will it cost me. i am an adult.
Dear Sir or Madam, There are two trains every day from Shanghai to Shenzhen. The train sets off from Shanghai south railway station at 11:45 am or 13:40 pm. It takes about 19 hours and the costs is about CNY638/US$103 for the soft sleeper. If you need, it will be more convenient to take a flight. There are more options, it takes 2.5 hours. You could choose a good one on our website. Please click: http://www.chinahighlights.com/china-flights/flight-list.asp?QueryID=4589353&fcook=2013012609355129&star=SHA&dest=SZX&rDate=2013-1-30 Lussie Lu replied on 2013-01-25
Ryne
2013-01-19
Show Answer
Hello. I''m planning to use the metro (Shanghai, Xi''an and Beijing) to go places most of the time. Is there some kind of card or pass (other than the 1D pass) that can use on all metros? I.e South Korean T-Money. Thank you and have a good day.
Hi Ryne, for Chinese citizens, we need ID card. For foreigners, you need passports.
Whitney Liao replied on 2013-01-21
April Offer $25 Coupon
Send your inquiry before Apr. 30, 2014, and we will email you a $25 coupon.
The coupon is valid till Dec. 31, 2014, for paying tour packages worth $250 or up.
The coupon cannot be used for paying flight tickets, train tickets, hotel rooms and day trips.
Travel Advice or Question? Ask us here