Suzhou Shopping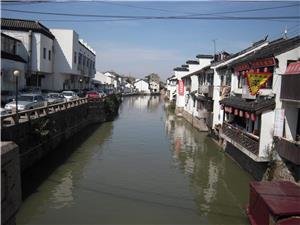 Shops by the river
Having a history of more than 2,500 years, Suzhou was a flourishing city of Southern China in ancient times, with abundant products and highly-developed economy. The ancient painting of "Gusu (the name of Suzhou in ancient times) Prosperity" demonstrates exactly the prosperity of Suzhou during the reign of Qing Qianlong Emporer (1736-1759). Today shops with varieties of commodities are standing along the street corners of Suzhou. A trip to this ancient city would certainly amaze you.
Local Products and Gifts
Suzhou has a concentration of over 2,000 kinds of goods featuring local flavor, such as Su embroidery, mandarin coats, pure silk clothing, carvings, carpet and tapestry. Anyway, Suzhou provides tourists with various kinds of souvenirs according to their different requirements.
Su Embroidery

Suzhou embroidery, multi-colored and gorgeous, is regarded as a pearl of Chinese art. The vivid descriptions of animals, people, landscapes and flowers are popular themes of Su embroidery. Contemporary embroidery in Suzhou is blended with fashionable elements, yielding a unique style of embroidery that is popular all over the world.
Su Embroidery Museum
Address: No.262, Jingde Road
Jade Carvings
Suzhou jade carvings are well-known for their exquisite workmanship. There are two types: plain or three dimensional. The designs are made based on the different shapes of materials and fine carvings are done with appropriate skills.
Suzhou Jade Carving Department Store
Address: No.33, North Pagoda Road (west), Suzhou
Suzhou Fan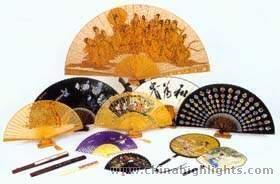 Suzhou folding fans are beautiful with the lively paintings and calligraphy。
Besides the function of cooling people down, Suzhou fan has another function of giving people a chance to appreciate the great charm of traditional Chinese culture. Well known for its long history and refining craftship, Suzhou fan is a kind of folding fan which attractes many experts to write poems and draw pictures on it. The "Old Fan Face", well-known for its fine, strong, even and endurable quality, is the best among all the Suzhou fans. The area of Peach blossom Shipyard of Changmen has been the centralized place for Suzhou fan ever since.
The Marketplace of Sandalwood Fan, Suzhou
Address: No.58, Northwest Street, Suzhou
Biluochun Tea
Biluochun green tea is well-known for its smooth shape, fresh color, fragrant aroma and mellow taste. The best Biluochun tea leaves are usually picked during March and April, and the prepared tea leaves are curled like screws and covered with white fuzz. Production of authentic Biluochun tea is very limited, making it quite expensive and hard to find.
The No.1 Silk Factory
Products include Suzhou Silk, Qipao, Silk Scarf,Tang silk top, Chinese Top, Evening dress.
Recommended Shop: No.1 silk factory
Address: Hengfeng Mansion, North Tongjing Road (苏州市桐泾北路26-6号恒峰大厦201-202室)

Tel: 0512-6515 5732 / 6515 1469
Recommended Shopping Sites
For Clothes and Shoes
In City Plaza 印象城购物中心
Address: No.1699, Xiandai Avenue, Gongyeyuan District (工业园区现代大道1699号)
Tel: 0512-6280 2222
Average Price Per Person: 262 yuan
Jiuhuang Department Store 久光百货
Address: No.268, Wangdun Road, Gongyeyuan District (工业园区旺墩路268号)
Tel: 0512-6733 3600
Average Price Per Person: 773 yuan
Yuanrong Times Square 圆融时代广场
Address: No.268, Wangdun Road, Gongyeyuan District (工业园区旺墩路268号)
Average Price Per Person: 147 yuan
Meiluo Shopping Mall 美罗商城
Address: No.245, Guanqian Street, Pingjiang District (平江区观前街245号)
Tel: 0512-6522 7777
Average Price Per Person: 868 yuan
For Consumer Electronics and Computers
Youtong Cyber Port 友通数码港
Address: No.456, West Jianggan Road, Jinchang District (金阊区干将西路456号)
Tel: 0512-6558 0808
Linghua Digital Mall 领华数码城
Address: No.688, Zhuhui Road, Langcang District (沧浪区竹辉路688号)
Tel: 0512-6516 1918 / 6516 9088
For Home Appliances
Gome Appliance 国美电器
Address: Dongjin Shopping Mall, No.889, East Ganjiang Road, Pingjiang District (平江区干将路889号东锦商城)
Tel: 0512-8765 4611
Suning Appliance 苏宁电器
Address: the Pedestrian Street, Shilu Road, Jinchang District (金阊区石路步行街)
For Furniture and House Decoration
B&Q 百安居
Address: No.208, Jinjihu Road, Gongyeyuan District (工业园区金鸡湖路208号)
Tel: 0512-67616611
NUJI 无印良品
Address: No.1699, Xiandai Avenue, Gongyeyuan District (工业园区现代大道1699号)
Tel: 0512-6956 6121
Questions and Answers About Suzhou Shopping
M Goodspeed
2014-02-10
Show Answer
Some years ago I visited a silk factory in Shanghai and bought a silk duvet. Now I want to buy another one but I don''t know the name of the factory. Could you give me the email address of any silk factories that would send me a duvet by post? I live in South Africa and probably won''t be able to visit the beautiful city of Shanghai again.
Hi Goodspeed,
I recommend this factory to you. Tianhou Silk Factory : Tianhou Silk Factory is a multi-function shopping mall containing silk traders, restaurants and heath care. It showcases Chinese silk products of all types including silk bedding and silk clothing. This is a popular place for looking for special, quality souvenirs. Tel: 021-34314176 Address: No.308, Hongjing Road, Shanghai But sorry, we don't have their email address.
Whitney Liao replied on 2014-02-11
Jason
2013-09-13
Show Answer
Hello. In Suzhou, are there any clothing markets like the Shanghai South Bund Fabric Market at 399 Lujiabang Road? I am looking for reasonably priced custom tailored suits and shirts.
I believe so but don't have the detail information. For shopping in suzhou, all the information we have can be found here:http://www.chinahighlights.com/suzhou/shopping.htm
Simon Huang replied on 2013-09-16
anne
2013-08-27
Show Answer
Hi, I''m going to Suzhou this Saturday from Shanghai PVG airport. I plan to use airport''s shuttle bus to get to Suzhou. Could you tell me where the bus stops in Suzhou? And how to get to Suzhou University from that place? Thank you very much
The bus from Pudong Airport will take you to Suzhou bus station. Then you can just take a taxi to Suzhou University.
Simon Huang replied on 2013-08-27
Pauline Tchee
2012-07-27
Show Answer
What are the things we can buy at this place ? Shanghai/Suzhou/Wuxi and Hangzhou ?
Pauline Tchee
2012-07-27
Show Answer
I and my friend plan to go to Shanghai/Suzhou/Wuxi and Hangzhou on yhis coming December. how is the temperature over there ? Is it very cold ?
Dear Pauline, you can buy silk, embroidery, fans, carvings, carpets and tapestry in any of the cities you mentioned. Besides, they provide tourists with various kinds of souvenirs.
The average low and high temperaturesin December are 2 °C (35 °F) and 11 °C (51 °F); almost same in the four cities.
Please dress warmly.
If you need any tour package or hotel booking, please feel free to contact me via whitney@chinahighlights.net.
Have a nice day. Whitney
Whitney Liao replied on 2012-07-29
April Offer $25 Coupon
Send your inquiry before Apr. 30, 2014, and we will email you a $25 coupon.
The coupon is valid till Dec. 31, 2014, for paying tour packages worth $250 or up.
The coupon cannot be used for paying flight tickets, train tickets, hotel rooms and day trips.
Travel Advice or Question? Ask us here
You might like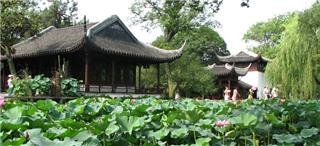 Free Things to Do in Suzhou

China Highlights
Suzhou Travel Guide