Top 7 Reasons to Visit Tibet
For many, Tibet is still a mysterious and strange land at the end of the Earth. These days the idea of traveling to Tibet is very popular, but few actually go there. What is so attractive about Tibet? Why do so many people want to go there? After a glance at the reasons below, you too will fantasize about a trip to Tibet.
Roads Less Traveled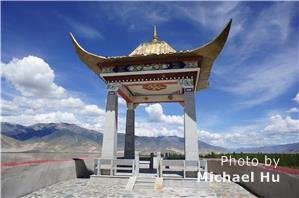 Beautiful scenery of Tibet with blue sky and white cloud
Tibet is a mysterious place even for Chinese people. Nowadays many young Chinese people talk about taking a month long bike ride from Chengdu to Tibet, but this rarely happens. You will find that on the road to Tibet many locals are very welcoming to visitors, because visitors seldom visit and because of their religious obligation.
Exotic Scenery
Although you can fly to Tibet you'll miss gorgeous views of Western Sichuan and Eastern Tibet. Don't forget that the tallest mountains in the world are in this area. Even without climbing the Himalayas you'll catch a nice view of those snowcapped mountains and beautiful glaciers. As you work your way up you'll feel so close to the big blue sky that at night you'll feel you can pick stars right out of the sky.
Untainted Land
The high altitude has prevented the development of the Tibetan plateau so as a result there is much less pollution. There are also many rare and endangered plants and animals that are under protection. Unfortunately, the world continues to follow a destructive history and Tibet will not stay this way forever. Don't miss your chance to ride a Yak.
Ancient Culture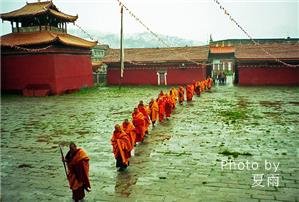 Tibetan culture
Tibetan culture is very different from Chinese culture. Keep in mind that Tibetan people study the Chinese language as a second language. The Tibetan people are very religious and would like to continue living accordingly, following very old traditions. If you have the chance, visit a guesthouse and enjoy the simple life.
Physical Challenge
Some people who go to Tibet experience altitude sickness. If this is a problem for you then consider gradually going to places with higher elevation. However, if you are the kind of person that wants to find your physical limits, then Tibet is a clean environment for outdoor exercise. There are many mountains made for hiking and many rivers for rafting.
Spiritual Rejuvenation
Because Tibetan people are so religious and the environment is so pure Tibet can be a place to get away from modern life and contemplate spiritual life. Perhaps you will be moved when witnessing the religious devotion of the local people. It is no wonder many people go to Tibet to clean their souls.
Find Your Own Reason
Tibet is such a mysterious place that many people dream about going to, but don't really know why. If you are still looking for reasons to go to Tibet then maybe the only way to understand your reasons for going to Tibet is to go there and find out…
Realize Your Tibet Dreams with China Highlights
See our Tibet Tours or let us know what particularly you would like to do to tailor-make your own unique Tibet experience.
Further Reading
Questions and Answers About Top 7 Reasons to Visit Tibet
April Offer $25 Coupon
Send your inquiry before Apr. 30, 2014, and we will email you a $25 coupon.
The coupon is valid till Dec. 31, 2014, for paying tour packages worth $250 or up.
The coupon cannot be used for paying flight tickets, train tickets, hotel rooms and day trips.
Travel Advice or Question? Ask us here

China Highlights