The Top 10 Buildings in China
In 2013 China, Hong Kong, and Macau have 5 of the world's ten tallest skyscrapers, the biggest mall, and the biggest casino. Yet even taller buildings are being built. These huge modern buildings and the Hall of Supreme Harmony are the 10 best buildings to see in China.
Most of these buildings are in Shanghai, Shenzhen, and Hong Kong and have been built in the last 7 years. Beijing has iconic large structures preserved from the imperial era.
1.

Shanghai World Financial Center
Height: 492 meters (1,614 feet), 101 floors
Built: 2008
Cost: 1.2 billion USD
Special features: Tallest building in China, fifth tallest in the world (2013)
The Shanghai World Financial Center has an observation deck on the 100th floor at 474 meters (1,555 feet) for sightseeing and a Hyatt Regency luxury hotel.
2.

ICC Tower
Height: 475 meters (1,558 feet), 118 floors
Built: 2011
Cost: 3.8 billion USD
Special features: World's tallest hotel (Ritz Carlton), world's highest swimming pool, tallest building in Hong Kong, 6th tallest in the world (2013), and the world's best rapid transport system
The ICC Tower overlooks Victoria Harbor. It is part of a new financial hub in Hong Kong that is one of the world's top financial centers. The land itself cost about 1 billion USD.
Sky 100 is a 100th floor observation deck, and its Elements Mall is one of the best in the city. It has the best lighting display in the Symphony of Lights.
3.

Shanghai Tower
Height: 632 meters (2,073 feet), 121 floors
Built: 2014
Cost: 2.2 billion USD
Special features: world's 2nd tallest building (2013), world's fastest elevators
Shanghai Tower is the second tallest building in the world after the Burj Kalifa. It is 152 meters (500 feet) higher than it, and it will be 130 meters (400 feet) taller than the Taipei 101.
It will be a showcase of 21st century engineering. It has a spiraling cylindrical shape to help the building weather typhoons.
4.

Hall of Supreme Harmony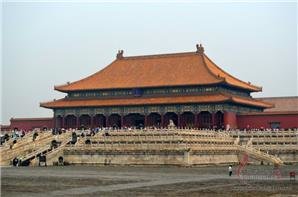 Hall of Supreme Harmony
Height: 35 meters (116 feet)
Built: about 1420
Special features: world's largest ancient wooden building, the biggest building in the Forbidden City
The Supreme Hall of Harmony is the heart of the Forbidden City. The building and the wide white paved plaza around it are iconic of the Qing Empire at its height. It is a landmark of Beijing and part of the favorite tourist highlight in Beijing proper.
5.

IFC Tower
Height: 408 meters (1,340 feet), 88 floors
Built: 2003
Cost: about 2.2 billion USD
Special features: luxury mall, central tourist location
The three IFC towers include a popular luxury mall and the Four Seasons Hotel.
As of 2013, it probably has the best and most convenient transportation links of any of these buildings with four subway lines, a popular tram, and major ferry terminals around it.
6.

King Key 100
Height: 441 meters (1,449 feet), 100 floors
Built: 2010
Cost: about 800 million USD
Special features: An opulent St. Regis hotel, China's 5th tallest building
The building lights up the night sky in Luohu, Shenzhen near Hong Kong. It sits in an emergent financial center in the city. The KK Mall is a part of the complex.
7.

Zifeng Tower
Height: 451 meters (1,480 feet), 89 floors
Built: 2010
Cost: 375 million USD
Special features: China's 3rd tallest building (2013)
It's silhouette is like Willis Tower in Chicago, and it is a little taller. It is remarkable because it stands alone in Nanjing as the only very tall building, and it was built inexpensively for its height.
8.

Bank of China Tower
Height: 315 meters (1,033 feet), 72 floors
Built: 1990
Cost: about 1 billion USD
Special features: the first skyscraper built in Asia, beautiful design
The Bank of China Tower is a famous landmark in Hong Kong. Its shape and lighting makes it memorable among newer taller buildings.
9.

Venetian Macau

Height: 225 metes (738 feet), 39 floors
Floor space: 10.5 million square feet
Built: 2007
Cost: 2.4 billion USD
Special features: the world's biggest casino, 7th largest building by floor area, 3,000 hotel rooms
The hotel is one of the highlights of Macau. The prime attractions are the mall that has
a realistic recreation of a canal street in Venice
and the 15,000 people capacity arena where big events are held.
10.

New Century Global Center
Height: 99 meters (325 feet), 18 floors
Floor space: 16 million square feet (1.5 million square meters)
Built: 2013
Special features: the biggest mall in the world, water park, IMAX theater, 2 hotels with 1,000 rooms
The mall in Chengdu is about twice the size of both the previous mall record holder in Dubai and the biggest mall in Guangdong called the New South China Mall. It is designed to be a self-contained town.
Further Reading

China Highlights
Questions and Answers About The Top 10 Buildings in China
April Offer $25 Coupon
Send your inquiry before Apr. 30, 2014, and we will email you a $25 coupon.
The coupon is valid till Dec. 31, 2014, for paying tour packages worth $250 or up.
The coupon cannot be used for paying flight tickets, train tickets, hotel rooms and day trips.
Travel Advice or Question? Ask us here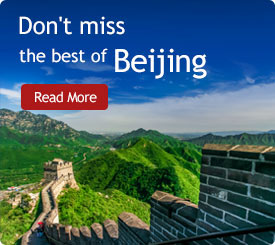 The Most Popular Articles
The Latest Travel Articles