Chinese Noodles
Chinese noodles are generally made from wheat flour, rice flour, or types of starches, such as mung bean starch. Wheat flour noodles are commonly produced and consumed in North China, while rice flour noodles are more typical in South China.
Rice flour and starch-based noodles are made only with rice flour or starch and water. Wheat flour noodles may be supplemented in low quantities with egg, lye or food coloring in order to have a yellow color, and change the texture, tenderness and taste of the noodles. No matter their type, noodles cook very quickly. Usually it requires no more than 5 minutes to become al dente, while thinner noodles only take less than one minute to finish cooking.
Because of different methods of preparation and use of materials and ingredients, there are over a thousand types of noodles from all over China with local characteristics. Among them, the most famous ones are soy bean paste noodles (or Zhajiang Mian) in Beijing, hand-pulled noodles (or Lamian) in Shaanxi Province, sliced noodles (or Daoxiao Mian) in Shanxi Province, dandan noodles (or dandan mian) in Sichuan Province, to name just a few.
Noodles are served and eaten hot or cold, boiled, steamed, stir-fried, deep-fried, or served in soup. Whichever way, you'll first need to, using chopsticks, stir the noodles till all the materials are evenly mingled before enjoying it. Noodles are an excellent food for the nutritionally-inclined, providing harmonious dietary balance. They are low in calories, and high in protein and carbohydrate.
Famous Noodles
Lanzhou Hand-Pulled Noodles with Beef 兰州牛肉拉面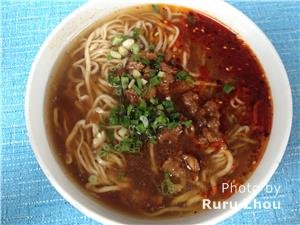 Lanzhou Hand-Pulled Noodles with Beef
Lanzhou Hand-Pulled Noodle s with Beef is also known as "Lanzhou Beef Noodles". It is one of the most common dishes in the local area. Visitors can feasting it at every corner of the city. The noodle is handmade, and it takes a cook only one or two minutes to stretch the dough into many needle-thin noodles.
Today small restaurants serving Lanzhou Beef Noodles can be found in almost every Chinese city. However, most of them are hidden in small alleys or back streets.
See our well-selected Muslim Restaurants in Lanzhou.
Guilin Rice Noodles 桂林米粉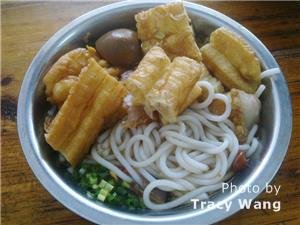 Guilin Rice Noodles
Rice noodles, gravy, fried peanuts or soybeans, chopped scallions and thin slices of different kinds of meat are added for various versions of this renowned and tasty dish. Well-chopped condiments include: spring onions, chilli, pickled beans and pickled white raddish in chilli sauce.
Rice noodles are one of the most popular breakfast in Guilin that you can find in every street. It is one of the must-taste food when you travel to Guilin.
Also read Guilin food and recommended restaurants in Guilin for more choices.
Guangzhou Shahefen 广州沙河粉
Shahefen is popular in southern China's Guangdong, Guangxi and Hainan provinces. It is broad and white in color, and is made of rice.

China Highlights
Questions and Answers About Chinese Noodles
tanshru
2011-04-10
Show Answer
who is the founder of noodles please answer.
Dear Tanshru, There is no record to mention the information. The expert approved the earliest noodles were made about 4000 years ago. We specialize in designing customized China tours, if you are interested in the tours, please feel free to contact me directly. I am glad to serve you. Lussie Lu replied on 2011-04-11
talia
2011-02-09
Show Answer
where are chinese noodles origanly from ?? and when did they first come out in stores ??
Noodles have a long history about 4,000 years in China, and it must be difficult for us to tell the original place of noodles. However, we can sure that place is in North China, because noodles are mainly made from flour which is made of wheat, and wheat is the main crop in North China in Ancient times while rice is the main food of South China. The progresses of making noodles can be described as following: wheat—flour—paste (together with needful water)—pressing into slices—making the slice into strips by cutting or pulling—packaging—selling in the stores. Lynn Ye replied on 2011-02-10
April Offer $25 Coupon
Send your inquiry before Apr. 30, 2014, and we will email you a $25 coupon.
The coupon is valid till Dec. 31, 2014, for paying tour packages worth $250 or up.
The coupon cannot be used for paying flight tickets, train tickets, hotel rooms and day trips.
Travel Advice or Question? Ask us here