Tips for Disabled Travelers to China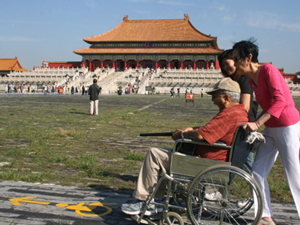 China is becoming more convenient for disabled travelers, with many hotels, airports, and some public areas in cities equipped with disabled access and facilities. Whereas Hong Kong is the most disabled friendly place in Asia!
Your physical challenges may not stop you from enjoying the wonderful experiences of traveling in China, as long as you have made the necessary plans, arrangements, and preparations. The following are some useful tips that can help you plan a safe and enjoyable journey in China.
Research in Advance
Choose a suitable destination, taking into account its natural environment, disabled access, and level of health care available. Generally, the disabled access environment in China is developing very fast, especially in big cities like Beijing, Shanghai, Guangzhou, and Hong Kong. Most of 5-star hotels in metropolises can provide wheelchairs if pre-booked. Deposits are usually required. Get more information through the internet or guide books, or from us, about your destinations.
Consult your doctor. Discuss your planned trip and activities involved. Consult about the medication you will need to take, and any immunizations that might be needed. Do a thorough medical check-up to make sure that you are fit to travel.
Consult the Chinese embassy or consulate in your country, and check rules and regulations about things you might need to take to China, such as a wheel chair, medication, and therapy equipment. China Art International Travel Services Ltd. provides wheelchair rentals in Beijing for 150 yuan/day/wheelchair.
When booking, inform your travel advisor of your disability, health conditions, and any special arrangements required, so that they can make suitable suggestions and arrangements for you.
Consult the airline that you are going to take, and check their luggage rules, including how to carry your medication, wheel chair, therapy equipment, etc.
Air Traffic Regulations for Wheelchair Users
Air traffic regulations require all travelers who need to use a wheelchair onboard a flight to apply for a wheelchair when booking the flight.
Usually only one passenger is allowed use a wheelchair onboard per flight. So a traveler's wheelchair needs must be made known to the airline operator prior to ticket booking. Airline operators reserve the right to refuse taking any passenger who has not obtained a valid permission in advance of the trip.
Travelers' personal wheelchairs must be checked in before departure, and travelers will be provided with a wheelchair which is specially designed for use on board after checking in. While going through security inspection, airline staff will accompany wheelchair users to offer necessary assistance.
Free Wheelchair User Service
All travelers who have been granted permission to use a wheelchair will receive all necessary assistance from the airline at departure and arrival airports.
Checking In of Manual Wheelchairs
Manual wheelchairs should be consigned as oversize luggage. Wheelchair transport is free, and the weight of wheelchairs is not included in a customer's baggage allowance.
If a wheelchair is needed during check-in, and permission is granted by the airline operator, the manual wheelchair will be consigned at the departure gate before boarding.
Checking In of Electric wheelchairs
Electric wheelchairs should be consigned as oversize baggage. Wheelchair transport is free, and the weight of wheelchairs is not included in a customer's baggage allowance. Packing of an electric wheelchair must meet the following requirements before consignment.
For wheelchairs with a leak-proof battery, the battery must be short circuit proofed, and it must be securely installed on the wheelchair.
For wheelchairs with a non-leak-proof battery, the battery must be removed from the wheelchair before consignment. Protective packaging for the battery should be leak-proof and fixed with a suitable strap to a pallet in the cargo compartment. The battery must be short circuit proofed, and its packaging should be filled with suitable material to absorb any leaked liquid from the battery. Packaging must be marked as either "BATTERY, WET, WHEELCHAIR" or "BATTERY, WET, MOBILITY AID", with labels indicating "CORROSIVE" and "UPWARD".
Attractions with Wheelchair Access in China
In Beijing
The Great Wall at Badaling: You can ascend a ramp from the East Gate for around 300 meters, taking about 10 minutes to reach the first beacon tower. Also a lift with clear signage can be found near the main entrance, which takes about 5 minutes to reach the first beacon tower. Wheelchairs can be rented for a deposit of 1,000 yuan each. Identification cards/passports are required for verification purposes.
The Forbidden City: There is a wheelchair accessible route east of the central axis. Even though there is no wheelchair access to the main halls, such as the Hall of Supreme Harmony, the Hall of Central Harmony, and the Hall of Preserving Harmony, wheelchair users can have a complete view of the external architecture of these halls. Wheelchair rental is provided for 300 yuan/person.
The Temple of Heaven: Most of the area around the Temple of Heaven is wheelchair accessible, but the Hall of Prayer for Good Harvests is the only hall in the park that is accessible by wheelchair. Temple of Heaven Park provides wheelchairsfor a deposit of 600 yuan/wheelchair.
The Summer Palace: All the main entrances are wheelchair accessible, and most of the attractions inside are easily accessible by wheelchair too. However, the Pavilion of the Fragrance of Buddha, and other sights on the hill, are not. Wheelchairs are not allowed on the boats. The park provides wheelchairs for its visitors, and a deposit of 500 yuan/wheelchair applies.
Yonghegong Temple: A wheelchair-accessible passageway is available from the South Gate, however wheelchairs are not permitted in the halls. Wheelchair users can take a look at the interior of the halls if they are able to leave their wheelchairs and ascend a few steps.
Tian'anmen Square: The Square is fully accessible by wheelchair. There is also a wheelchair-accessible route to the Forbidden City at the northeast corner.
The Ming Tombs: Above-ground tourist routes are fully accessible by wheelchair. Wheelchairs are provided for free.
Jingshan Park: Barrier-free access can be found at all gates except the North Gate. The park is almost fully accessible by wheelchair, however the hill is inaccessible.
Beihai Park: Wheelchair access can be found at all gates except the North Gate. The park is almost fully accessible by wheelchair, including the route along the circumference of the Beihai Lake, however the hill remains inaccessible.
The Imperial Academy: Wheelchair access is available at the gates, but wheelchairs are not permitted in the main halls. Wheelchair users can take a look at the interior of the halls if they are able to leave their wheelchairs and ascend a few steps.
In Shanghai
The following attractions are equipped with wheelchair access lifts and routes.
In Xi'an
Preparations Before Departure
Carry a letter from your doctor, describing your medical condition, and stating what and how much medicine you need to take, and when.
Take a copy of your medical record and your doctor's contact number with you, in case you need to go to the hospital, or need medical advice from your doctor.
Carry your guide and your travel advisor's contact numbers, so that you can contact them any time.
Pack your medication well. Make sure you have enough medication for the duration of the trip. Also consider carrying extra medicine in case you are delayed. Pack all your medicine in its original labeled container, and state clearly the dosage instructions. Pack up to a week's worth of your medication in your carry-on bag, since checked luggage might occasionally get lost.
Have a maintenance check done on any equipment you will take with you before you leave, and make sure that everything is in good condition.
Check the voltage in China (220 Volts at 50 Hertz) fits your equipment, if any of your disability aids need electricity. Also a portable plug adaptor may also be necessary. See China's Power Supply and Adapters
Make sure you have adequate medical insurance coverage.
Contact your airline/ cruise operator and hotel in advance, and disclose your requirements.
While Traveling
Make sure that you familiarize yourself with airline, cruise, and hotel emergency procedures, and that you can access them.
If you travel with a group or with a tour guide, inform others, and the guide of your health conditions, and any special care that you require, so that others can help you.
China Highlights Provides Excellent Service to Disabled Customers
We have the experience, resources, and local knowledge to make safe and enjoyable tours of China possible for disabled customers. See our customer feedback and accounts of disabled customers' tours:
Contact us for a tour of China tailor-made to your requirements.
Related Reading

China Highlights
Questions and Answers About Tips for Disabled Travelers to China
Edward Bunnell
2013-02-25
Show Answer
I use oxygen and have a oxygen consintrator, (portable), it uses a standard US plug in to charge the batteries. Where do I get an addaptor for it so I can use it in china? Can I get one there?
Dear The adaptors used in China are for Type A (2-pin), type B, (3-pin), type C (2-pin) and type I(3-pin) sockets.The adaptor used in Hong Kong and Macau is type G, which is three-pin socket, UK standard. Most of the hotels have a socket in the bathroom for both 110V and 220V. Most hotels have built-in converters in bathrooms for shaving, hair dryers, etc. Outside of the bathroom, only 220V sockets are provided so a converter will be required to change the voltage from 220V to 110V and well as an adaptor to allow different pins to be used.Most hotels will have adaptor, but I suggest you prepare some pieces of electrical equipments which you want to use. Lussie Lu replied on 2013-02-25
Indrajit
2012-08-12
Show Answer
are wheel chairs available in forbidden city.
Hi Indrajit, The main avenues have slope for wheel chairs. Disabled-travelers could exterior visit the palace, but travelers have to walk into palace to visit interior facilities.Click here for further infomation about the Forbidden City:http://www.chinahighlights.com/beijing/forbidden-city/ Alice Cai replied on 2012-08-12
April Offer $25 Coupon
Send your inquiry before Apr. 30, 2014, and we will email you a $25 coupon.
The coupon is valid till Dec. 31, 2014, for paying tour packages worth $250 or up.
The coupon cannot be used for paying flight tickets, train tickets, hotel rooms and day trips.
Travel Advice or Question? Ask us here