Disabled Travelers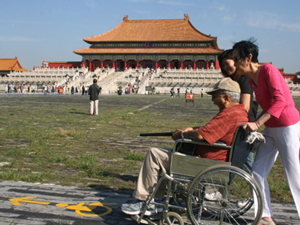 China has become more convenient for disabled travelers, with many hotels, airports, and some public areas in cities equipped with accessible facilities. Chinese people are also very kind and friendly. Therefore, your physical challenges should not stop you from enjoying the wonderful experiences of traveling, as long as you have made the proper planning, arrangements and preparation. The following are some useful tips that can help you plan a safe and enjoyable journey in China. Please contact us for tailor-made tours to China.
Research in Advance
Choose a suitable destination, taking into account its natural environment, barrier-free facilities, and level of health care available. Generally, the barrier-free environment in China is developing very fast, especially in big cities like Beijing, Shanghai, Guangzhou and Hong Kong. Get more information through internet or guide books about the destination.
Inform your travel advisor of your disability, health conditions and requested special cares, so that they can make proper suggestions and arrangements for you.
Consult your doctor. Discuss about your planned trip and activities involved. Consult about the medication you will need to take and any immunizations that might be needed. Do a thorough medical check-up to make sure that you are fit to travel.
Consult the Chinese embassy or consulate in your country, and check rules and regulations about your aids, such as wheel chair, medication and therapy equipment.
Consult the airline that you are going to take, and check their luggage rules, including how to carry your medication, wheel chair or therapy equipment.
Prepare Before Departure
Carry a letter from your doctor, describing your medical condition, and stating what and how much medicine you need to take, and when.
Take one copy of your medical record and your doctor's contact number with you, incase you need to go to the hospital or need medical advice from your doctor.
Make two copies of your detailed itinerary, hotel contact number and your travel advisor's contact number, take one with you and leave one copy to your family or friends at home, so that they can contact you any time.
Pack your medication well. Make sure you have enough medication for the duration of the trip, also consider carrying extra medicine in case you are delayed. Pack all your medicine in its original labeled container, and state clear the dosage instructions. Pack your medication in your carry-on bag, since checked luggage might occasionally get lost.
Before you leave, have maintenance check done on any equipment you will take with you, and make sure that everything is in good condition.
If any of your aids need electric current, check if the voltage in China (220 Volts at 50 Hertz) fits your equipment. Also a portable plug adaptor may also be necessary.
Make sure you have adequate medical insurance coverage.
Tips for Traveling
Contact your airline, cruise and hotel in advance and disclose your requirements.
Make sure that you familiarize yourself with airline, cruise and hotel emergency procedures, and that you can access to them.
If you travel with a group or with a tour guide, inform others and the guide of your health conditions and some special cares that you require, so that others can help you.

China Highlights
Planning a trip? Ask us here 800-2682918 (USA & CA)
86-773-2831999 (Int'l)
Q:
Edward Bunnell
Asked on 2013-02-25
Reply
I use oxygen and have a oxygen consintrator, (portable), it uses a standard US plug in to charge the batteries. Where do I get an addaptor for it so I can use it in china? Can I get one there?
Dear The adaptors used in China are for Type A (2-pin), type B, (3-pin), type C (2-pin) and type I(3-pin) sockets.The adaptor used in Hong Kong and Macau is type G, which is three-pin socket, UK standard. Most of the hotels have a socket in the bathroom for both 110V and 220V. Most hotels have built-in converters in bathrooms for shaving, hair dryers, etc. Outside of the bathroom, only 220V sockets are provided so a converter will be required to change the voltage from 220V to 110V and well as an adaptor to allow different pins to be used.Most hotels will have adaptor, but I suggest you prepare some pieces of electrical equipments which you want to use. Lussie Lu Replied on 2013-02-25
Q:
Indrajit
Asked on 2012-08-12
Reply
are wheel chairs available in forbidden city.
Hi Indrajit, The main avenues have slope for wheel chairs. Disabled-travelers could exterior visit the palace, but travelers have to walk into palace to visit interior facilities.Click here for further infomation about the Forbidden City:http://www.chinahighlights.com/beijing/forbidden-city/ Alice Cai Replied on 2012-08-12