Shanghai Museum
Shanghai Museum is famous for its large collection of rare cultural pieces. The museum now houses over 120,000 pieces of cultural relics in twelve categories, including Chinese bronzes, ceramics, paintings and calligraphy, and artifacts. Opened in 1995, it is the newest of the top four museums in China.
Bronzes
Shanghai Museum is especially well-known for its collection of bronze pieces.
The 1,200 square meter exhibition room displays more than 400 beautifully decorated bronzes, which provide a panoramic picture of China from the 18th century BC to the 3rd century BC.
The items exhibited include wine, food, and water vessels, musical instruments, and weapons from the Xia Dynasty (ca. 21st century B.C.) to the Warring States Period (221 B.C.).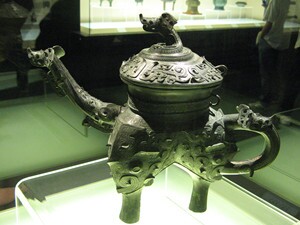 The exhibit in the Shanghai Museum
Artifacts
Visitors can get a clear picture of what an ancient seal looks like in the Seal Showroom. The room consists of four parts, and displays more than 500 seals, from the Zhou Dynasty (1024-256 BC) to the Qin Dynasty (1644-1911).
If you are interested in Chinese architecture, you should not miss the room showing Chinese furniture from the Ming and Qing dynasties. When stepping into the room, visitors almost feel like they are in a Chinese-style garden and mansion.
Over 100 pieces of various styles of furniture made in the Ming and Qing Dynasty are displayed, along with some models of valuable furniture, and wooden buried warrior figures from the Ming Dynasty, unearthed near Shanghai.
In the Arts and Crafts by Chinese Minorities room, visitors can enjoy about 600 works in different styles, and remarkable colors. Items include dresses and personal adornments, dyed and woven embroidery, metal art ware, sculptures, ceramics, and bamboo wares used by the minority people.
Other Exhibitions
Other rooms are Ancient Chinese Calligraphy Room, Ancient Chinese Ceramics Room, Ancient Chinese Jade Room, Ancient Chinese Numismatics Room, and Ancient Chinese Paintings Room.
Latest Tips on Shanghai Museum
1. Photos with no flash are allowed when you visit the museum.
2. Eat and drink before you visit the museum, because the tearoom is a little expensive.
Questions and Answers About Shanghai Museum
Irre
2012-08-01
Show Answer
Hi, im irre cris from philippines.I want to visit this place. Is there any admission upon entering?Taking mtr from peoples square which route where i suppose to ride in?Thank you and more power.
Bev White
2011-01-03
Show Answer
I am interested in the beautiful canoes we saw in your fine museum...light colour, mid-20th C. What are they constructed from? They remind me of North American birch bark canoes...but yours are much more beautifully decorated ! Thank you !
Greetings from China Highlights! This is Mia. I'm afraid that I have no idea of which article you are refering to, therefore I am not able to provide with the information you requested. I have a suggestion that you contact Shanghai Museum, to see if they can tell you what those canoes are constructed from and some other relevant information. The contact information is as follows. Good luck to you! Shanghai Museum Website: http://www.shanghaimuseum.net/ Tel: 021-63723500, extension 132 Email: webmaster@shanghaimuseum.net Mia Yang replied on 2011-01-04
Lena Schildt
2010-11-22
Show Answer
Dear Sir/Madam I have bought a painting when I was visiting the museum on glass in a wooden frame with a metal brass lid (looks like a chineese sign) on top of the frame. Unfortunately the painting does not contain any introduction or history so I wonder if someone could help to describe it for me.
Hello. It is hard for me to describe it based on your information, especially when it is a piece of art. If you bought it at the Shanghai Museum, it is suggested that you consult the museum about more information of the painting you bought there. It would be better if you can show them the picture. The contact information of Shanghai Museum is as follows. Email: webmaster@shanghaimuseum.net Tel: 021-63723500 Mia Yang replied on 2010-11-28
Guest
2010-08-29
Show Answer
We visited Shanghai Museum at end of August. It is very interesting, but inside was made so ridiculously cold by air-conditioning that we got sick on the very same evening.
Hello. Many public places in China turn on air-conditioning and make the temperature low for some people. We recommend that you bring along a long sleeve thin cardigan with you when traveling, in case you feel a bit cold. The cardigan is also very handy when it turns cool in early morning and late evening of Autumn. Mia Yang replied on 2010-08-30
April Offer $25 Coupon
Send your inquiry before Apr. 30, 2014, and we will email you a $25 coupon.
The coupon is valid till Dec. 31, 2014, for paying tour packages worth $250 or up.
The coupon cannot be used for paying flight tickets, train tickets, hotel rooms and day trips.
Travel Advice or Question? Ask us here

China Highlights
Shanghai Travel Guide