Muslim Street
Also known as Huimin Street and Muslim Quarter, Xi'an Muslim Street is the collective name for a number of streets, including Beiyuanmen Street, North Guangji Street, Xiyangshi Street and Dapiyuan Street, and it has become a famous attraction of Xi'an for its profound Muslim cultural atmosphere.
History of Muslim Street
Xi'an was the starting point of the ancient Silk Road 1,000 years ago in the Western Han Dynasty (206 BC-9 AD). A number of merchants and overseas students from the Arabic countries and Persia went to Xi'an for business and studying since the Western Han Dynasty (206 BC-9 AD); they settled down on the present Muslim Street, and they were called the Hui people by the locals. One generation after another, the descendants of the Hui ethnic people multiplied and lived on the street, and the number has now reached over 60,000.
Features of Muslim Street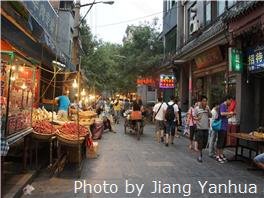 Muslim Street is paved with blue flagstones and shaded by trees, along which the archaized stores of the Ming (1368-1644) and the Qing (1644-1911) dynasties are in line, and they're all operated by the Hui ethnic people. A number of ancient architectural buildings are well-retained on the street, highlighted by Hanguang Gate of the Tang Dynasty (618-907), Xicheng Gate Tower Cluster of the Ming Dynasty (1368-1644), the City God Temple (a Taoist temple) and the Grand Mosque, all of which contrast finely with one another.
Though Muslim Street is regarded as a tourist scenic spot by foreigners, it's actually considered as a snack street by the locals, which is also an ideal place for the locals to kill time during a hot summer. As a matter of fact, Muslim Street is lined with various restaurants and stalls, some of which specialize in selling cakes, some in dried fruit and some in snacks. Most famous dishes of Xi'an are available on Muslim Street, including Marinated Meat in a Baked Bun, Pita Bread Soaked in Lamb Soup, Bean Threads in Shaanxi Flavoring and Xi'an Dumplings.
Famous Restaurants near Muslim Street
Chun Fa Sheng Restaurant

Location: Nanyuanmen Street, Xi'an

Dry Jujubes sold on a store in Huimin Street

Tong Sheng Xiang Restaurant

Location: Zhonggulou Square, Xi'an

Tian Tang Ke Restaurant

Location: 215, North Guangji Street, Xi'an

Jia San Steamed Dumpling Restaurant

Location: 121, West Xiyangshi Street, Xi'an
In addition, Muslim Street is very near to the Bell Tower, the Drum Tower and Huajuexiang Grand Mosque, all of which are worthy of your visit during your Xi'an trip.
Travel Essentials
Location: West of Zhonggulou Square, Beilin District, Xi'an
Transportation: bus 4, 7, 15, 32, 43, 45, 201, 205, 206, 215, 218, 221, 222, 251, 300, 604, 611, 612 and K630 will take you to the Bell Tower, and then you can walk for three minutes to get there
Opening times: all day long
Questions and Answers About Muslim Street
amier
2013-02-24
Show Answer
Any suggestion on English speaking tour guide for 3 days tour at Xian
Hi Amier, we can offer the English speaking tour guide service for you. It is CNY350/day(8hrs). Please kindly inform the exact dates if you need it. Thanks, Whitney
Whitney Liao replied on 2013-02-25
This price including transportation for visit? guest replied on 2013-03-15
Need your help on xi'an tour package for 2 days + english speaking guide for 2 person. (2-3 april 2013)if possible please include tour schedule and price. guest replied on 2013-03-18
amier
2013-02-24
Show Answer
Hi, what are the nearest hotel to Muslim Street? Thank You
Hi Amier, I recomend the Grand Noble Hotel to you. It is about 1.5km to the Muslim Street.
Location: Bell Tower
Address:

No.334 East Street,

Beilin

District,

Xian
Tel:

029-87690000

(Book this hotel, call

800-2682918

)
Hotel Name in Chinese:
西安皇城豪门酒店
http://www.chinahighlights.com/hotel/

xian-hotels

/grand-noble-hotel.htm
Whitney Liao replied on 2013-02-24
Marcus
2012-05-18
Show Answer
Hi, I was just return from my visits to the muslim street. I''m a kind of lost by knowledge. And actually i do need more explanation. could you please tell me more about it? By the way, i am also about to plan the next journey. mind to offer some suggestions? thanks.
Hello Marcus, please visit our website at http://www.chinahighlights.com/xian/attraction/muslim-street.htm for more information. Simon Huang replied on 2012-05-20
April Offer $25 Coupon
Send your inquiry before Apr. 30, 2014, and we will email you a $25 coupon.
The coupon is valid till Dec. 31, 2014, for paying tour packages worth $250 or up.
The coupon cannot be used for paying flight tickets, train tickets, hotel rooms and day trips.
Travel Advice or Question? Ask us here
You might like

The Most Popular Night Markets in Xi'an

China Highlights
Xi'an Travel Guide