The Impression of Liu Sanjie
Impression Liu Sanjie is a musical night show, actually performed on the Li River in Yangshuo. The cast are local Zhuang minority villagers, and it is one of the creations of famous Chinese Director Zhang Yimou.
This colorful and musically glorious extravaganza uses songs, imagery, colorful lighting and costumes, booming music, and local faces, to bring to life the celebrated and moving legend of the Song Fairy, Liu's Third Daughter.
Highlights of Impression Liu Sanjie
The whole performance is composed of 7 scenes, namely:
The Prelude — the Legend of the Scenery,
Red Impression — Folk Songs,
Blue Impression — Love Songs,
Green Impression — Garden,
Golden Impression — Fishing Lights,
Silver Impression — Performance of the Grand Ceremony, and
The Epilogue — Heaven and Earth Carol.
It is a creative artistic conception of harmony between man and nature.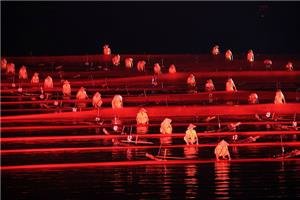 The Red Impression of the Impression Liu Sanjie performance
In the grand Red Impression scene, the Li River is dotted with fishing lights, and over 600 actors and actresses sing an antiphony.
The most impressive scene is Silver Impression, which reflects a scene of folk celebrations. 200 ethnic minority girls in festive costumes perform on the watery stage, welcoming visitors from all corners of the world.
In The Epilogue the fishing rafts depart and the lights are dimmed, and the song of Liu Sanjie echoes around the hills.
Liu Sanjie, the Movie
A 1960's movie musical, which has been televised and shown all over China, first made famous the legend of Liu Sanjie. It remains as popular as ever, especially among the minorities of the south, whose fairytale heroine she is. This, other local minority singing, and the acclaimed Yangshuo landscape is probably what inspired Zhang Yimou's production.
The Legend of Liu Sanjie
Liu Sanjie (刘三姐 /lyoh san-jyeah/ "the Third Liu Daughter") is a legendary Zhuang girl with the ability to sing a reply that no-one could match. She has been dubbed the Song Fairy because of this seemingly supernatural gift, and her statue features in the annual Zhuang Song Festival.
Liu Sanjie was, as the story goes, the third-born daughter of a man surnamed Liu, who lived centuries ago (in the Tang Dynasty: 618–907) in Guangxi Province. She became known for her singing as various dignified local oppressors came to her village and were left speechless and defeated by her tuneful and witty songs.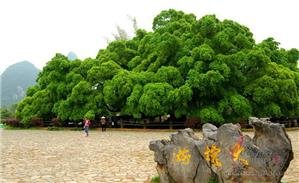 Liu Sanjie and A Niu's beautiful love story begin at Big Banyan Tree.
The legend goes that she was wooed by a boy named A Niu (阿牛 /ah-nyoh/ "Bull"), who sung replies to her songs at the Big Banyan Tree in Yangshuo County. As is the Zhuang custom, Liu Sanjie gave A Niu an embroidered ball to signify she liked him and he could pursue her. A Niu promptly tossed the ball across the river and high onto a rock the other side, where nobody could reach it and it would stay as an everlasting reminder of their love.
This love story has a happy ending, as most fairy tales do. The two singing villagers fell in love and lived happily ever after, blissfully unaware of the impact they would have on Chinese culture and international tourism!
Liu Sanjie Worship
Local idol and ancestor worship have, in some places, incorporated this legendary girl and her image in their offerings of incense, food, drink, bowing and prayer, and she has assumed godlike status. She is generally idolized by the minorities for embodying the dignity of the simple peasant, a charming victory over tyranny, and for their love of singing and a good romance.
Travel Essentials
Location: 1 Tianyuan Road, Yangshuo, Guilin
Opening hours: 8:00 p.m. to 9:00 p.m. from Monday to Friday;8:00 p.m. to 9:00 p.m. and 9:50 p.m. to 10:50 p.m. on Saturday and Sunday
Transport: An electric cart can take you the mile (1.5 km) from West Street.
Questions and Answers About The Impression of Liu Sanjie
April Offer $25 Coupon
Send your inquiry before Apr. 30, 2014, and we will email you a $25 coupon.
The coupon is valid till Dec. 31, 2014, for paying tour packages worth $250 or up.
The coupon cannot be used for paying flight tickets, train tickets, hotel rooms and day trips.
Travel Advice or Question? Ask us here

China Highlights