Zhangjiajie Weather in October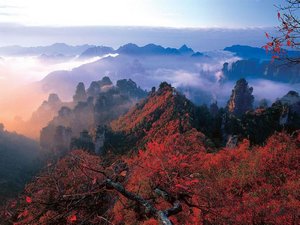 Weather: The temperature falls gradually during October. The highest temperature drops to 26 °C (79 °F) and the lowest temperature is about 16 °C (61 °F).
Clothing: Usually a thin sweater and a light jacket are adequate. Also bring a thicker cardigan or a coat for the morning and evenings. It rains less and the weather is a little dry, the sky is clear, and the air crisp.
Things to see: October is the best season to enjoy the autumn colors, go for a hike to the mountains and enjoy the beautiful scenery in the invigorating weather. Autumn is also the harvest season, giving you the chance to taste a variety of local fruits.
Be aware: October falls during the peak travel season. Pleasant weather and the National Holidays in China bring a large number of tourists to Zhangjiajie, so it is advisable to book everything in advance. If you are looking for additional travel tips, see our Zhangjiajie Tours.
Zhangjiajie Climate Information by Month
China Highlights
Planning a trip? Ask us here 800-2682918 (USA & CA)
86-773-2831999 (Int'l)
Q:
Mark Levine
Asked on 2011-08-30
Reply
I will be in Zhangjiajie from September 1 to September 17 ... can I expect rain?
Hi Mark, September is a good month for traveling to Zhangjiajie, not hot, nor cold. Based on the former data, the lowest temperature is 22°C (71.6F), and highest is 32°C (89.6F). There will be many sunny days while rainy days occur sometimes. Traveling conditions are not good during rainy days. However 1 or 2 hours after the rainfall, the mountain scene is the most attractive as the fog wreathes. China Highlights offers Zhangjiajie tours and can arrange a tailor-made tour for you based on your need. Check the information on our website: http://www.chinahighlights.com/zhangjiajie/tours.htm Have a nice day! lisa Replied on 2011-08-30
Q:
LAT
Asked on 2011-05-22
Reply
I will coming in October 2011, would like to know the temperature, what clooth suitable.
Dear LAT, We haven't received the exact information from the Weather Forecast Bureau. Based on the former data, the temperature is about 17-28°C. It's comfortable for travel. It's not very hot. It's suitable to wear the T-shirt and shirt. You can check the new information on this website before you leave to Zhangjiajie. Click here: http://www.weather.com.cn/en/weather/101251101.shtml In addition, we specialize in designing a tailor-made China tour. There are many Zhangjiajie tours on our website. Click here: http://www.chinahighlights.com/zhangjiajie/tours.htm If you would like to travel to Beijing or any other cities, or if you have any other questions, please feel free to contact me directly and I am glad to serve you. My e-mail address is lussie@chinahighlight.com Lussie Lu Replied on 2011-05-23
Zhangjiajie Travel Guide