Luoyang Railway Station
Luoyang Railway Station Taxi Directions
Chinese Name: 洛阳

Website: http://www.ztlyhcz.com/

Address: Jinguyuan Road, Xigong District, Luoyang City

Chinese Address: 河南省洛阳市西工区金谷园路

Telephone: 0379-62561222 0379—62561262

Number of platforms:4
Where the Trains Going to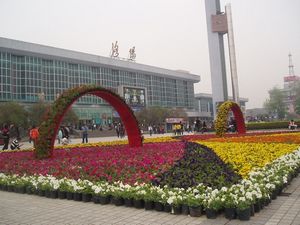 Passengers can reach many major cities in China, such as Beijing, Chengdu, Harbin, Chongqing, Tianjin, Qingdao, Lanzhou, Xi'an, Changsha, Guangzhou, Shanghai, Zhengzhou and Wuhan.
Transportation to Luoyang Railway Station
Transportation:Passengers can take public bus No. 2, 5, 6, 10, 11, 48, 50, 51, 66, 81, 83, 102 and 103 to get to the station
Luoyang Railway Station Special Tips
Longquan ticket outlet
Location:Longquan building of Luoyang railway burea (铁路分局龙泉大楼)
Tel:0379-62558532
Changan Road ticket outlet
Location:No. 5, Changan Road (长安路5号23甲A)
Tel: 0379-62722262
Luoyang Railway Station Overview
Built in 1908, Luoyang Railway Station is one of the earliest railway stations in China. It is 696 km (432 miles) from Lianyungang Port and 1063 km (660 miles) from Lanzhou City.
Planning a trip? Ask us here

800-2682918 (USA & CA)

86-773-2831999

1800-764678 (AU)

0800-0327753 (UK)

800-8793-007 (China)
Q:
Dahlia
Asked on 00:53 AM Jul. 31 2012
Reply
we would like to visit Shantou. if I"m coming from Luoyang (by train or bus) what are the option to get here (maybe need to change station)
Dear Dahlia,
It is about 1700km from Luoyang to Shantou. There is no direct train, but you could take a train to Guangzhou from Luoyang at first, and then take a train to Shantou. There is only one train from Luoyang to Guangzhou, it takes about 18 hours and it costs about US$102 for the soft sleeper. It takes about 7 hours from Guangzhou to Shantou, it costs about US$39 per person for the soft sleeper. You could check the timeschedule on our website. Please click:http://www.chinahighlights.com/china-trains/ Lussie Lu Replied on 03:00 AM Jul. 31 2012
Q:
joel pua
Asked on 11:01 PM May. 23 2012
Reply
is luoyang railway station also the same train station for bullet trains to xian (how much, travel time?) and regular trains to xian (how much, travel time?) and also the bus stop for the longmen grottoes and shaolin temple for day trips? (how much, details?) if i''m coming from zhengzhou what are t...
Luoyang bullet train station is different from Luoyang train station. Bullet train station, also called longmen train station, just near longmen grottoes, is about 20 minutes away from luoyang train station.
all train time and costs can be found here:
http://www.chinahighlights.com/china-trains/
There are many trains from Luoyang to Xian, every half hour, a train is available. Bus is the same as well. Sammi Dai Replied on 01:23 AM May. 24 2012
Q:
judee
Asked on 7:54 PM Feb. 06 2012
Reply
are there any lockers for luggage at the train station please