Pingyao Railway Station
Pingyao Railway Station Taxi Directions
Chinese Name: 平遥

Address: No.14 Zhongdu Road near the West Gate of Pingyao Ancient City in Pingyao County in Shanxi Province.

Chinese Address: 平遥县中都路14号

Telephone: 0354-5673197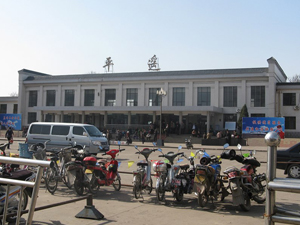 Pingyao Station is about 108 kilometers (67 miles) away from Taiyuan Station and 420 kilometers (260 miles) away from Huashan Station. It is about 600 kilometers (380 miles) northeast of Beijing and 540 kilometers (330 miles) west of Xian. The Tongpu railway line runs north to south. In the north, the line goes to Taiyuan and Shijiazhuang. In the south, it goes to Linfen and Yuncheng. The Pingyao Station is a transfer station for several railway lines such as the line between Taiyuan, Chengdu, Baoji, Fenglingdu and Yangquanxi; the one between Xi'an, Changchun and Baotou; and the one between Datong and Hangzhou.
Transportation to Pingyao Railway Station
There are electric motorbikes and taxis available. The motorbike price to take you to the ancient city can be as low as 3 to 5 RMB. Taxis start at 6 RMB. If you want to go to the city on foot, it may take about 20 minutes.
Special Service on Pingyao Railway Station
Freight Service:It handles carloads, freight packages and container cargoes.
Pingyao Railway Station Overview
The station was built in 1933. It is in the central part of Shanxi Province.
Planning a trip? Ask us here

800-2682918 (USA & CA)

86-773-2831999

1800-764678 (AU)

0800-0327753 (UK)

800-8793-007 (China)
Q:
destri
Asked on 03:49 AM Jul. 23 2012
Reply
from mount wu tai to mount emei, what is the best mode of transport?
Hi Destri, there are trains from Mount Wu Tai to Taiyuan City. It takes 4-5hrs. The price for softer sleeper is about CNY130. Then you can take air from Taiyuan to Chengdu. The price is CNY1,140 for economy class, takes around 2hrs. From Chengdu to Mount Emei, you can take trains. The price for softer sleeper is CNY112, takes about 2.5 hrs. Hope it helps.
Whitney Liao Replied on 06:32 AM Jul. 24 2012