Christmas in Guangzhou
Celebrated: Dec.&nbsp25,&nbsp2013 to Dec.&nbsp25,&nbsp2013
Location: Guangzhou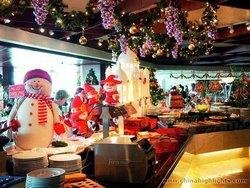 People work as usual during Christmas, unless it falls on weekends, because Christmas is not a public holiday in China. In Guangzhou, some foreign embassies, consulates and western companies have several days off to celebrate Christmas. Though not a public holiday, Christmas has become very popular is celebrated with keen interest in large cities in China like Beijing, Shanghai and Guangzhou. Most people celebrate Christmas more as a time of get-together for couples or friends, instead of a religious festival.
Department stores, shops and restaurants open as usual, and many of them prolong business hours till midnight and launch various promotions. Factories operate as usual. When in public places, be prepared for large crowds, and keep your belongings in a safe place.
Free Christmas E-cards
China Highlights has designed some exquisite Christmas e-cards. Check it out and send cards to your family or friends, for free.
Christmas Dinner/Buffet
4-star and 5-star hotels will launch special Christmas dinner or buffet, such as White Swan Hotel, Shangri-La Hotel and Westin Guangzhou. Many western restaurants and bars will also offer Christmas meals. Reservation in advance is essential.
If you look for Christmas food, snacks and candies, they are easily available in large department stores, supermarkets and international chains, where there are special sections for Christmas food, and some are imported.
Christmas Shopping
Christmas and New Year's Day (January 1) are one of the busiest periods for shopping in China. During this time, shopping malls and department stores usually offer various promotions and sales, and prolong business hours till midnight. In public places, be prepared for large crowds and keep an eye on your belongings as you rub shoulders through the crowds. See Guangzhou shopping guide page.
Christmas Tree and Ornaments Markets
Christmas ornaments can be easily found in many large supermarkets. For Christmas trees, you can go to Yide Road Market 一德路精品市场 (subway line 2, get out at Haizhu Square Station 海珠广场站). The market also has numerous Christmas ornaments for sale. Another place to buy Christmas tree is Lingnan Flower Market 岭南花卉市场 (57 Fangxing Road, Liwan District 荔湾区芳兴路57号)
Christmas Choir at Churches
Remember the true meaning of Christmas at the churches in Guangzhou. There are Christmas choirs and activities on Christmas Eve and Mass on Christmas day. You can contact the church in advance for detailed time and schedule.
Built in the 1800s by the Emperor of France, it is one of the architectural highlights in Guangzhou City.
Address: 333 Yide Road, Yuexiu District 越秀区一德路333号.
Tel: 020-83336737
Roman Catholic Church of Our Lady of Lourdes 沙面露德圣母堂
It was built by some French missionaries in 1890.
Address: 14 Shamian Road, Liwan District 荔湾区沙面大街14号
Guangxiaotang Christian Church 光孝堂
Address: 29 Guangxiao Road, Yuexiu District 越秀区光孝路29号
Tel: 020-81088867