Christmas in Shanghai
Celebrated: Dec.&nbsp25,&nbsp2013 to Dec.&nbsp25,&nbsp2013
Location: Shanghai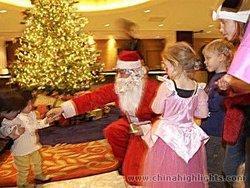 Although Christmas is not a public holiday in China, it has become more and more popular, especially in large cities like Beijing and Shanghai. For most people, they celebrate Christmas without much religious attachment, but rather as a get-together for couples or friends.
People still work during Christmas, unless it falls on weekends. Some foreign embassies, consulates and western companies will have several days off to celebrate Christmas. Many shops, department stores and restaurants prolong business hours to seize the business opportunities. Be prepared for large crowds of people in public places.
Christmas Dinner/Buffet
Many 4 or 5-star international hotel chains and large western restaurants offer Christmas Eve dinner or buffets, with all kinds of Christmas food like turkey, ham, steak, cakes and puddings, along with wine. It is necessary to make reservations in advance. You can also check out our Shanghai restaurant guide page for recommendation of restaurants.
If you look to shop for Christmas food and snacks, it is convenient to find these in large department stores and international chain supermarkets like Wal-Mart and Carrefour. They all have special sections for Christmas food, and many offer imported ones.
Free Christmas E-cards
China Highlights has designed some exquisite Christmas e-cards. Check it out and send cards to your family or friends, for free.
Christmas Shopping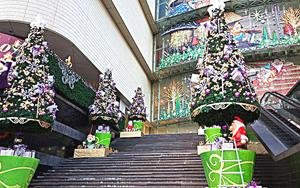 Christmas trees in a Shanghai mall
Only a few days ahead of New Year's Day (January 1), Christmas is often considered a good time for shopping. Department stores and shopping malls usually prolong business hours till midnight, and offer various promotions and discounts. As you rub shoulders through crowds of people, do keep an eye on your bag and valuable belongings.
It is easy to liven up your place with Christmas trees and ornaments, which are available in the following markets. Christmas ornaments are available in most large supermarkets. Check out Shanghai shopping guide.
Caojiadu Flower Market 曹家渡花市
With more than 400 shops, it is the largest flower market in Shanghai. Christmas trees, festive flowers and Christmas ornaments are available.
Address: 1148 Changshou Road, Putuo District 普陀区长寿路1148号
Chenghuangmiao Market 城隍庙市场
Chenghuangmiao Market is located in city center, near Yuyuan Garden and City God Temple, and there is a snack market. Chenghuangmiao Market has Christmas trees, decorations and cards for sale.
Address: 225 Fuyou Road, Huangpu District 黄浦福佑路225号
Wanshang Flower and Bird Market 万商花鸟市场
The market offers Christmas trees and festive flowers before Christmas. At usual times there are various kinds of plants, flowers, pets and birds for sale.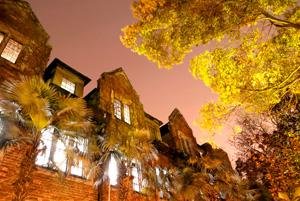 Shanghai Community Church
Address: 417 South Xizang Road, Huangpu District 黄浦区西藏南路417号
Christmas Choir at Churches
The true meaning of Christmas is best represented at churches. There are Christmas Eve gatherings and Christmas Day mass. Below is a list of famous churches in Shanghai.
Shanghai Community Church 上海国际礼拜堂
It is the largest Christian church in Shanghai.
Address: 53 Hengshan Road, Xuhui District 徐汇区衡山路53号
Tel: 021-64376576
St. Ignatius Cathedral 徐家汇天主教堂
It is the largest Catholic Church in Shanghai.
Address: 158 Puxi Road, Xuhui District 徐汇区蒲西路158号
Tel: 021-64382595
Moore Memorial Church 沐恩堂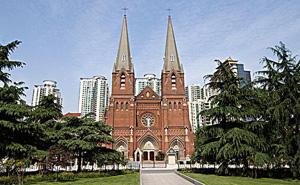 St. Ignatius Cathedral
The Christian church faces Renmin Square.
Address: 316 Middle Xizang Road, Huangpu District 黄浦区西藏中路316号
Tel: 021-63225069
Shanghai Grace Baptist Church 怀恩堂
Address: 375 North Shaanxi Road 陕西北路375号
Tel: 021-62539394
Christmas at Bars
Immerse yourself in the festive atmosphere at bars in Shanghai. During Christmas, many bars take on Christmas look and become a sea of happiness. There are several bar streets in Shanghai, and popular ones include Hengshan Road (衡山路), Maoming Road (茂名路), Xintiandi (新天地) and Julu Road (巨鹿路). Check out Shanghai nightlife guide.
Continue to read Best Christmas Markets in Shanghai
Planning a trip? Ask us here 800-2682918 (USA & CA)
86-773-2831999 (Int'l)
Q:
adrienne farrelly
Asked on 2012-12-07
Reply
GREAT ARTICLE on Christmas in Shanghai. I heard that the Yu Yuan Gardan Bazar had the biggest Christmas Market but I am not sure now. Can you advise me please as I am doing some research.Thanks very much Lee Li and Merry Christmas.Adrienne Farrellyhttp://adriennefarrelly.tumblr.com/post/37158864193/christmas-in-shanghai
Yes,Yu Yuan Garden Bazaar had the biggest Christmas Market in Shanghai.
Leon Long Replied on 2012-12-07
Q:
jessie
Asked on 2011-11-17
Reply
Hi, I would like to know 26 Dec is it a public holiday too in Shanghai since Christmas fall on Sun. Pls advise. Tks.
Hello Jessie, Christmas is not a public holiday in China. But there will be Christmas decoration on stores and restuarants. Lee Li Replied on 2011-11-20