Shanghai Shopping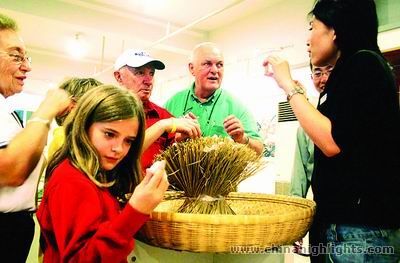 Shanghai is one of the most prosperous cities in the world. Anything you can imagine is available for purchase here. The main shopping streets, Nanjing Road and Huaihai Road, offer a plethora of international brand names. If fashion is not your interest, try one of Shanghai's numerous flea markets. Beneath Shanghai's magnificent shopping malls, department stores and boutiques are numerous flourishing flea markets. The outdoor bazaar at Yuyuan Garden sells various souvenirs, arts and crafts; the Cultural Street Market on Fuzhou Road, the Antique Street Market on Dongtai Road and the clothing street market on Shimen Road are traditional open-air Chinese markets. You can have a unique shopping experience and a taste of old Shanghai. If you want to buy a Qipao, you can check out the information for where to buy or tailor make a Qipao in Shanghai.
Souvenirs
Silk
Shanghai is close to Suzhou home to the finest silk producer in the world, so it possible to find fine silk products at good prices. Many locals shop at the Shanghai Silk Building because it has excellent quality silk. The company has branches on Huaihai Road (226 Huaihai Zhong Lu, near Huating Road) and Nanjing Road (588 East Nanjing Road).
Where to Buy
Jiangnan Silk Museum 江南丝绸馆
See how silk is produced from the cocoons of silkworms and turned into the beautiful fabric we all know and love. Silk-filled duvets have excellent value, and the showroom offers everything from small souvenirs to larger items. The beauty of real silk is that it's so light and packs easily!
Address: 289 Aomen Road, Putuo District (普陀区澳门路289号)
Shanghai Silk Mansion Company Ltd. 上海真丝商厦
This is the largest retail and wholesale center for silk fabrics in Shanghai; hence, it was given the name "the king of silk" around the world. The operations of the company are comprehensive, combining scientific research, production and trading with the features of high-technology products as well as chain stores. The company owns a wholesale store and 10 chain stores in some main commerce streets of Shanghai, but the products have been popular in 29 provinces and cities of China, especially the "Yi Fang" brand silk fabric, which is fashionable and of high quality. As a shop for presents for traveling foreign and state guests, Silk Mansion has welcomed many VIPs, such as the head of state of Malaysian and his wife and President Clinton and his family.
Places to Buy Calligraphy Works, Paintings, Wood Carvings
Yuyuan Bazaar 豫园市场
Yuyuan Bazaar has an amazing array of traditional Chinese items, including paintings by folk artists, pearls from Taihu Lake, calligraphy, old bank notes and wood carvings.
Curio Street at Dongtai Road 东台古玩街
Curio Street at Dongtai Road is an antique-hunter's mecca. Slightly over 200 meters long, the street is lined with more than 125 small shops selling a mind-boggling variety of items. The main products are China wares, bronze wares, jade pieces, bamboo and wood carvings, calligraphy, paintings, badges, Chairman Mao memorabilia, ancient ink, and paper, brushes, pens, and ink slabs. The place remains one of the most popular markets among expats and locals. It is important to remember that most of the items are not genuine. The fun of the place may not be in finding a real antique, but in seeing all of the interesting items and haggling. Haggle hard if you want to purchase something.
Porcelain
Shanghai Museum has some of the best porcelain available.
Location: 201 Renming Avenue. In some big department stores, you may find porcelain made in Jingdezhen.
Jiading Straw Handicrafts
Xuhang Township of Jiading District, Shanghai is famous for its smooth, soft and tough yellow straws, the best material for straw handcrafts. The handicrafts made of yellow straws are bright and beautiful, light and strong. There are over thousands of yellow straw handicrafts within 20 categories produced in Jiading, including handbags, fruit bowls, cup covers and slippers. These handicrafts integrate natural beauty, artistic beauty and practical value, and convey the concept of environmental protection. The excellent workmanship and the attractive style make the production a popular souvenir in Shanghai.
Clothes & Shoes
Name brand fashions can be purchased in the shopping malls on Nanjing and Huaihai Road. If you are searching for a traditional Chinese qipao dress, try the boutiques on Changle Road (长乐路) and Maoming Road (茂名路). The Chinese Qipao Street in Changle Road, near Jingjiang Hotel, contains about 20 qipao shops, and most of them provide tailoring services. Shaanxi Road (陕西路) and Huacao Road (华漕路) are crowded with small shops selling cheap shoes.
Huaihai Road Market 淮海市场
Huaihai Road is a bustling commercial street and one of the busiest shopping areas in Shanghai. It sells clothing of every kind and is the epitome of Shanghai's modern history, a showcase of its prosperity and the latest fashions. Hundreds of shops display a myriad of styles, including Western and international name brands.
南京东路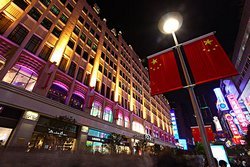 Shanghai Nanjing East Road
Nanjing East Road is a well-known shopping area that offers a dizzying array of items. There are more than 600 shops offering anything a shopper could want. Stretching more than three miles starting at Shanghai's Center, this pedestrian street is more than just a shopping street; it has also become an area for locals and visitors to experience the culture of modern Shanghai. The area is particularly bright and fun in the evening. Find hotels near Nanjing road.
Nanjing West Road 南京西路
Nanjing West Road is said to be the first shopping street in China. It is lined with some of the best Shanghai shopping malls brimming with luxury brands like Dior, Chanel, Armani, Prada and Calvin Klein. Here, you can enjoy a combination of shopping, relaxation and entertainment.
The Bund 外滩
The gentrification of Shanghai's iconic riverfront Bund has seen luxury brands such as Giorgio Armani at 3 on the Bund, Dolce & Gabbana at 6 Bund and Cartier, Patek Philippe, Ermenegildo Zegna and Boucheron at Bund 18 -- all have occupied former colonial banking headquarters buildings. Blessed with a beautiful view of the Huangpu River, this area is very attractive for shoppers. Find hotels near the Bund
Funky Shopping at Taikang Road 泰康路
Taikang Road is between Ruijin Second Road (瑞金二路) and South Chongqing Road (重庆南路), near Ruijin Hospital. It is an old Shanghai-style lane combining the arts and commerce. This street has a culture all its own with art studios and original boutiques providing unique shopping opportunities. Tianzifang is a famous lane running off Taikang Road. Redone abandoned factories and warehouses have turned this area into an art precinct. A coffee culture has developed and newlyweds use the area for photos and the graffiti on the wall, which is unusual for China. It is truly a place where you can sit down to relax and watch the world go by.
Shanghai Boutique Shops in the French Concession 法租界
The French Concession is the area of Shanghai once designated for the French colonialists. Today it consists of Luwan and Xuhui Districts. It is said that the charm of Shanghai lies in the old streets and neighborhoods that make up the former French Concession. It is a great area to explore, from old European buildings in shady avenues to cafes and restaurants, and the upmarket shopping area of Huaihu Road. You will find fashionable boutiques selling everything from designer handbags to pricy silks.
Shopping in Xintiandi Lanes 新天地
Located in the heart of the city, Xintiandi is a trendy cultural and entertainment center built to reflect a combination of Shikumen and modern architecture. The Shikumen building was created by converting residential blocks into a multifunctional dining, retail and entertainment center with many restaurants, boutiques, cafes and bars of international standard. Xintiandi is one of the busiest urban tourist attractions and is imbued with the city's historical and cultural legacies.
Shanghai Yatai Clothing and Gifts Market上海亚太服饰礼品市场
Shanghai Yatai Clothing and Gifts Market (上海亚太服饰礼品市场) is one of the largest subway markets in Shanghai. Covering an area of 19,022 square meters (4.7 acres), there are about 500 shops selling various products like clothing, accessories, fabrics, suitcases, hats, shoes, handicrafts and souvenirs. Quality is not very good, but prices are low. Bargain hard here. There are also tailor shops where you can get tailor-made clothes.
Opening hours: Monday - Thursday 10:00 - 20:00; Friday - Sunday 10:00 - 20:30
Transport: Take subway line 2 and get off at Shanghai Science & Technology Museum Station.
Shanghai Yong'an Department Store 永安百货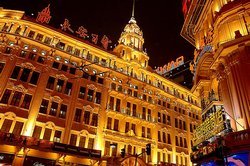 Shanghai Yong'an Department Store
Yong'an Department Store, the predecessor of Hualian Supermarket, was set up in 1918 by a business family surnamed Guo,and became Yong'an Department Store Co. Ltd. It is one of the country's first department stores to carry global brands. Yong'an and three other stores, Xianshi, Xinxin and Daxin, were seen as symbols of old Shanghai's prosperity in the 1920s.
The store, located in the middle of Nanjing Road, China's No.1 Commercial Street, restored its original appearance of 87 years ago, furnishing itself with the European construction style popular in Shanghai during the 1920s. Now, the company aims to develop a special department store combining shopping, food and leisure with elegant surroundings.
Address: 635 East Nanjing Road, Huangpu District (黄浦区南京东路635号)
Tel: 021-6322 4466
Fabric
South Bund Fabric Market 南外滩轻纺面料市场
As the name suggests, this is the ultimate stop for buying fabric. Start with a trip to the South Bund Fabric Market (399 Lujiabang Road, 陆家浜399号), where three air-conditioned levels offer a vast variety of fabric. This fabric market has all of Shanghai's best tailors under the same roof. Wade through mountains of fabric perfect for a design of your own creation or for the numerous samples provided. This is a perfect place for the person who enjoys sewing or wants to have custom-made beautiful clothes or home accessories. Remember to bargain hard to get a fair price.
Cyber Market
Located in the Middle Huaihai Road, Cybermart is the most central market for all sorts of gadgetry, including DVD players, iPods, laptops, digital cameras and camcorders, as well as blank CDs, DVDs, memory sticks and software. Although China is not the best place in Asia to get discounted electronic products, you can get a reasonable price here if you are good at haggling.
Books and Videos
Shanghai Xinhua Book Store has over 4,000 branches throughout the city. The one close to east Nanjing Road is on the 5th floor at No. 221 Middle Henan Road.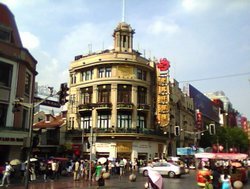 Shanghai Lao Fengxiang Silverware Shop
Silverwares
老凤祥银楼
Lao Fengxiang Silverware Shop has a history more than 150 years, and was established in 1848. It is the century brand in the Chinese gold ware and silverware field and has currently developed into a large enterprise with many branches and a research institute. Furthermore, its jewelries have won more than 120 prizes in many design competitions during the last three years. For the new century, Lao Fengxiang Silverware Shop proceeds development ranging from techniques to design to welcoming a brighter future.

China Highlights
Planning a trip? Ask us here 800-2682918 (USA & CA)
86-773-2831999 (Int'l)
Q:
Saam
Asked on 2012-09-18
Reply
Where to buy modern fancy wedding/ evening dresses? Something very luxury, with lots of bead work,stones. Etc. With reasonable prices, corsets kinda wedding dress and not too puffy.Thanks a lot
Hi Saam, you can go to Huasheng Street under People Square, there are lots of stores for wedding/ evening dresses. Or go to the Wedding Dress Square in Renmin Road. You can buy it or have it tailor-made.
Whitney Liao Replied on 2012-09-19
Q:
Keith Buford
Asked on 2012-09-17
Reply
How late is the Yuyuan Bazaar open in the afternoon / evening?
Dear Keith Buford, Generally speaking, you could visit there till 9:00pm. Here is an useful website to realize more information about it. Please click: http://www.yuyuantm.com.cn/yuyuan/En/Index/ Lussie Lu Replied on 2012-09-18
Q:
Francis
Asked on 2012-09-16
Reply
Hello I would like to buy in Shanghai :- some good and affordable running shoes - some tailored to fit shirts can you let me know where I can find these stores ?many thanks, Francis
Hi Francis, Name brand fashions can be purchased in the shopping malls on Nanjing and Huaihai Road. Shaanxi Road (陕西路) and Huacao Road (华漕路) are crowded with small shops selling cheap shoes. Whitney Liao Replied on 2012-09-17
Q:
remya
Asked on 2012-09-14
Reply
where should I buy tablet pc in most reasonable rate from shanghai?
Hi Remya, you can go to the Cyber Market.
Located in the Middle Huaihai Road, Cybermart is the most central market for all sorts of gadgetry, including DVD players, iPods, laptops, digital cameras and camcorders, as well as blank CDs, DVDs, memory sticks and software. Although China is not the best place in Asia to get discounted electronic products, you can get a reasonable price here if you are good at haggling.
Whitney Liao Replied on 2012-09-17
Q:
Lesley
Asked on 2012-09-10
Reply
Hi there , where can I buy cotton or cotton/polyester blend fabric by the yard in Shanghai? I have been to the South Bund market and Shiliupu, which cater more to people who are looking to have clothes made. I would like to make clothes and am looking for bulk fabric.Thanks.
Hi Lesley, the South Bund Market is more popular.
Whitney Liao Replied on 2012-09-11
Shanghai Travel Guide