Giant Panda Habitat
The giant panda's habitat is on the mountainous edge of the Tibet-Qinghai Plateau, Central-West and Southwest China. Giant pandas mainly live Sichuan, with a few populations in Shaanxi and Gansu. See Giant Panda Maps.
Giant pandas live in rainy, mountainous bamboo forests 1,200 to 3,100 meters (4,000 to 10,000 feet) above sea level. An adult pair need about 3,000 hectares (7,400 acres) of bamboo to sustain them.
Quick Facts
Name: The Chinese call it the 'big bear-cat' (大熊猫 da xiongmao /dah-sshyong-maow/).
Size: 75 centimeters (2.5 foot) tall and 1.5 meters (5 foot) long
Weight: Up to 150 kg (330 lb)
Habitat: Central- Western and Southwest China.Mainly Sichuan. A few in Shaanxi and Gansu. See the map
Diet: 99% bamboo. 13 kg (30 lb) or more a day.
Life Span: Up to 30 years in captivity, but usually only 15 to 20 years in the wild
Protection Status: Endangered. Estimates of giant panda numbers in the wild vary between 1,500 and 3,000.
Habitat Reduction
Giant panda habitat has been reduced by growth in China's logging and farming practices, until logging was banned by the government in 1998.
Before extensive farming and deforestation in China, the giant panda lived in many lowland areas of China's interior.
Habitat Protection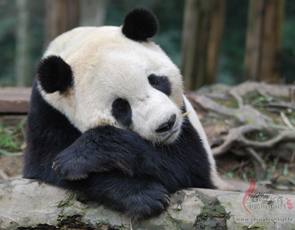 Now over 50 nature reserves, covering over 10,000 sq km (4,000 sq mi), protect some of the remaining wild panda populations. However, the separation of habitat areas due to development means that pandas sometimes starve if the bamboo in their area has a bad year.
Protecting the panda's habitat concurrently preserves whole ecosystems from destruction and preserves the quality of water near the source of China's largest and most important river system – the Yangtze.
Ecotourism in these reserves provides a livelihood for locals in poor mountain areas, while giving tourists a chance to see wild pandas in a controlled manner that leaves minimal impact on the environment.

Planning a trip? Ask us here

800-2682918 (USA & CA)

86-773-2831999

1800-764678 (AU)

0800-0327753 (UK)

800-8793-007 (China)
Q:
jj
Asked on 1:24 PM Jan. 11 2012
Reply
dose anybody know a pandas hibitat

Wolong National Natural Reserve
http://www.chinawolong.com/
Its English website seems not completed yet, but you can google the names given on this official website. Cheese061 Replied on 9:28 PM Jan. 11 2012
The best place in the world to see giant pandas (seeing them in the wild is difficult and costly, but can also be arranged – contact us for a free quotation at service@chinahighlights.com) is at the Panda Breeding Center in Chengdu. More information please see http://www.chinahighlights.com/giant-panda/ Iris Zhong Replied on 7:36 PM Jan. 12 2012
Q:
WAM
Asked on 09:50 AM Dec. 07 2011
Reply
how much does a panda cost?
Dear WAM,
The giant pandas are treated as the national treasure in China and they are the national level protection animals. They can't be sold to anyone or agencies. If you are interested in feeding the pandas, you can contact with the Wolong Giant Panda Breeding and Research Center in Sichuan province to obtain more information.
Hope it helps. Candice Song Replied on 01:55 AM Dec. 08 2011
Q:
georgia
Asked on 04:48 AM Jun. 07 2011
Reply
hello, i am doing a project on a panda and i need to know the movement of a panda . it would be wonderful if you could send me an answer back :)

Hi, Panda moves like a bear, you may watch some video program about panda. guest Replied on 07:51 AM Jun. 08 2011

Hi 16 chick, u do not rock your socks guest Replied on 04:59 AM Jun. 10 2011
Q:
Dinora L.H
Asked on 4:26 PM Apr. 27 2011
Reply
dear ______, i want to know when an were where pandas found
The scientific community recognized that it was on April 1, 1869 priest David first found pandas in Qionglai Mountain in Sichuan Province (四川邛崃山). Lynn Ye Replied on 10:09 PM May. 04 2011