Guangzhou Weather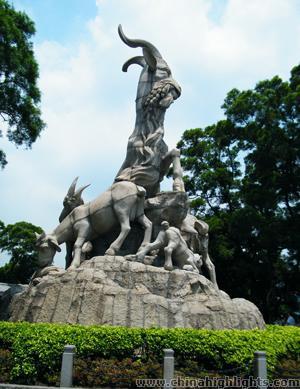 Yuexiu Park
Guangzhou is located in a humid subtropical climate zone, with plenty of sunshine and rainfall, and no snow in the last 100 years. Summers are long, humid and scorching, and winters are short, mild and sunny. The yearly average temperature in Guangzhou is 22 °C (72 °F). The lowest temperatures are in January when the average low temperature is 10 °C (54 °F), and the record highest temperature was 39 °C (102 °F) in July.
The annual precipitation is 1,736 millimeters (68 inches). April till early September is the rainy season, while June till September is the hottest period with several typhoons every year from April to September. The best time to visit Guangzhou is autumn and winter, from October till March of the next year, as temperatures are mild and rainfall is low. Also in January, unlike cities in North China, Guangzhou becomes a world of flowers, with blossoms and flower markets almost everywhere. Summer is not recommended, because the wet and sizzling weather makes it easy to suffer from heat exhaustion. Have a look at our Guangzhou Tours and choose your time of travel.
Guangzhou is an important transfer station during a journey to China. Travelers flying to Guangzhou may need to wait around half a day or one day before boarding their next flight. and then you can check out how to spend this half day or one day in Guangzhou.
Spring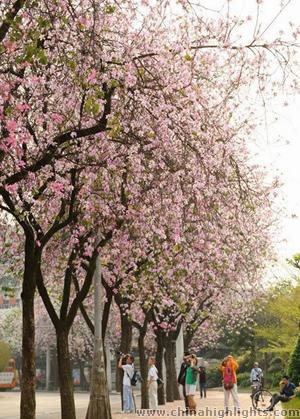 flowers in spring
Spring is from March to May. It is the start of the rainy season with rainfall mostly in April and May. Prepare a sweater in March and light clothes for this season. Every year the Canton Fair is held in Guangzhou from April to May. Have a look at and book hotels at Canton Fair Hotels page.
Summer
Summer is from June to early October. It is long, scorching and wet. The hottest months are July and August, with the highest temperatures in the mid 30 °C (around 95 °F). The average summer temperature is 29 °C (84 °F). There are occasional typhoons and frequent afternoon thunderstorms, so it is recommended to bring an umbrella.
For summer in Guangzhou, wear summer clothes such as shorts, shirts and skirts, and also sun protection such as hats, sunglasses and sun block. Besides drinking lots of water, you can also try drinking herbal tea, which is very popular among local people.
Autumn
Autumn is from mid October to early December. It is very short, mostly pleasant, with sunny and relatively cooler weather, and little rain. This is one of the best times of the year for traveling in Guangzhou. The average low and high temperatures are respectively 20 °C (68 °F) and 28 °C (83 °F) in October, 16 °C (60 °F) and 24 °C (75 °F) in November, and 11 °C (52 °F) and 20 °C (68 °F) in December.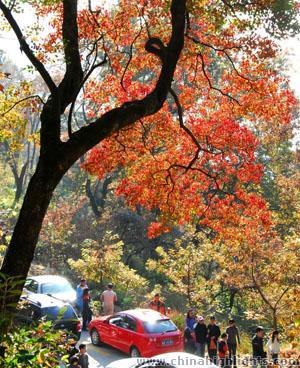 fall colors in Shimen National Forest Park
A light sweater and a coat is enough at the coolest of times, but a long-sleeve shirt is enough when it is warmer during the day. Leaves have not yet turned colors in this season due to the warm weather. The month in which you may go to see autumn colors is December.
Winter
Winter is short, from late December to February. The weather is moderate, cool and dry. It is one of the best times of the year for visiting Guangzhou. Unlike cities in North China, Guangzhou in winter is a sea of flowers. The average low and high temperature is 9 °C (49 °F) and 18 °C (64 °F) in January, and 11 °C (52 °F) and 18 °C (65 °F) in February.
Long trousers, a sweater and sometimes a coat are enough for the winter in Guangzhou. Leaves on the Shimen National Park turn colors in December, and you may take a day trip there to enjoy beautiful colors.
Popular Guangzhou Tours
Guangzhou Climate Information by Month
Guangzhou Average Climate by Month
| | Jan | Feb | Mar | Apr | May | Jun | Jul | Aug | Sep | Oct | Nov | Dec |
| --- | --- | --- | --- | --- | --- | --- | --- | --- | --- | --- | --- | --- |
| High (oC) | 18 | 19 | 22 | 25 | 29 | 32 | 33 | 33 | 32 | 29 | 24 | 20 |
| Low (oC) | 10 | 12 | 15 | 19 | 23 | 25 | 25 | 25 | 24 | 20 | 16 | 12 |
| Rain (mm) | 43.18 | 66.04 | 86.36 | 182.88 | 0 | 0 | 228.6 | 220.98 | 172.72 | 78.74 | 43.18 | 22.86 |
| High (oF) | 64 | 65 | 70 | 77 | 84 | 88 | 90 | 90 | 88 | 83 | 75 | 68 |
| Low (oF) | 49 | 52 | 58 | 66 | 72 | 76 | 77 | 77 | 74 | 68 | 60 | 52 |
| Rain (in) | 1.7 | 2.6 | 3.4 | 7.2 | 0 | 0 | 9 | 8.7 | 6.8 | 3.1 | 1.7 | 0.9 |
Guangzhou Average Monthly Temperatures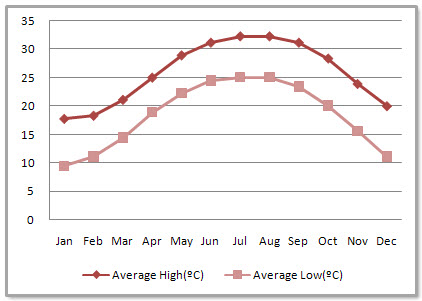 Guangzhou Average Monthly Precipitation (inches)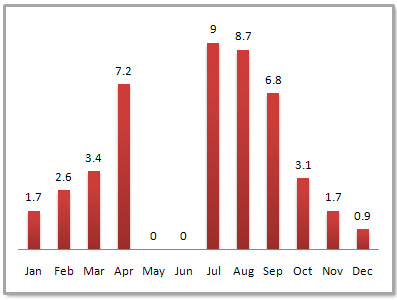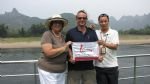 China Highlights
Planning a trip? Ask us here 800-2682918 (USA & CA)
86-773-2831999 (Int'l)
Q:
ocha
Asked on 2013-01-08
Reply
Hi..we''re going to guangzhou on jan 15th till jan 20th 013..where''a the good place to visited and shooping places that you can recommanded for us?we want to buy some cloths, bags etc.How''s the wheather?what''s good to wear according to the wheather?
Hi Ocha, the Chen Ancestral Shrine, Temple of the Six Banyan Trees, Museum of Nanyue King, Canton Tower, Shamian Island, Yuexiu Park, Baiyun Mountain, etc.are very popular with tourists.
For shopping in Guangzhou, please check here: http://www.chinahighlights.com/guangzhou/shopping.htm
It is cold in Guangzhou in January. The average low and high temperature is 9 °C (49 °F) and 18 °C (64 °F). A long sleeve shirt, a sweater and a thick coat would do.
Whitney Liao Replied on 2013-01-09
Q:
Robert Kurniawan Wu
Asked on 2012-12-10
Reply
Ni hao, I am Robert. I want to go to Guangzhou next year, i want to buy clothes in good quality and some leather shoes and bag for me and my wife, where i can find in GZ.Robert Kurniawan WuIndonesia
Dear Robert, I listed some options for your reference. 1. Guangzhou Tianhecheng Square (广州天河城广场): No.208. Toamje Road (广州市天河路208号) 2. LA PERLE (丽柏广场): No.367 East Huangshi Road(广州市环市东路367号) 3.Guangbai Department Store (广百百货):No.295 Beijing Road, Yuexiu District (广州市越秀区北京路295号) 4. Zhengjia Square (正佳广场): No.228 Tianhe Road (广州市天河路228号) Lussie Lu Replied on 2012-12-10
Q:
tawfeek
Asked on 2012-12-06
Reply
hi. i want to buy furnitures for my house, for example bed, dining table, sofa etc. where can i find these items at cheaper price but good quality in Guangzhou?
Hi Tawfeek, there is a very large scaled furniture expo center named Guangzhou Ji Cheng Wei Bang Furniture Expo Center 广州吉盛伟邦家具博览中心in Yingbin Road, Panyu District 广州番禺迎宾路.
Whitney Liao Replied on 2012-12-07
Q:
Ling
Asked on 2012-12-04
Reply
Hi, i will travel to Guangzhou on jan 10 to jan 15, what type of cloths i should buy before going? how is the weather there?
Dear Sir or Madam, Based on the former data, the average temperature will be 11-19℃(51.8-66.2℉), it'll be a little cold. You'd better take a cotton padded clothes, a sweater and some coats. You could check the new information on this website before leaving for Guangzhou. Please click: http://www.weather.com.cn/en/weather/101280101.shtml Lussie Lu Replied on 2012-12-04
Q:
Izham
Asked on 2012-12-04
Reply
Guangzhou have snow?
Hi Izham, it never snows in Guangzhou.
Whitney Liao Replied on 2012-12-04
Guangzhou Travel Guide