Guangzhou Weather
Guangzhou is located in a humid subtropical climate zone, with plenty of sunshine and rainfall, and no snow in the last 100 years. Summers are long, humid and scorching, and winters are short, mild and sunny. The yearly average temperature in Guangzhou is 22 °C (72 °F). The lowest temperatures are in January when the average low temperature is 10 °C (54 °F), and the record highest temperature was 39 °C (102 °F) in July.
The annual precipitation is 1,736 millimeters (68 inches). April till early September is the rainy season, while June till September is the hottest period with several typhoons every year from April to September. The best time to visit Guangzhou is autumn and winter, from October till March of the next year, as temperatures are mild and rainfall is low. Also in January, unlike cities in North China, Guangzhou becomes a world of flowers, with blossoms and flower markets almost everywhere. Summer is not recommended, because the wet and sizzling weather makes it easy to suffer from heat exhaustion. Have a look at our Guangzhou Tours and choose your time of travel.
Guangzhou is an important transfer station during a journey to China. Travelers flying to Guangzhou may need to wait around half a day or one day before boarding their next flight. and then you can check out how to spend this half day or one day in Guangzhou.
Spring
Spring is from March to May. It is the start of the rainy season with rainfall mostly in April and May. Prepare a sweater in March and light clothes for this season. Every year the Canton Fair is held in Guangzhou from April to May. Have a look at and book hotels at Canton Fair Hotels page.
Summer
Summer is from June to early October. It is long, scorching and wet. The hottest months are July and August, with the highest temperatures in the mid 30 °C (around 95 °F). The average summer temperature is 29 °C (84 °F). There are occasional typhoons and frequent afternoon thunderstorms, so it is recommended to bring an umbrella.
For summer in Guangzhou, wear summer clothes such as shorts, shirts and skirts, and also sun protection such as hats, sunglasses and sun block. Besides drinking lots of water, you can also try drinking herbal tea, which is very popular among local people.
Autumn
Autumn is from mid October to early December. It is very short, mostly pleasant, with sunny and relatively cooler weather, and little rain. This is one of the best times of the year for traveling in Guangzhou. The average low and high temperatures are respectively 20 °C (68 °F) and 28 °C (83 °F) in October, 16 °C (60 °F) and 24 °C (75 °F) in November, and 11 °C (52 °F) and 20 °C (68 °F) in December.
A light sweater and a coat is enough at the coolest of times, but a long-sleeve shirt is enough when it is warmer during the day. Leaves have not yet turned colors in this season due to the warm weather. The month in which you may go to see autumn colors is December.
Winter
Winter is short, from late December to February. The weather is moderate, cool and dry. It is one of the best times of the year for visiting Guangzhou. Unlike cities in North China, Guangzhou in winter is a sea of flowers. The average low and high temperature is 9 °C (49 °F) and 18 °C (64 °F) in January, and 11 °C (52 °F) and 18 °C (65 °F) in February.
Long trousers, a sweater and sometimes a coat are enough for the winter in Guangzhou. Leaves on the Shimen National Park turn colors in December, and you may take a day trip there to enjoy beautiful colors.
Popular Guangzhou Tours
Guangzhou Climate Information by Month
Guangzhou Average Climate by Month
| | Jan | Feb | Mar | Apr | May | Jun | Jul | Aug | Sep | Oct | Nov | Dec |
| --- | --- | --- | --- | --- | --- | --- | --- | --- | --- | --- | --- | --- |
| High (ºC) | 18 | 19 | 22 | 25 | 29 | 32 | 33 | 33 | 32 | 29 | 24 | 20 |
| Low (ºC) | 10 | 12 | 15 | 19 | 23 | 25 | 25 | 25 | 24 | 20 | 16 | 12 |
| Rain (mm) | 43.18 | 66.04 | 86.36 | 182.88 | 0 | 0 | 228.6 | 220.98 | 172.72 | 78.74 | 43.18 | 22.86 |
| High (ºF) | 64 | 65 | 70 | 77 | 84 | 88 | 90 | 90 | 88 | 83 | 75 | 68 |
| Low (ºF) | 49 | 52 | 58 | 66 | 72 | 76 | 77 | 77 | 74 | 68 | 60 | 52 |
| Rain (in) | 1.7 | 2.6 | 3.4 | 7.2 | 0 | 0 | 9 | 8.7 | 6.8 | 3.1 | 1.7 | 0.9 |
Guangzhou Average Monthly Temperatures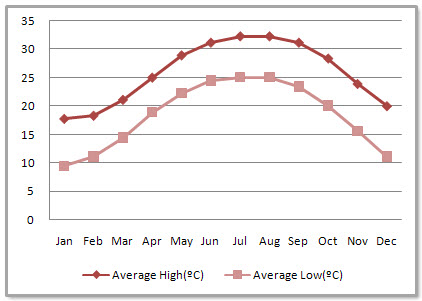 Guangzhou Average Monthly Precipitation (inches)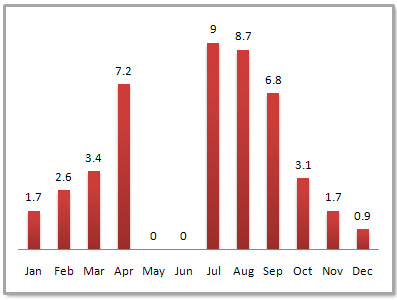 Questions and Answers About Guangzhou Weather
Azman
2014-02-15
Show Answer
How is the weather at Guangzhou n what type of clothes suitable to wear
May I know which month you mean? Today tempreture in Guangzhou is lowest 13℃ to highest 22℃. If you will come in Feb, you are suggested to bring long-sleeve shirt or blouse and a sweater or water resistant light jacket . An umbrella is useful. Carol Wang replied on 2014-02-16
Kelvin
2013-11-27
Show Answer
My family and I will be going Guangzhou around nxt year march 1st.We would be worry about the weather there.Could I know what would be the weather like during march and what clothes should we bring?
Dear Kelvin,
The weather becomes more warm than mild in the beginning of spring. The average low and high temperatures are respectively 14 °C(58 °F) and21 °C(70 °F). A long-sleeve shirt and a sweater or cardigan is enough to cope with the cooler mornings and evenings.
Nancy
Nancy Deng replied on 2013-11-28
Muhammad bin Awang Teh
2013-10-07
Show Answer
Hi, I''m Muhammad. I will go to Guangzhau at the end of Oct thiis year to visit Canton Fair, sightseeing and Muslim community, please advise me on this things
Dear Muhammad, Thank you for your inquiry. There are 4 mosques in Guangzhou: Huaisheng Mosque (No. 56 Taguang Road, Yuexiu District) Xianxian Mosque (No. 901 Jiefangbei Road, Yuexiu District) Xiaodongying Mosque (No. 1 Xiaodongying Street, Yuehua Road, Yuexiu District) Haopan Mosque (Sorry I could find the address of this Mosque, maybe you can ask some in Guangzhou for help) Here is a recommended Muslim hotel: Bostan Hotel Add: No.76 Tianhebei Road, Tianhe District, Guangzhou Tel: 020-38782888 Doris Huang replied on 2013-10-08
Leon
2013-09-03
Show Answer
Hi, gd day to all, I have to travel to GZ in Sept., please advice which date will be most comfortable to travel in GZ. As I need to do a lot of street walking. Thank you!
The end of September would be better . The first half of the month it is usually cloudy or rainy, while the latter half of the month it gets drier and begins to cool off at early morning and evening.
Carol Wang replied on 2013-09-04
Erika
2013-06-30
Show Answer
I am traveling to Guangzhou in winter. How many layers do I need to wear during the coldest time in winter? Are woolen pea coats or down jackets needed for outdoors? Is there wind chill which makes temperature felt by body colder than the actual temperature? What is the lowest temperature in Guangzhou in a year? Also, I plan to travel from Shanghai to Guangzhou by high-speed rail. Is there direct high-speed rail connection from Shanghai to Guangzhou? If not, where do I stop to transit if I travel solely by high-speed rail? Is it Wuhan or other cities? Thank you!
Dear Erika, In Jan. it is coldest in Guangzhou, the temperature is about 5-7℃(41-44.6℉). In general, you could take a sweater, thick coats, down jacket or a cotton padded clothes. There is only one train from Shanghai to Guangzhou, it is not high speed train. If you only would like to take a G-train, you could take a train from Shanghai to Wuhan(around 5 hours), then take another G-train to Guangzhou(around 4 hours). Lussie Lu replied on 2013-07-01
April Offer $25 Coupon
Send your inquiry before Apr. 30, 2014, and we will email you a $25 coupon.
The coupon is valid till Dec. 31, 2014, for paying tour packages worth $250 or up.
The coupon cannot be used for paying flight tickets, train tickets, hotel rooms and day trips.
Travel Advice or Question? Ask us here

China Highlights