Guilin Weather in December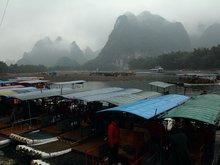 Weather: December is the beginning of Guilin's cold and damp winter. Though the temperature is not very low, averaging 14ºC (57ºF), it feels cold with the dampness. December is the driest month, averaging 50 mm (2 inches). It typically rains on nine days, but it does not snow in Guilin in December, except on the high mountains, like in Longsheng.
Clothing: Prepare cotton-padded jackets, sweaters and thick jeans. Locals tend to bring out their long johns and thermal underwear, as there is generally no heating provided in buildings (apart from those with air con).
Things to Do
Yao Mountain: in December, although in the south of Guilin it is unlikely to snow, it is worth climbing Yao Mountain to enjoy the snow scenes in the north-east of Guilin. After climbing to the top of the mountain, you can slide back down it. It could be very interesting but be careful.
Impression Sanjie Liu in Yangshuo: Impression Sanjie Liu in Yangshuo will give you a visual feast. Through this drama, you can enjoy the fabulous lights and music and admire how colorful and amazing Chinese culture is.
Low season: It is the low tourist season, so Guilin is less crowded and it is cheaper to travel. See our Guilin tours.
Guilin Climate Information by Month

China Highlights
Planning a trip? Ask us here 800-2682918 (USA & CA)
86-773-2831999 (Int'l)
Q:
Yong kong peng
Asked on 2013-09-29
Reply
Hi, is the trees and plant still green in Dec?
Hi Yong, it is hard to answer this question as some tress are green all the year but some are not. Usually, tress in south china will be green all the year.
Simon Huang Replied on 2013-09-29
Q:
dee
Asked on 2013-08-21
Reply
Planning a trip to guilin and yanshuo over the last week of December. 1. are cruises still running on the li river? 2. can I still do a mud bath? 3. what are the rice paddies like?
The Li River cruise will not stop running in December but the water level may be low in winter and it looks less pretty then. Where would you like to take mud bath? In late December, the temperature would drop to 5ºC to 1ºC (41ºF -33ºF). It would be too cold to do it outdoor. It may get snowy in Longji Terraced Rice Fields in late December.
Nora Ou Replied on 2013-08-22
Q:
precious
Asked on 2012-12-08
Reply
am coming to guilin for a study tour?vacation decemebr 25th.do you think it would be fun
Hi Precious, there are many universities in Guilin where some foreigner students studying there. If you concern about the weather, please check the detailed information on our website http://www.chinahighlights.com/guilin/ about Guilin. Lily Lee Replied on 2012-12-09
Q:
Mario
Asked on 2012-11-27
Reply
Hello! I want to go to guilin in december 23, to have christmas holiday there, I want to go to Guilin, Xinping and yangshuo, Im going to stay like 5 days over there, is it a good season to go? due to christmas holidays everything is open?? also which hotel or hostel you recommend me?? we are in the twenties..
Hi Mario, yes, it is a good time to come to Guilin, Xingping and Yangshuo. It is the dull season. There are less visitors and hotel charge and entrance fee for attractions are accordingly lower. However, they weather would be rather cold, please prepare winter clothes such as overcoats, thick sweaters, hats, scarves,etc. Everything is open during Christmas holidays.
For hotels, I recommend the Guilin Eva Inn in Guilin and Aiyuan Hotel in Yangshuo. More hotels please check here:http://www.chinahighlights.com/hotel/guilin-hotels/
We are a travel agent since 1959. If you need any tour service, please feel free to contact me via whitney@chinahighlights.net
Whitney Liao Replied on 2012-11-29
Q:
Maziah A Rahman
Asked on 2012-11-14
Reply
how much does it cost for a guilin tour
Hi Maziah, the price varies from number of people, days of stay in Guilin, class of hotel and attractions you will visit. Please let me know the exact information on these, then we will send you a detailed quotation, okay?
Usually our 3-Day Essence of Guilin and Li River Cruise tour costs from USD339/PP for a group of 2-5 people. Please check details here: http://www.chinahighlights.com/tour/guilintour/gl-1/
Any ideas, just let me know, okay?
Whitney Liao Replied on 2012-11-15
Guilin Travel Guide