Guilin Weather in December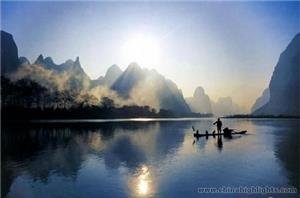 The Li River in December
Weather: Guilin's cold and misty damp winter begins in December. Though the temperature is not very low, averaging 11 °C (52 °F), it feels cold with the dampness. The average low and high temperatures are respectively 7 °C (45 °F) and 15 °C (59 °F).
December is the driest month. It typically rains on nine days of the month, but it does not typically snow in Guilin in December except on the high mountains, like in Longsheng. The average rainfall is 43 mm (1.6 inches). See the current weather and forecast>>
Clothing: Prepare thick jackets, sweaters and thick jeans or thermal underwear. Locals tend to bring out their long johns and thermal underwear because there is generally no heating provided in buildings (apart from those equipped with air conditioners) nor in the houses and apartments.
Things to Do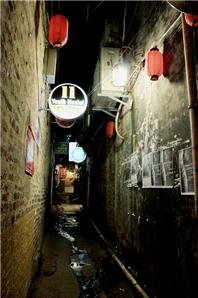 A little alley near the West Street
Due to the low rainfall, Li River cruises are necessarily shortened, and it isn't the best month for a cruise although they are still available.
Yao Mountain: Snow in Guilin? When the Li River is low, would you want to venture to go see the snow in the mountains? Longsheng is the mostly likely place for snow. Yao Mountain, 7 kilometers (11 miles) north of Guilin, might have snow too, or just enjoy the scenery and the rides. There is a cable car ride to the top. But you can hike up too. After climbing to the top of the mountain, about half way down, there is a fast cart ride on its own track like a toboggan on wheels. It could be fun, but be careful.
Visit Yangshuo: The favorite backpackers' destination abounds with opportunities for recreation. You can expect economical rooms and Chinese restaurants and see lots of visitors from everywhere from Israel to South America. It is one of China's major scenic attractions, and it attracts young people looking to have fun.
People can go river rafting even in the winter (don't fall in), bike, walk around in the country, and visit the area's caves. There are also big new starred hotels. Shop for souvenirs on the West Street pedestrian shopping lane.
Impression Liu Sanjie: There is also special theater experience in Yangshuo that is created by Zhang Yimou who directed the staggering opening and closing ceremonies for the 2008 Olympics. Tourists usually say it is impressive, mesmerizing, spectacular, and outstanding.
The show is an opera and music presentation that is partly based on the local Zhuang culture and legends. It features a cast of hundreds with both modern and folk music musicians. It is set outdoors with hills for the backdrop, and it is about a half an hour walk from the West Street pedestrian shopping lane. It is on East Street in Yangshuo. Through this drama, you can enjoy the fabulous lights and music and admire how colorful and amazing Chinese culture is.
Low Travel Season
December is in Guilin's winter low tourist season. Guilin and Yangshuo are less crowded, and it is cheaper to travel. Less people take a river cruise, and hotel prices generally moderate. We can help you book hotel rooms, flight tickets and train tickets, and we'll help you get them at a discount if you want.
Guilin Tours
China Highlights has a variety of Guilin package tours for biking, rafting, seeing caves, shopping, or sightseeing in Guilin. We can tailor your tour to suit your needs since we know the area well. We have decades of experience conducting both individual and group tours in the region. See also how to plan a day in Guilin>>
Further Reading
Guilin Climate Information by Month
Questions and Answers About Guilin Weather in December
Yong kong peng
2013-09-29
Show Answer
Hi, is the trees and plant still green in Dec?
Hi Yong, it is hard to answer this question as some tress are green all the year but some are not. Usually, tress in south china will be green all the year.
Simon Huang replied on 2013-09-29
dee
2013-08-21
Show Answer
Planning a trip to guilin and yanshuo over the last week of December. 1. are cruises still running on the li river? 2. can I still do a mud bath? 3. what are the rice paddies like?
The Li River cruise will not stop running in December but the water level may be low in winter and it looks less pretty then. Where would you like to take mud bath? In late December, the temperature would drop to 5ºC to 1ºC (41ºF -33ºF). It would be too cold to do it outdoor. It may get snowy in Longji Terraced Rice Fields in late December.
Nora Ou replied on 2013-08-22
precious
2012-12-08
Show Answer
am coming to guilin for a study tour?vacation decemebr 25th.do you think it would be fun
Hi Precious, there are many universities in Guilin where some foreigner students studying there. If you concern about the weather, please check the detailed information on our website http://www.chinahighlights.com/guilin/ about Guilin. Lily Lee replied on 2012-12-09
Mario
2012-11-27
Show Answer
Hello! I want to go to guilin in december 23, to have christmas holiday there, I want to go to Guilin, Xinping and yangshuo, Im going to stay like 5 days over there, is it a good season to go? due to christmas holidays everything is open?? also which hotel or hostel you recommend me?? we are in the twenties..
Hi Mario, yes, it is a good time to come to Guilin, Xingping and Yangshuo. It is the dull season. There are less visitors and hotel charge and entrance fee for attractions are accordingly lower. However, they weather would be rather cold, please prepare winter clothes such as overcoats, thick sweaters, hats, scarves,etc. Everything is open during Christmas holidays.
For hotels, I recommend the Guilin Eva Inn in Guilin and Aiyuan Hotel in Yangshuo. More hotels please check here:http://www.chinahighlights.com/hotel/guilin-hotels/
We are a travel agent since 1959. If you need any tour service, please feel free to contact me via whitney@chinahighlights.net
Whitney Liao replied on 2012-11-29
Maziah A Rahman
2012-11-14
Show Answer
how much does it cost for a guilin tour
Hi Maziah, the price varies from number of people, days of stay in Guilin, class of hotel and attractions you will visit. Please let me know the exact information on these, then we will send you a detailed quotation, okay?
Usually our 3-Day Essence of Guilin and Li River Cruise tour costs from USD339/PP for a group of 2-5 people. Please check details here: http://www.chinahighlights.com/tour/guilintour/gl-1/
Any ideas, just let me know, okay?
Whitney Liao replied on 2012-11-15
April Offer $25 Coupon
Send your inquiry before Apr. 30, 2014, and we will email you a $25 coupon.
The coupon is valid till Dec. 31, 2014, for paying tour packages worth $250 or up.
The coupon cannot be used for paying flight tickets, train tickets, hotel rooms and day trips.
Travel Advice or Question? Ask us here

China Highlights
Guilin Travel Guide