Guilin Weather in September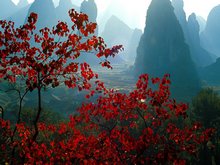 The average low and high temperatures are respectively 25 °C (77 °F) and 30 °C (86 °F). Summer clothes will still do, but bring a coat or cardigan to cope with early morning and evening coolness, because in the last ten days of September the weather becomes cooler and windy. At the end of September and the beginning of October, Longji Rice Terraced Fields turn golden yellow and present a breathtaking scene. See our Guilin tours.
Guilin Climate Information by Month

China Highlights
Planning a trip? Ask us here 800-2682918 (USA & CA)
86-773-2831999 (Int'l)
Q:
Christina Liew
Asked on 2012-10-21
Reply
Hello...we are planning our trip from 16/9/2013 to 24/9/2013 from Hanoi to Guilin. Like to know the weather there. Please advise and some tips. Thank You very much.
Hi Christina, from the previous report, the average low and high temperatures are respectively 25 °C (77 °F) and 30 °C (86 °F) in Guilin. Summer clothes will still do. You can also check the up to date information via this website: http://www.weather.com.cn/english/
Whitney Liao Replied on 2012-10-22
Q:
helen uy
Asked on 2012-09-17
Reply
what is d weather in xiamen jinjiang mt putuo hanzhou lijiang river guilin yangshuo we are planning a trip on sept 20 to 25
Dear Helen, September is a good time for travelling places you listed. The average temperature is around 20℃ to 28℃. Please bring your Long T-shirt and a thin coat with you while travelling. Nancy Nancy Deng Replied on 2012-09-18
Q:
Cheryl Bingham
Asked on 2012-09-05
Reply
We are visiting from Sept. 23rd to Sept. 26th. How will the weather be during this time? Cheryl
Dear Cheryl Bingham, Based on the former data, the average temperature will be 21℃-30℃ (69.8℉-86℉). It is hot in the day and it is cool at night, you could take some T-shirt, shorts, shirts and Jeans. There are some options about the tour for reference. Please click:http://www.chinahighlights.com/guilin/tours.htm If you have not arranged a tour, I am glad to design an itinerary for you, please feel free to let me know your travel plan. My e-mail is lussie@chinahighlights.com Lussie Lu Replied on 2012-09-05
Q:
Yati
Asked on 2012-09-02
Reply
Is there any fruits that is in season in september when visting Guilin?
Hi Yati, welcome to Guilin. There will be lots of oranges, pears, persimmons, grapes, dragon fruits, pomelos, bananas, etc.
Whitney Liao Replied on 2012-09-03
Q:
May
Asked on 2012-08-25
Reply
If needed a wheel chair for old people which not convenience to walk, how much will be charge for such arrangement ? calculate per day or by tour basis ?
Hi May, it is CNY50-70/day/person. Some of the hotels also offer it for free.
Whitney Liao Replied on 2012-08-26
Guilin Travel Guide