Guilin Weather in April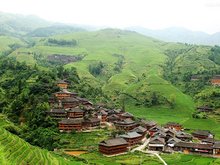 Weather: The weather continues to warm up in April, averaging a mild 20°C 67°F). Warm days are common and heavy rain is more frequent and prolonged, averaging 250 mm (10 inches) for the month.
Clothing: Prepare a T-shirt and a coat. The wet season also begins, so bring an umbrella.
Things to Do:
Li River Cruise: April is the rainy month in Guilin. In April, it drizzles continually especially in the later part of the month. It is a good time to take a cruise to enjoy the fabulous scenery alongside the Li River where you can see the misty and rainy scenes.
Longsheng Terraces: as the terraced fields have been filled with rain, the Longsheng Terraces are just like mirrors. You can see the magnificent and unique sights of the Longsheng Terraces without being seeded, which reflect the blue sky and green mountains.
Bamboo boat drafting on Yulong River: you can rent a draft on Yulong River to have fun in Yangshuo. Since it is the rainy season, the river is full of water and the weather is neither cold nor hot. You can see the mountain in the fog, lush bamboo and green grass on the riverside. Besides, it's not very crowded this season.
Festival: if you are into the Chinese culture, go to the Yao Nationality Longsheng Red Clothes Festival in Longsheng. All the Yao nationality girls will wear red clothes and dance to music. On that day, the unmarried youngsters will date the one they love while listening to the lovely songs.
High Season: The tourism high season begins with an increase in tourist numbers, lasting until October. See our Guilin Tours.
Guilin Climate Information by Month

China Highlights
Planning a trip? Ask us here 800-2682918 (USA & CA)
86-773-2831999 (Int'l)
Q:
HAZIDA
Asked on 2012-11-10
Reply
Im planning to visit Guilin in April 2013. Im looking for the best and cheap muslim restaurant. Is it convenient to go for "FREE AND EASY"?
Hi HAZIDA, there is one next to the Shenlu Rice Noodle神卤米粉in Zhengyang Pedestrian Street 正阳步行街. It is very convenient to go and easy to find.
Whitney Liao Replied on 2012-11-11
Q:
Ramesh
Asked on 2010-12-16
Reply
I am planning to visit Guilini Can I get a hotel with mini kitchennette or serviced apartment near the TCM Hospital. Any idea of Rates ? And also : 1) I want to buy Air Tickets Guan
Hi Ramesh Our travel advisor is contacting with you. Thanks for you support. Nero Hou Replied on 2010-12-17
There is no such hotel with mini kitchennette or serviced apartment near the TCM Hospital. In China, most of the mini kitchen at hotels cannot be used. There is a nice hotel near TCM Hospital called Jing Guan Ming Lou Holiday Hotel cost about US$70. Cindy Feng Replied on 2010-12-17
Regarding the air tickets, you can check the fare at http://www.chinahighlights.com/china-flights/ Cindy Feng Replied on 2010-12-17
Guilin Travel Guide