Guilin Weather in June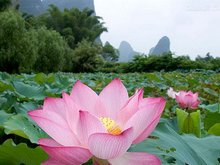 June is in the rainy season, with one third of the month being rainy and wet with frequent downpours. Prepare umbrella or raincoats. It is summer with hot weather. Wear summer clothes such as T-shirts, shorts and skirts. Li River has high water level. Outdoor activities like hiking and biking are popular. Recommended attractions for June are Li River, Reed Flute Cave, Jiangtouzhou Ancient Town and Elephant Trunk Hill. See Guilin tours.
Guilin Climate Information by Month

China Highlights
Planning a trip? Ask us here 800-2682918 (USA & CA)
86-773-2831999 (Int'l)
Q:
Sandra
Asked on 2012-10-26
Reply
Is end of May early June a good time to visit South West China
Hi Sandra, yes, it is a very good time, with comfortable weather, beautiful sunshine and brilliant scenery.
Whitney Liao Replied on 2012-10-26
Q:
YC
Asked on 2012-05-14
Reply
Hi, me and my family wil go to Guilin at 7th June to 14th June. How is the weather around that period?
Dear YC, It feels hot during the day and even smeltering at noon. The sunshine is much strong. It seldom rains in this month, but you'd better bring an umbrella there in case of emergency. Hope it helps. Candice Song Replied on 2012-05-14
Q:
Soo Shin
Asked on 2012-04-07
Reply
hi, i''m from Malaysia.will visit Guilin on 16June2012..may i know the weather is how?and how the wearing should be repare.?pls reply to my email.thanks a lot.
Dear Soo Shin, It may feel hot and sometimes even feel like being in a smelter in the middle of June as the temperature would go higher gradually. The sun cream and an umbrella for keep away from the sunburn are necessary. Short summer clothes, such as skirts, T-shirts are suggested to get prepared. More information about Guilin weather in June from the website http://www.chinahighlights.com/guilin/weather/june.htm Hope it helps. Candice Song Replied on 2012-04-09
Q:
peiyi
Asked on 2010-06-26
Reply
Hi,I am heading to guilin today-28th of june and was wondering how is the weather like over there and are we able to take the river li cruise.Have booked the ticket a couple of months back and was disappointed to know from the new that it was flooding in guilin.pls advise.thanks
Hello. Welcome to Guilin! During your visit, the weather in Guilin is expected to turn out fine, only with occasional rainfall, actually it is sunny this afternoon. So you can take the Li River cruise as planned. If you need any tour services in Guilin as well as in other parts of China, please feel free to contact us. Wish you a pleasant journey! Mia Yang Replied on 2010-06-28
Guilin Travel Guide