Guilin Weather in June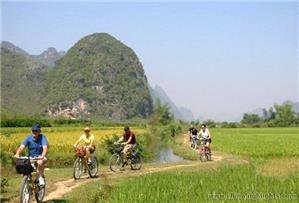 Explore the countryside in Yangshuo
Weather: June is the second wettest month with occasional heavy downpours with lightning. On some days, there is continuous rainfall that lasts for more than a day. The average monthly rainfall is 347 mm or about 14 inches, and it rains in an average of 18 days of the month.
It is warm and humid, and there is good weather for outdoor activities. The average daily low and high temperatures are respectively 23 °C (72 °F) and 30°C (86 °F). See the current weather and forecast>>
Clothing: Prepare an umbrella or light raincoat. Wear summer clothes such as T-shirts, shorts and skirts.
Things to Do
Li River Cruise: Take a cruise trip and relax as you eat and see the sights float by. You can see the banks of the Li River bordered by lush trees and rice fields. Take out your camera to record everything.
Explore the Yangshuo countryside: After the cruise to Yangshuo you should head out to exlore the karst landscape at clowith a bike trip or go rafting in the Yulong River? Biking, hiking, kayaking, and rafting trips are all very popular in June. Just inquire, and let's talk about what you want.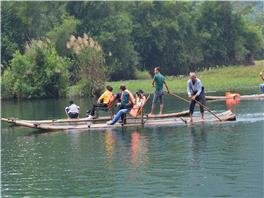 Bamboo rafting on the Yulong River
Rafting on the Yulong River: Rafting is fun and safe there, and you can see a lot of the karst hills without the chatter of tourists on a cruise ship. The raft trip takes about 1½ or 2 hours, but you can ask the punter to go slow and stop and see what you want. Some people jump in for a swim. Others just want to eat snacks and relax. You can take your bikes on board and ride back. Or we can arrange a car ride back for you.
Shop and dine in Yangshuo: The town in small enough to walk across in less than an hour, and it retains a lot of small town Chinese rural character. After a cruise trip to Yangshuo or another activity, there are a lot of small restaurants that serve everything from gourmet Chinese food and Western food to local fish and noodle dishes. Check out the souvenir shops on West Street.
Shoulder Travel Season
June isn't one of the high tourist months, but a lot of foreign tourists come in during their summer vacations or school breaks. We can help you book hotel rooms and flight and train tickets at a discount.
Guilin Tours
China Highlights has arranged a variety of Guilin tours that you can modify to fit your dreams. There are tours for everything from hiking to biking to kayaking to sightseeing at the caves and mountains. We can tailor-make a tour to suit your needs. We know the area well and will create your tour by our years of experience.
Further Reading
Guilin Climate Information by Month
Questions and Answers About Guilin Weather in June
Sandra
2012-10-26
Show Answer
Is end of May early June a good time to visit South West China
Hi Sandra, yes, it is a very good time, with comfortable weather, beautiful sunshine and brilliant scenery.
Whitney Liao replied on 2012-10-26
YC
2012-05-14
Show Answer
Hi, me and my family wil go to Guilin at 7th June to 14th June. How is the weather around that period?
Dear YC, It feels hot during the day and even smeltering at noon. The sunshine is much strong. It seldom rains in this month, but you'd better bring an umbrella there in case of emergency. Hope it helps. Candice Song replied on 2012-05-14
Soo Shin
2012-04-07
Show Answer
hi, i''m from Malaysia.will visit Guilin on 16June2012..may i know the weather is how?and how the wearing should be repare.?pls reply to my email.thanks a lot.
Dear Soo Shin, It may feel hot and sometimes even feel like being in a smelter in the middle of June as the temperature would go higher gradually. The sun cream and an umbrella for keep away from the sunburn are necessary. Short summer clothes, such as skirts, T-shirts are suggested to get prepared. More information about Guilin weather in June from the website http://www.chinahighlights.com/guilin/weather/june.htm Hope it helps. Candice Song replied on 2012-04-09
peiyi
2010-06-26
Show Answer
Hi,I am heading to guilin today-28th of june and was wondering how is the weather like over there and are we able to take the river li cruise.Have booked the ticket a couple of months back and was disappointed to know from the new that it was flooding in guilin.pls advise.thanks
Hello. Welcome to Guilin! During your visit, the weather in Guilin is expected to turn out fine, only with occasional rainfall, actually it is sunny this afternoon. So you can take the Li River cruise as planned. If you need any tour services in Guilin as well as in other parts of China, please feel free to contact us. Wish you a pleasant journey! Mia Yang replied on 2010-06-28
April Offer $25 Coupon
Send your inquiry before Apr. 30, 2014, and we will email you a $25 coupon.
The coupon is valid till Dec. 31, 2014, for paying tour packages worth $250 or up.
The coupon cannot be used for paying flight tickets, train tickets, hotel rooms and day trips.
Travel Advice or Question? Ask us here

China Highlights
Guilin Travel Guide