Guiyang Transportation
Air
The Longdongbao Airport, a newly completed international airport in Guiyang, was launched into service on May 28, 1997. Now, air routes had been opened to link up Guiyang with 32 cities including Hong Kong, Beijing, Guangzhou, Shenzhen, Shanghai, Chengdu, Chongqing, Kunming, Guilin, Xiamen, Xi'an, Haikou, Changsha and Wuhan.
Hotline for tickets reservation (24 hours in service):0851-5977777
Airport inquiry service:0851-5983000
Railway
Four trunk lines radiate from Guiyang to neighboring provinces with a total mileage of 1,468 kilometers. Electrification transformation has been completed along the Guiyang-Kunming, Sichuan-Guizhou and Hunan-Guizhou railways.
Guizhou is a key area for railway construction in the country. So far, the section of 227 kilometers within Guizhou Province on the Nanning-Kunming Railway has been launched into service. Construction of the second electrified track of the Shuicheng-Zhuzhou Railway which will include 596 kilometers running through Guizhou and which is to be the largest east-west transportation line in the country is soon to begin. Construction for the Shuicheng-Boguo and Huangtong-Zhijin railways with investment by both the central and local governments will also begin very soon. Once completed, these transportation archeries will further elevate Guizhou's position as a major transportation pivot in southwest China, and benefit the economic development not only in Guizhou but also in neighboring Sichuan and Yunnan provinces.
Railway inquiry service:0851-8181222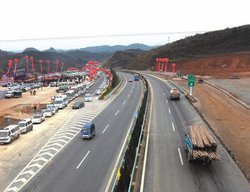 Guiyang Highway
In addition to the option of purchasing train tickets at the railway station itself, the visitor will find numerous alternative railway ticket offices in the downtown area. See Guiyang train ticket offices.
Highway
Now there are over 30,000 kilometers of highways in operation in Guizhou, including five national highways and 30 provincial trunk lines, which constitute a highway network with Guiyang as the center and linking up all cities and counties in the province. The first high-standard highway in the southwest, Guiyang-Huangguoshu Highway has been completed while the one of the same standard between Guiyang and Zunyi was built in 1997.
Shuttle bus inquiry:0851-6505805

China Highlights
Planning a trip? Ask us here 800-2682918 (USA & CA)
86-773-2831999 (Int'l)
Q:
jace
Asked on 2013-01-24
Reply
Hi i''m currently in shanghai and would like to go to Feng Huang on the 9th February. Please advise how do I go. Thanks.I do only know that I''ve to go to Tongren Fenghuang Airport via Guiyang Airport.
Hi Jace, you can also fly to Zhangjiajie first, then take bus to Fenghuang.
Whitney Liao Replied on 2013-01-24
Q:
Florent
Asked on 2013-01-23
Reply
hi I''m coming to Guiyang the 11th february. I''d like to go to guilin the next day, will it be possible to buy a train ticket there for the next day because of the chinese new year ? If not, is it possible to buy a Guiyang Guilin bus ticket ?Thank you
Dear Sir or Madam, There is only one train from Guiyang to Guilin every day, it is very difficult to buy the train ticket, especially during Spring Festival Holiday. I suggest you take a bus or a flight to get to Guilin. Lussie Lu Replied on 2013-01-23
Q:
Hank Kloppenborg
Asked on 2012-03-30
Reply
I am coming from Guilin, should I go via Kumming --> Guiyang or direct
There is direct flight from Guilin to Guiyang. The price is about 630RMB per person. you can book it on http://www.chinahighlights.com/china-flights/flight-list.asp?QueryID=4375212&fcook=2012033110504821&star=KWL&dest=KWE&rDate=2012-4-2 Leon Long Replied on 2012-03-30
Q:
Mai Lee-Yang
Asked on 2011-11-20
Reply
What is the price for cheapest bus fare from Beijing to Guiyang?
Hi Mai Lee-Yang, thank you for yor inquiry. This is Nora, a trip advisor of China Highlights. Glad to offer you some suggestions. As the distance is over 2283km, there is no direct bus from Beijing to Guiyang. It's suggested you take train or plane. Please visit the links below to see detailed schedule and price for trains and flights: Train: http://www.chinahighlights.com/china-trains/search-result.asp Flight: http://www.chinahighlights.com/china-flights/city-flight-schedule.asp Nora Ou Replied on 2011-11-21
Q:
Janjan
Asked on 2011-09-26
Reply
What is the best way to travel between Guiyang and Guanzhou return?
Hi Janjan, the way to travel between Guiyang and Guangzhou is flight. You also can take a train which takes about 23 hours. Michael Hu Replied on 2011-09-27
Guiyang Travel Guide