Hangzhou Facts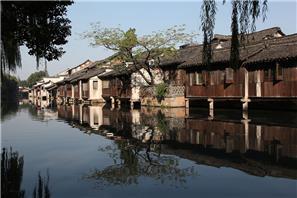 Wuzhen Ancient Town
Name: Hangzhou (杭州; Hángzhōu /hung-zhow/)
Meaning: "Hang prefecture", Hang is a surname.
Previous names: Qiantang Country, Xifu, Linan
Famous legend: Marco Polo called Hangzhou: "without doubt the finest and most splendid city the world."
Features
It is the prosperous and relatively clean capital of Zhejiang Province.
Inland port city at the southern tip of the Grand Canal and near the Yangtze River
It was the capital of the technologically advanced Southern Song Empire.
Has been one of China's most prosperous cities for a thousand years.
West Lake and ancient architectural sites of the past dynasties are attractions.
West Lake now is a new UNESCO World Heritage area.
Main Attractions: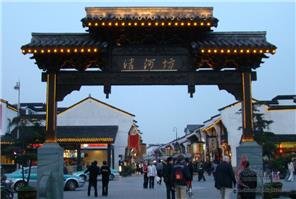 Qinghefang Pedestrian Street
History
The Grand Canal made Hangzhou a large and relatively wealthy port city on the Yangtze River near the sea. It has long been an imperial capital or a provincial capital.
Geography
West Lake
Significance of the city: Hangzhou is known for the high level of education, advanced technology industries, comparative wealth, its cleaner environment, and the West Lake scenic area.
Municipality population: 8,700,000
Municipality area: 16,847 sq km (6,505 sq mi)
Municipality population density: 1,214/sq km (3,143/sq mi)
Municipality terrain: the city is in the Yangtze River basin plain south of the Yangtze River.
Main rivers: Qiantang River
Location Information
Municipality location: 30.25N, 120.21E; East China.
North to south distance of main urban area: 26 km (17 mi)
East to west distance of main urban area: 13 km (8 mi)
Climate
Annual average low temperature in January: 1.5 °C (34.7 °F)
Annual average high temperature in July: 32 °C (91.4 °F)
Humid subtropical climate; annual precipitation: 1,450 mm (57.1 in)
Humid subtropical climate with four distinct seasons and occasional snow in the winters.
Economy
Average annual income: RMB 68,398 (10,103 USD)
Development: highly developed. It is already the wealthiest of the medium-sized cities, and the economy has been growing relatively quickly. The city is a center for manufacturing for multinational companies.
Industry: 47% tertiary industry (tourist industry, financial services), 50% secondary (electronics manufacturing, software), 3% primary (agriculture)
CBD: Hangzhou Qianjiang CBD (30.25N, 120.21E)
Shopping Streets: Hefang Street, Yanan Road
Transportation
Questions and Answers About Hangzhou Facts
April Offer $25 Coupon
Send your inquiry before Apr. 30, 2014, and we will email you a $25 coupon.
The coupon is valid till Dec. 31, 2014, for paying tour packages worth $250 or up.
The coupon cannot be used for paying flight tickets, train tickets, hotel rooms and day trips.
Travel Advice or Question? Ask us here
You might like

Free Things to Do in and around Hangzhou

China Highlights
Hangzhou Travel Guide