Top Things to Do in Hong Kong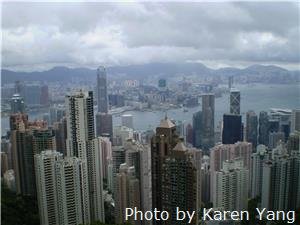 Hong Kong is blessed with popular attractions and sightseeing opportunities, and you will find endless things to see and do. China Highlights has listed for you the following top things to do in Hong Kong. Choose any of the listed programs and you won't be disappointed.
For a selection of Hong Kong's best things to do around Victoria Harbour that can be seen in one day, see our Budget Travel, Mid-Price Travel, and Luxury Travel suggestions.
Victoria Peak Tram
Take a ride up and get a panoramic view of Hong Kong from the top of the 554m/1818ft-high Victoria Peak. Its steepest point has an angle of 27 degrees which definitely can give you an unforgettable experience.
Aberdeen Harbour Sampan Ride
Aberdeen Bay retains the characteristic of a traditional fishing village in the 1800s. The village still inhabits hundreds of fishing men. Here, you can tour around the bay by a sampan, and taste the fresh and delicious seafood.
Happy Valley Race Course
It is one of the few in-city race tracks in the world. This is the best place to watch the horse racing and place a bet. The exciting screaming of the punters is as much of a spectacle as the races.
Lantau Island
The tranquil and green environment makes it a popular spot. See the Giant Buddha, the tallest outdoor bronze Buddha in the world, and visit Buddhist temples on the island.
Night Cruise
Hong Kong is fascinating everywhere at night. It would be absolutely a great experience for taking a night cruise at the Victoria Harbor, enjoying the breeze and the Symphony of Lights.
Dynamic Street Markets
Hong Kong's street markets, usually nestled among the towering skyscrapers, are full of fun and excitement. Shoppers will find unparalleled selection of bargains and hidden treasures in each market.
Try Dim Sum
A trip in Hong Kong will not be complete without trying Dim Sum. Morning or lunch time Dim Sum is a local tradition. The wide range of snacks are delightfully served in bamboo baskets and accompanied by tea.
Day Trip to Macau
In Macau you can have a leisurely stroll among the many historical properties, feel the mixing culture of Chinese and Portuguese, and try your luck in gambling. The frequent ferries take only about one hour to go from Hong Kong to Macau.
Related Links
- Top - or Hong Kong Travel Guide
Questions and Answers About Top Things to Do in Hong Kong
Mary Grace Napil
2014-04-03
Show Answer
Hi, me and my friend will be traveling to HK this Nov. 2014 for 4days Can we combine the trip from Hongkong to Macau and also Beijing? is these days enough? we got one way ticket and planning to get the round trip by next month but we want to know first if how many days we need to stay since we want to visit those places. Confirm days in Hongkong will be 2days - good for Disneyland,ocean park and Lantau Island. Do you have any suggestions?
I think 4 day for just Hong Kong or Beijing is ok. If you want to visit both cities, 7 days at least is suggested. One day for Macao will be ok. guest replied on 2014-04-04
ching
2014-01-04
Show Answer
Hi. We will be arriving at Macau Airport on January 18 at 9.30pm. What mode of transport are we going to take from the airport to the ferry terminal bound for hongkong? How much would the fare be? Thank you.
Dear Ching, Thank you for your inquiry. The Macau Maritime Ferry Terminal is just beside the Macau airport so you can walk to the ferry terminal from the airport. The last boat to Hong Kong departs at 23:59, and the price is HK$184/USD24/CNY144 per adult. Here is the detailed information: http://www.turbojet.com.hk/en/routing-sailing-schedule/hong-kong-macau/sailing-schedule-fares.aspx Doris Huang replied on 2014-01-05
vinod kumar
2013-06-22
Show Answer
Hi, we are planning a trip to hong kong from 5th august to 11th august. What is best possible things to utilize the 6 nights. Can we combine Beijing along with this trip. We have already booked the tickets to hong kong. Our Entry and exit point will be Hong Kong. Our main highlights in hong kong are Disneyland ,ocean park , lantau island & macau. Please provide us with details if you have readymade package for 6 nights.Thanks Vinod
Hi Vinod, it is no problem to combine the tour with Beijing.
How many people are there in your group, please?
What kind of hotel would you like to stay in: 3/4/5 star?
Have you booked your hotel in Hong Kong?
I will send you a detailed itinerary after your further information, okay?
Thanks, Whitney
Whitney Liao replied on 2013-06-24
Mr Desai
2013-01-07
Show Answer
Hi there,Myself and my wife will be arriving Hong Kong International airport on 16th Feb 2013. Whats the best and most convienent way to get to our Hotel, which is Novotal Hotel, Nathan Road, Kowloon?Also, wheres the best place to take the ferry from our Hotel to Maccua?Really look forward to your generous replyBest regardsMr Desai
Hi Mr Desai, from HKIA to your hotel, taking a taxi would be the most convenient way. From your hotel to Macau, the best way to take ferry is China Ferry Terminal (中国客运码头).
Service time: 07:00–22:30 (daily)
It is located in Tsim Sha Tsui, Kowloon (九龙尖沙咀).
Whitney Liao replied on 2013-01-08
yau lin tai
2013-01-07
Show Answer
Hi, my family consisting of 6 adults and one infant plan to visit hong kong from 10 march to 14 march 2013 (including senzhen). We wish to visit Disneyland hk for full day including stay in. Our hotel choice would be 3 Stars. Can u send me the quotation? Thank you in advance.
Dear yau lin tai,
Thanks for your tour enquiry!
We are now working on your tour proposal and will email you a detailed itinerary and quotation. If you have any further queries, just feel free to discuss with your personal travel advisor. Have a nice day!
Candy Wei replied on 2013-01-08
April Offer $25 Coupon
Send your inquiry before Apr. 30, 2014, and we will email you a $25 coupon.
The coupon is valid till Dec. 31, 2014, for paying tour packages worth $250 or up.
The coupon cannot be used for paying flight tickets, train tickets, hotel rooms and day trips.
Travel Advice or Question? Ask us here

China Highlights
Hong Kong Travel Guide