How to Plan a 3-Day Tour of Hong Kong's Highlights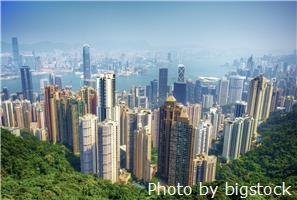 Victoria Peak
What do you really want to do in Hong Kong? If you are planning to be in Hong Kong for three days choose the following to really experience some of the highlights of the area.
If Hong Kong were a diamond, which facets attract your attention the most?
This is good balance of attractions for three days. You'll see the city from the heights, learn something about the history of the city, and have chances for fine shopping and dining along the way. See Hong Kong's best theme park and ride thrill rides on the second day, and a free primate zoo and ceramics museum on the third.
The following suggested itinerary is offered to give you an idea of what is possible, but can be altered according to your interests with China Highlights.
First Day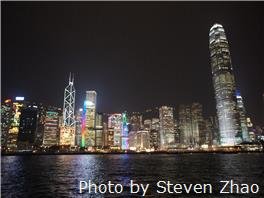 The Night View of Victoria Harbour
From a posh mall to a street market, and from tip top heights to the sea
Morning to Noon, the ICC Tower and Elements Mall
Hong Kong from above: the ICC Tower
Find out what it's like to be in one of the world's tallest towers. Check out the skyline at the Sky100 observation deck. Directly below it you can also see what modern Asian luxury shopping and dining is like at the Elements Mall.
Breakfast, brunch or lunch: the food choices are amazing: everything from the 101st floor Inakaya Japanese restaurant to a Pizza Hut in the mall. The Inakaya's lunchtime views are amazing for a price that is lower than you might expect. If the prices you find are too high, take your cash to eat at the next destination: the Star Ferry.
Transportation: Transportation is unusually easy: take the MTR to Kowloon Station, and you are there! The mall and tower are above it.
Midday, at the Harbor
Hong Kong at sea level: Victoria Harbor and the Star Ferry
Next, take a taxi and go to the Star Ferry in Tsim Sha Tsui. It is only about 2 kilometers away. If you want, see the Avenue of Stars during the day, have lunch, or browse the Harbour City Mall.
Take the ferry trip: Then board the Star Ferry, and for 25 US cents take a ride that was once considered one of the top travel events in the world. It actually is a scenic ride for 10 minutes, and if your kids have never been on a ship on the sea, it will probably be exciting to them.
IFC Tower and Mall: If you want to see another mega luxury mall, the IFC Mall is even better known than the Elements Mall. If not, go directly to Victoria Peak.
Lunch: The Harbor City Mall has lots of restaurants too. You can try the Dan Ryan for mid-price "American Chicago" food, or simply go to the nice, clean, big and cheap McDonalds across from the Star Ferry entrance. The McDonalds prices are the same or slightly lower than in the US.
Transport: Unfortunately, there is not direct MTR route between the ICC Mall and the Star Ferry. You could do a circuitous transfer from Kowloon Station to Tsim Sha Tsui Station, but then you'd have to walk a few minutes to the ferry. It is easiest and quickest to take a taxi (about 6 minutes). On the ground floor level of the ICC Tower, there is a nice taxi waiting lounge with couches. If you want to, you could also simply walk and see street life in the city of Hong Kong.
Afternoon, Victoria Peak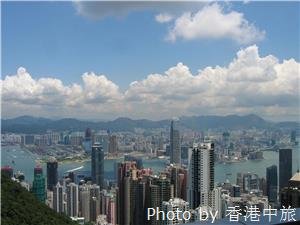 Victoria Peak
Natural high: The heights at Victoria Peak
For sightseeing in Hong Kong, Victoria Peak's view of the sea and city is quintessential. The perspectives afforded by a leisurely stroll on the paths overlooking the north and west sides of the island put Hong Kong in your heart. You'll really feel like you've seen Hong Kong on the Peak.
Refreshments: Starbucks and the restaurants in the mall area on the peak are places to take a breather.
Transport: Bus 15 from the Central Pier bus lot, or Bus 15C from Exchange Square. Or take the Victoria Peak tram. The drawback of the tram, though it is a tourist attraction, is the waiting lines. Bus 15 or 15C is faster from the Central Star Ferry terminal area. Of course taxis are fastest.
Late Afternoon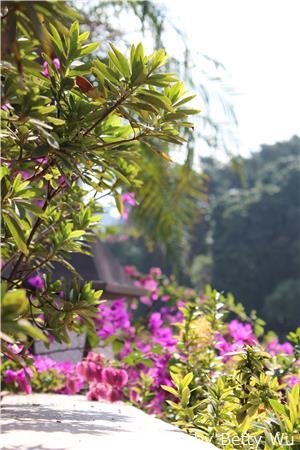 Kowloon Park
Chinese street shopping: Temple Street Night Market
Here is a place to shop for souvenirs, cheap clothes, and Chinese-made products. It is also a place to have dinner before the Symphony of Lights on Victoria Harbor at 8.
Transport: Get back down to the Central MTR Station near the IFC Towers, and then just take the MTR to Jordan Station (12 minutes by train). You could check out Kowloon Park near the station, or just walk to Temple Street.
Evening
Night lights spectacle: the Symphony of Lights
This favorite tourist attraction is an entertaining way to learn about various buildings in Hong Kong. The narration is in English on Mondays, Wednesdays, and Fridays. They call out the names of many buildings.
Dinner: There are a lot of restaurants in the area ranging from the McDonalds and up. If you want a buffet meal, then the YMCA just across from the Space Museum is an option.
Transport: You could walk back to Victoria Harbor or take the Bus 6 (recommended) on Nathan Road or take the MTR to the Tsim Sha Tsui Station. The Bus 6 will take you directly to the Star Ferry bus lot next to the Avenue of Stars (5 minutes). Try to be at the stands next to the ferry terminal around 7:30 to get a nice seat there.
Day summary: though you may be tired, it is hoped that this packed first day will give you an enjoyable time seeing the major sights and the shopping and cuisine.
Second Day
Morning
Hong Kong Museum of History: Little Hong Kong is a world financial power, a trade center, and a gateway to China. Learn about how Hong Kong developed.
Transport: Unfortunately, it is in an out of the way place in Tsim Sha Tsui, so the best way to go is by taxi. You could also take the MTR to Jordan Station on Nathan Road and walk west on Austin Road, or take Bus 5 or 5C.
Afternoon and Evening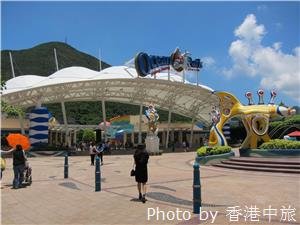 Ocean Park Hong Kong
Thrills: Ocean Park
Ocean Park is for thrill rides and a theme park a little like Sea World in California. There are sea animals in aquariums. Depending on the day you go, it might be highly crowded though.
Transport to Ocean Park: Bus 629 from Admiralty MTR (about 20 minutes bus travel).
Third Day
Morning
Shop and local attractions: the Golden Mile of Nathan Road
To see the local culture in HK and do more shopping, Nathan Road is a tourist magnet. People of various cultures mix there, and a variety of low end and high end stores line both sides. Start in front of Chung King Mansions on Nathan Road, and walk north. Be careful of pickpockets around there and especially inside Chung King Mansions.
We suggest not shopping inside Chung King, and saving your time and money for Ladies Market. The electronics stores have a reputation for scams. Walking north for a mile, you'll see:
Kowloon Masjid isn't open to the public, but St. Andrew's Church is. It has a gothic style and a beautiful interior. It might be a good place to take a rest before going to Ladies Market. You could continue to walk north to Ladies Market. A stroll north while browsing and maybe sampling street food might take an hour. But simply take Bus 6 to Mong Kok Station.
Lunch: A variety of small restaurants and street stands are there to choose from.
Transport: Chungking Mansions is about a 13 minute walk from the Star Ferry, and right below the Tsim Sha Tsui Station.
Afternoon and Evening
Free and very good parks and a museum: Zoological and Botanical Garden
After a busy morning and lunch, have a relaxing time looking at cute and entertaining primates at a world-class primate zoo for free. You can walk among 1,000 species of plants in outdoor gardens too. The zoo and garden is a wonderful place to spend an hour.
Transport: It is suggested you take a taxi there.
World class and free: Hong Kong Park and the Hong Kong Museum of Teaware
Just about 300 meters east, close enough to walk to along Cotton Tree Drive, is a free city park with a greenhouse with 2,000 plant species, a world-class large open aviary under a net canopy, and Hong Kong's best and oldest 19th century British buildings.
There is a free good ceramics museum, tea shop, and tea cafe (food and tea not free) and excellent architectural sightseeing featuring Lippo House (feminine curves) and the Bank of China Tower (masculine sharp angles) rising above stolid and respectable Colonial buildings.
Fine Dining: If you can afford the highest quality meal, then having dinner with a wonderful view at the Lung King Heen, one of the world's best Cantonese restaurants, or the Caprice, one of Asia's best French restaurants, would be memorable. These restaurants are in the IFC's Four Seasons Hotel. Reservations are required.
China Highlights 3-Day Hong Kong Tour Products
Related Links
Questions and Answers About How to Plan a 3-Day Tour of Hong Kong's Highlights
Jeffery
2014-04-02
Show Answer
Hi there...I''m in a group of 21 adults and 6 children aged 1-10.... We are keen to visit Disneyland,ocean park, Victoria peak and Factory outlet ...and other interesting areas if advised in a 2-day tour. Please be informed that we are Muslims .... Please assist to give price quotation with a sit-in coach. We will be traveling to hongkong on 25 April and depart home on 30 April.... Thank you for your time.... Do get back to us
Hi Jeffery, Thanks for your inquiry. Noted you are interested in Hong Kong tour. Could you please advice the hotel type(which star)and how many rooms you require. As to the meals, since Hongkong is a paradise of shopping as well as delicious food, the tour there normally do not includes lunch so that you can explore something special on your own. For the tour, sorry that I am a little confused. But could you please advice how many days you'd like to stay in Hong Kong.Do you wish to book tour during your stay in Hongkong or prefer to have some free days? Please click here of 2-day Hong Kong Seat-in-coach tour for reference:http://www.chinahighlights.com/tour/hong-kongtour/hk-1/ Looking forward to your reply and have a nice day. Best Regards, Alice Alice Cai replied on 2014-04-04
RickGraham
2014-03-17
Show Answer
For this 3 day excursion where in Hong Kong would you suggest we stay. We are seniors and travel well. there are 2 couples
Hi Rick, I recommend the YMCA to you. It is very well located, just three minutes walk to Victoria Harbour. Visitors always said they paid for four-star hotel but enjoy the super luxury location (Peninsula is next door).
Whitney Liao replied on 2014-03-19
Is the Peninsula that you refer to the Peninsula hotel? What are the rooms like at the YMCA? Do we have to be members of the YMCA? A good location as you suggest would be close to the Peninsula.Are there other reasonably priced hotels that you would suggest close to the YMCA if it is not available? RickGraham replied on 2014-03-19
Hi Rick, yes, the Peninsula means the Peninsula Hotel. The rooms is very good, and you don't have to be a member of the YMCA. If you don't wish to book YMCA, then the Metropark Hotel Kowloon close to the YMCA is recommended. Whitney Liao replied on 2014-03-20
Sharon McPhedran
2013-11-23
Show Answer
We are planning a trip to Hong Kong arriving Feb. 21. What services do you offer?
Hi,
We can offer you a tour in Hongkong including hotel, entrance fee and land service. Could you please tell me how many people and how long are you planning to visit Hongkong? I can customize a tour for you.
Christy
Christy Luo replied on 2013-11-27
April Offer $25 Coupon
Send your inquiry before Apr. 30, 2014, and we will email you a $25 coupon.
The coupon is valid till Dec. 31, 2014, for paying tour packages worth $250 or up.
The coupon cannot be used for paying flight tickets, train tickets, hotel rooms and day trips.
Travel Advice or Question? Ask us here

China Highlights
Hong Kong Travel Guide