How to Plan a Family Tour of Hong Kong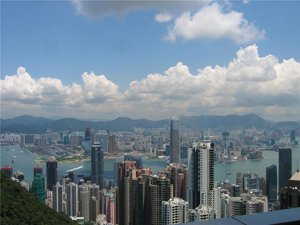 A bird's view of Hongkong from Victoria Peak.
Hong Kong is a tourist attraction for the whole world, and for kids and families from all over the world too! Here are our suggestions about having your family tour Hong Kong.
What do you all most enjoy? Amusement parks, nature, scenic sights, historical sites, shopping, hiking, beaches, camping or eating? Hong Kong has all these things to do and see.
Here is a way to plan your Hong Kong trip.
First, decide on a 1- or 2- day tour.
Second, pick an amusement park per day. See the amusement park information below.
Then, see the suggested 1- or 2- day tour itinerary below that is fully-customizable at China Highlights.
We have tried to suggest options that won't put too much strain on your budget or force you to spend too much time in travel. The point is to have a wonderful time.
What Makes Hong Kong Special for Families?
There are man things that make Hong Kong special: the relative safety (crime is low) and the decency (a combination of Confucian standards and English morals) mean that the people are generally respectful. These social aspects play a large part in making a happy family visit.
Other positives are the modern infrastructure and hi-tech attractions, the nature preserves, the ease of transportation, the cleanliness and low pollution, and the relatively low cost.
Also, the weather is generally wonderful. Warm, it never snows, and has a subtropical climate. There are great beaches and hiking trails.
Children's Attractions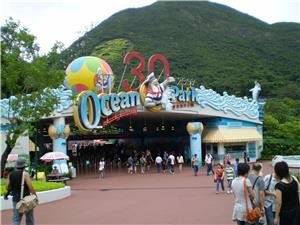 Ocean Park
At the top of the list are three amusement parks:
Ocean Park
In Hong Kong the local favorite attraction is Ocean Park for its big modern thrill rides and hi-tech educational facilities, the sea world exhibition, performing animals, and children-oriented zoo. From the high flying tram you can see it all and the surrounding sea and view.
It is currently one of the world's top 15 amusement parks in terms of annual visitors.
Disneyland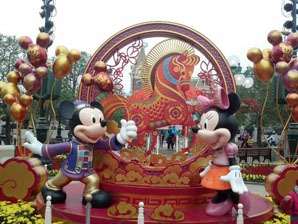 Disneyland
Do you want to go to Disneyland? There is one in Hong Kong on Lantau Island.
There are Disney cartoon characters, thrill-rides, and brand new theme lands called Grizzly Gulch and Toy Story Land, which small children would especially like.
Noah's Ark
Do you want to teach your kids about creation, the world, and themes like love and family? Then Noah's ark is a prime option, not only for its themes, but also for its great seafood buffet restaurant and hotel.
Noah's Ark Amusement Park is especially designed for families. The room rates and meal prices are low. Located at the eastern tip of Lantau Island, the life-guarded public beach there, Tung Wan Beach is also good for families.
The Tour Itinerary That the Whole Family Can Enjoy!
This two-day tour itinerary will give you a knockout family fun trip, and also enable your family to have a great educational tour of Hong Kong. However, you may choose just one day.
Morning, Day 1: The ICC Tower for the Tip Top View and the Best Dining
The world's fifth tallest building has a special upper observatory called Sky 100 with exhibits about Hong Kong and its attractions and the ICC Tower's construction and history. The 3-D multimedia theater and memory-lane time tunnel will allow your family to learn about Hong Kong. (Entry about 150 HKD (19.50 USD).
Breakfast: The Lounge & Bar at the Ritz Carlton (floor 102) offers a breakfast buffet (305 HKD or 40 USD per adult, including fee) and great views until 10:30am. Customers should not wear shorts or sandals. Hotel room reservation isn't required.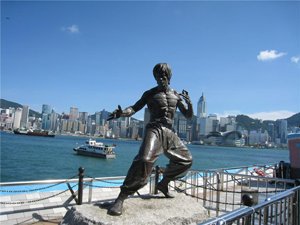 The Avenue of Stars
Take a look at the harbor from this pedestrian walk and look at the sculptures and the movie star hand prints. Then board the Star Ferry with your kids for an almost free boat ride (25 US cents per person), and enjoy the view of the harbor.
Day 1, Noon: Victoria Peak for Seeing the View and Dining
Board the Peak Tram, take Bus 15, or take a taxi up to Victoria Peak. You can get a view of the whole city, Victoria Harbor, and the western sea and far off islands.
Lunch: You can have lunch with your family at the restaurants in the mall area.
If you and your family want a 45-minute walk down through the jungle on an access road, see our Hong Kong hiking page for a suggested route.
Day 1, Afternoon and Evening: Your Favorite Amusement Park
Take your family to your favorite amusement park. See above.
Evening: Lantau Island for Camping and Hiking
Instead of staying in a hotel, would your family want to try tent camping? The campgrounds have full facilities and hiking trails, and are easily accessible by public transport. You can even surf or take your kids for body surfing at a life-guard-supervised beach called Pui O on Lantau Island. It has a great white sandy beach that is safe for kids.
Morning and Afternoon, Day 2: Amusement Park
Go over to your other favorite amusement park.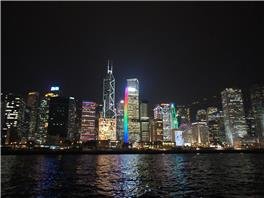 Night views of Victoria Harbor
Go to the Avenue of Stars in the evening, and watch the Symphony of Lights. The performance starts at 8pm and lasts about 20 minutes.
Dinner: You can have a fine meal at one of the restaurants at the Harbor Mall.
For Spacey Fun: The Hong Kong Space Museum
Enter the strange white dome that rises mysteriously from the ground along the Avenue of Stars. In the Space Museum see what the cockpit of a space shuttle looks like inside. Learn about the origins of rocketry in China. The ancient Chinese led in rocketry and other sciences.
What the kids will really enjoy is the IMAX Theater presentations on the roof of the big white dome that houses the Space Museum. The video fills the whole dome, and the visitors wear earphones and select their language (English, Mandarin, Cantonese) to hear the movie.
Travel Back to your Hotel or Tent: Tsim Sha Tsui Station is a few minutes walk away. If you are camping near Pui O, remember that you can take the Star Ferry to the other side of the Harbor and then the Lantau Ferry to Mui Wo. The trip to the island takes either an half an hour to an hour.
Further Reading
Questions and Answers About How to Plan a Family Tour of Hong Kong
Hilary Bunag
2014-04-10
Show Answer
We are traveling with 9 and 3 years old kid in May, arriving HK at 8pm on 19th and leaving HK at 8Pm as well. Can you suggest a feasible itenirary for us with kids who are lazy to walk. I plan to bring them to Ocean Park and Disney and walk through Avenue of Stars, how about the Peak?
Dear Hilary Bunag, I am not sure where you are staying so I could not give your the exact information. In Hong Kong, the convenient way is taking a taxi or a subway. Ocean Park and Disney is far away from the city center, you'd better combine the two ways. Lussie Lu replied on 2014-04-11
afaf
2014-01-15
Show Answer
hi... my family is planning to visit hong kong second week of november for 4 night. could you please advise me some budget trip package for 4 adults and 1 child that would include disneyland and oean park tour. thanks
Dear Afaf, I've just sent you an email about your Hong Kong trip, including Disneyland and Oean Park tour. Please check it. Any questions, please do not hesitate to ask. Kind regards, Whitney

Whitney Liao replied on 2014-01-16
Caroline
2013-10-17
Show Answer
We are traveling to HK 15/01/14-23/01/14 can you please sugguest places to visit with children ages 5,6 &14
Hi Caroline, i would like to recommend you the following places:
Disneyland Park : Located on Lantau Island, Hong Kong Disneyland Park was built on sea reclamation district, surrounding by mountains at three sides and facing the South China Sea. As the fifth Disneyland Park built in the mode of Disneyland and the eleventh theme park of Disneyland in the world, Hong Kong Disneyland Park is the first one based on the script of California Disney (including the Sleeping Princess Castle) and on the cultural characteristic of Hong Kong. Entering the park, you will temporarily forget the real world and step into the colorful fairy-tale kingdom and experience the mysterious and fantastic future world as well as some dangerous and exciting adventures.
Ocean Park : Hong Kong Ocean Park, located at the tip of Hong Kong Island, is a major attraction for visitors from all over the world. The Park covers an area of 870,000 square meters, and combines education with entertainment. It offers a variety of activities for all age groups and is a great place for families to enjoy together. Highlights include dolphin and sea lion performances in Ocean Theater, shark aquarium, Atoll reef aquarium, the new sea jelly spectacular, bird aviary, goldfish pagoda, butterfly house, dinosaur exhibits and a pair of giant pandas. For thrills, there are heart-stopping rides like the Abyss Turbo Drop, Dragon roller coaster, Flying Swing, Mine Train and many others. Many restaurants and food kiosks are located here. It is easy to spend an entire day in this fabulous Park.
Please feel free to let me know if you want me to send you a proposal.
Simon Huang replied on 2013-10-17
Judy perez
2013-10-03
Show Answer
Are shops in Hong Kong open during Chinese New Year?and are there sale?
Yes, all the shops will be opened to public in the new year time, big promotion.
Lily Guo replied on 2013-10-04
grace
2013-09-17
Show Answer
my family will be travelling to HK from 9Dec till 14Dec. how''s the weather?
Hi Grace,
Temperature in December is a little code. It is from 7.78 °C to 26.11 °C. Sweaters and jackets need to be well prepared.
Christy Luo replied on 2013-09-17
April Offer $25 Coupon
Send your inquiry before Apr. 30, 2014, and we will email you a $25 coupon.
The coupon is valid till Dec. 31, 2014, for paying tour packages worth $250 or up.
The coupon cannot be used for paying flight tickets, train tickets, hotel rooms and day trips.
Travel Advice or Question? Ask us here

China Highlights
Hong Kong Travel Guide