Huangshan Weather in August
August is very hot, with average temperatures close to those of July. You'll experience a big difference in temperature during the morning and the evening (about 10 °C/50 °F).
Wear long trousers and a long-sleeve blouse with a T-shirt in the morning and evening while you are indoors, or while on the mountain. If you get hot, you can take off the blouse. Canvas sneakers are suitable and convenient for walking around and climbing the mountain.
While on the mountain, escape the summer heat and sit on the rocks to watch the spectacular rainfalls, clean streams, the sea of clouds, and charming sunsets. Chinese Valentine's Day is a good time for enjoying romance. See our Huangshan Tours.
Huangshan Climate Information by Month
Questions and Answers About Huangshan Weather in August
Harsh Sachdeva
2010-07-28
Show Answer
Is Indian food available there in town
Hello, Harsh Sachdeva. Indian roti prata is a kind of famous Indian food I have tried in China, and I got that the Indian roti prata is available in Meishi Renjia (美食人家), a restaurant in Huangshan downtown. If you need any tour service in China, welcome your inquiry to service@chinahighlights.com, the professional travel advisors will reply you soon within 1 working day. Lynn Ye replied on 2010-07-29
You might like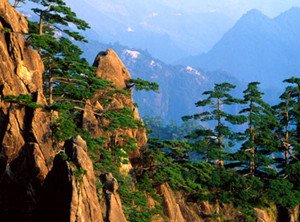 Photography Tips at the Yellow Mountains

China Highlights
Huangshan Travel Guide