Macau Weather in September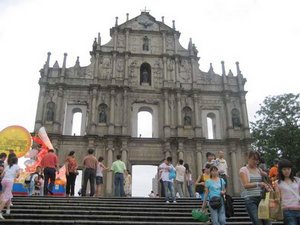 September is not as hot as the previous few months, but is still counted as a summer month. Average high temperatures are 30 °C (86°F) and average low temperatures are around 24°C (75°F). The wind blows nicely in September, and the days are hot while the nights are warm. Though still humid, the weather is relatively comfortable. Summer clothing such as T-shirts and shorts are enough. It rains far less frequetly than in August, but there are more cloudy days. Typhoons and thunderstorms are not as frequent, but you need an umbrella in case it rains, and remember to protect your skin from exposure to the sun.
September is not a recommended time to travel to Macau, but if you do go, places are suitable for visiting. Inexpensive flight tickets and hotel rooms are widely available. Check the weather before you go because flights may be cancelled and roads may be closed due to serious bad weather. See our Macau Tours.
Macau Average Daily Temperatures Based on Historical Data
Date
Average High
Average Low
September 1
88 °F
31.11 °C
79 °F
26.11 °C
September 2
88 °F
31.11 °C
79 °F
26.11 °C
September 3
87 °F
30.56 °C
79 °F
26.11 °C
September 4
87 °F
30.56 °C
79 °F
26.11 °C
September 5
87 °F
30.56 °C
79 °F
26.11 °C
September 6
87 °F
30.56 °C
79 °F
26.11 °C
September 7
87 °F
30.56 °C
79 °F
26.11 °C
September 8
87 °F
30.56 °C
79 °F
26.11 °C
September 9
87 °F
30.56 °C
79 °F
26.11 °C
September 10
87 °F
30.56 °C
79 °F
26.11 °C
September 11
87 °F
30.56 °C
79 °F
26.11 °C
September 12
86 °F
30 °C
78 °F
25.56 °C
September 13
86 °F
30 °C
78 °F
25.56 °C
September 14
86 °F
30 °C
78 °F
25.56 °C
September 15
86 °F
30 °C
78 °F
25.56 °C
September 16
86 °F
30 °C
78 °F
25.56 °C
September 17
86 °F
30 °C
78 °F
25.56 °C
September 18
86 °F
30 °C
78 °F
25.56 °C
September 19
86 °F
30 °C
78 °F
25.56 °C
September 20
86 °F
30 °C
78 °F
25.56 °C
September 21
85 °F
29.44 °C
77 °F
25 °C
September 22
85 °F
29.44 °C
77 °F
25 °C
September 23
85 °F
29.44 °C
77 °F
25 °C
September 24
85 °F
29.44 °C
77 °F
25 °C
September 25
85 °F
29.44 °C
77 °F
25 °C
September 26
85 °F
29.44 °C
77 °F
25 °C
September 27
85 °F
29.44 °C
76 °F
24.44 °C
September 28
85 °F
29.44 °C
76 °F
24.44 °C
September 29
84 °F
28.89 °C
76 °F
24.44 °C
September 30
84 °F
28.89 °C
76 °F
24.44 °C
Macau Climate Information by Month

China Highlights
Macau Travel Guide