Fuxing Park
Fuxing Park offers a rare known part of Shanghai, which offers an stark contrast with the hustle and bustle of this great metropolis. The park wall seemingly fences off all the noises, busyness of the modern city and creates a quite, undisturbed enclave for the local people. In the park, old women at their 60s or 70s in pajamas belting out Chinese opera, middle-aged women dance to the accompaniment of melody in the 70s, Mao-era suited men take their caged birds for a stroll, kids playing kites. Along the Plane tree shaded paths, old couples enjoy walking hands in hands. The pond is a paradise for fishing lovers, who fill their days waiting at the pond side for bites.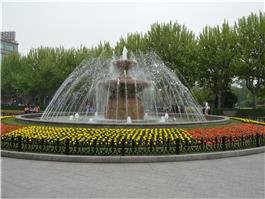 Mattress Flowerbed
The park was originally a private garden in the Ming Dynasty. The French took it after the Opium War and had added more French elements to it, having making it the only French-style garden in Shanghai. However, little of the colonial-era remnants left, and today the park become a very popular entertaining place for the locals.
Neighboring Fuxing Central Road to the south, Chongqing South Road to the east and Sinan Road to the west, Fuxing Park has three gates: the South Gate, the North Gate and the West Gate. The main attractions of Fuxing Park include the 'Mattress' flowerbed, the rose garden, the camellia flowerbed, the azalea flowerbed, and Marx and Engels Sculpture Square. More than 10,000 trees of 140 species have been planted in Fuxing Park in recent years, highlighted by sycamores, buckeyes and maples, which provide shade for visitors on hot days.
Mattress Flowerbed
Located in the center of Fuxing Park, the 'Mattress' flowerbed has different seasonal looks, which are usually arranged into various patterns by gardeners. A colorful fountain is also situated in the middle of the 'Mattress' flowerbed.
Marx and Engels Sculpture Square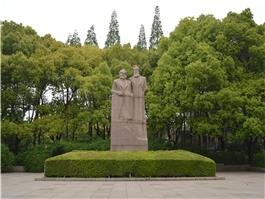 Marx and Engels Sculpture Square
In the north of Fuxing Park stands the sculpture of Marx and Engels, measuring 6.4 meters in height and 70 tons in weight, and it was erected to commemorate the 90th anniversary of Engels' death on August 5, 1985, fully showing the Chinese people's reverence to Marx and Engels.
Fuxing Park is very near to the famous commercial street, Huaihai Road, both of which went through great changes in the 20th century, showcasing the unique commercial and cultural landscapes of Shanghai together. A number of famous scenic spots are available around Fuxing Park, including the Former Residence of Dr Sun Yat-sen, the Site of the First National Congress of the Communist Party of China and Zhou's House.
Travel Essentials
Location: 105, Yandang Street, Luwan District, Shanghai
Transport: Buses 2, 17, 36 and 42 can take you there
Opening times: 6:00am-8:00pm
Questions and Answers About Fuxing Park
Irre cris
2012-08-03
Show Answer
Where is it located?how to get there by mtr from peoples square?Tnx

China Highlights
Shanghai Travel Guide