Best Places to see Fall Foliage in Shanghai
Nanjing Qixia Mountain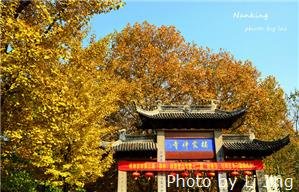 Nanjing Qixia Mountain
Best sightseeing time: the most beautiful autumnal scenery season of Qixia Mountain comes at the end of November and the beginning of December.
Qixia Mountain stands in Qixia Town, about 13.6 miles from the northeastern Nanjing City. During the late autumn, the red autumnal leaves are as red as roses, and the whole entire is storied dye. Many Nanjing families enjoy going for a look during this season.
Red autumnal leaves on the mountain are well known throughout the country. It is one of the best places to see autumn leaves in China. When there are dews in late autumns, the entire hill is storied dye, as if pink clouds fill the sky. Several pretty green pines are mixed with consecutive maple trees, adding a special lingering charm to the hill.
The Taixu pavilion is second to none for watching the red autumnal leaves at Qixia Mountain. Because it is in the heart of the maple forest, maples surround the pavilion. Looking ahead, you'll find a continuous stream of maple trees, which are all red and in full swing: red, scarlet, pink and pink, colorful and structured.
Opening Hours: 6:30am-5:30pm.
Transportation guide:
By train: you can take the EMU to Nanjing, and take the Mo Nan line at Nanjing Hanfu Street (at the gate of the President's Office Residence), the terminal off the Mo Nan line is Qixia Hill, tickets go for 2.5 yuan, and operation hours are 06:00 am to 7:00 pm. You can also take the Nan Long line or the Nan Shang Line at Nanjing Railway station and get off at Qixia Mountain Railway Station.
Nanjing is around two hours' ride by train from Shanghai. A day trip from Shanghai to the mountain is possible. Let's China Highlights help you customize a fall color trip from Shanghai.
Tianping Hill of Suzhou
The best sightseeing time: the end of November
Tianping Hill is 8.7 miles from western Suzhou Town, and its west part is about five miles from Old Suzhou Town (highway mileage is about 9.3 miles). The red leaves in Suzhou Tianpingshan Hill, together with Nanjing Qixia Mountain , Beijing Fragrant Hill and Tachuan, close to Huangshan are four ideal places for enjoying red leaves in China. Every year when the dew arrives, all red leaves on the hill turn it into a red ocean, and the unique autumnal scenery takes shape. See best places to see fall foliage in China.
The altitude of the hill is about 221meters, and it has long been famous for its red maples, clean springs and grotesque rock formations. Suzhou has formed a custom of "watching red maples in Octobers". The piedmont of Tianpingshan Hill is crowded with maples, of which 400 old trees are more than hundreds of years old and more than 30 meters in height, with two persons encircle in thick and upright branches. It is said that they were transplanted from the Fujian Province by the 17th grandson of Fan Zhongyan (a great poet and liberator in Chinese history) during the Wanli Period of the Ming Dynasty (1573-1620), and they are different from many maples in south China. The leaves of these maples are triangular in shape, and do not turn red all at once when they are wet from the dew. Instead, they turn yellow from green, to orange, and then purple, so they are also called find-color maples. Climbing to Wangfeng Stage in the middle part of the hill to watch the maples gives you another special feeling. The colors of the trees are first red at the top, and then the colors gradually change from the top to the foot. Seen from a certain distance, strands of pink clouds seem to fly to the top of the mountain, and a magnificent and changing perspective creates a great and wonderful scene on the hill.
Transportation: take Tourist Bus 4 to Tianpingshan Hill at Suzhou Railway Station.
Continue to read best places to see fall foliage in China.
Best-selling Shanghai tour: Three-Day Essence of Shanghai Tour
Let us help you plan a personalized Shanghai tour for you or tailor make the travel arrangements for you.
Questions and Answers About Best Places to see Fall Foliage in Shanghai
thea
2014-02-23
Show Answer
Hi. Me and my husband planning our trip to shanghai on 10th OCT. i know it will be autumn, can we see beautiful autumn scenery on that day ? 10th until 15th OCT.
Hi Thea, yes, you will see those scenery then. Whitney Liao replied on 2014-02-24
chaman srivastava
2013-01-11
Show Answer
I am travelling to shanghai for the first Time in the month of April. What packing you would you suggest me and what places should one must visit to experience Chinese culture. Also please suggest a souvenir to bring back.
Dear Sir or Madam, Shanghai is a modern city,it is the future of China. You could see some traditional buildings and modern buildings, the famous ancient water town is near it. Here is an itinerary for your refernece. Please click: http://www.chinahighlights.com/tour/shanghaitour/sh-6a/ The silk is a famous product for visitors. Please click: http://www.chinahighlights.com/shanghai/shopping.htm Lussie Lu replied on 2013-01-12
Mark
2012-12-06
Show Answer
We''d like to spend about 10 days in Shanghai and nearby at beginning November 2013. We enjoy travelling by train, so wondered about trips to mountains to see the fall - and even to Xian to see the warriors if that''s possible. Any suggestions you have would be appreciated. And of course, your recommendations for Shanghai itself, especially traditional sites and sights.
Hi Mark, we are happy to arrange this tour for you. Besides those cities you mentioned, I would like to recommend Huangshan(Mount Huang) to you. The scenery there is fantastic. It is not far from Hangzhou, only about 250-300km. In order to give you an accurate quotation please help me with below the information
1. Number of people in your group including yourself
2. Starting date of the tour
3. Class of Hotel: 3 / 4 / 5 star
4. Estimative total budget per person.
After getting further information from you, we will send you a detailed itinerary.
Traditional sites and sights in Shanghai: Shanghai Old Street, Qibao Town, Dongtai Road Antique Market, Zhujiajiao Water Town, Dr. Sun Yatsen's Former Residence, Jinze Town, etc.
Whitney Liao replied on 2012-12-06
Shireen
2012-11-16
Show Answer
Hi, myself and my husband are planning to visit Shanghai probably end of Nov next year (2013), and would like to see the beautiful autumn leaves. We plan to go for 6 days tour. Would be appreciate if you could plan a tour for us. Thank you.
Dear Shireen, Thanks for your question. I see that you would like to spend 6 days in Shanghai, so I've designed a 6-day China tour with a private English-speaking tour guide and van in each city. Please click your E-mail box about this suggested itinerary and feel free contact me at nancy@chinahighlights.net any time if you have any question and request. Nancy Nancy Deng replied on 2012-11-17
Teresa Hong
2012-10-27
Show Answer
Hi, planning a trip to Shanghai on Nov 27-29, 2012. Interested to buy some silk beddings. Is the silk in Suzhou cheaper than in Shanghai silk bldg sellers? also interested to see the autumn sites. any other shanghai tour you can suggest? Thank you.
Hi Teresa Hong, Welcome to Shanghai. We always suggest our guest buy the silk products in Shanghai. Many locals shop at the Shanghai Silk Building because it has excellent quality silk. The company has branches on Huaihai Road (226 Huaihai Zhong Lu, near Huating Road) and Nanjing Road (588 East Nanjing Road). Where to buy, please clink here: http://www.chinahighlights.com/shanghai/shopping.htm Yes, we could also arrange Shanghai tour. How many people will be in your group? See more Shanghai tour here: http://www.chinahighlights.com/shanghai/tours.htm Regards, Coco Coco Yang replied on 2012-10-27
April Offer $25 Coupon
Send your inquiry before Apr. 30, 2014, and we will email you a $25 coupon.
The coupon is valid till Dec. 31, 2014, for paying tour packages worth $250 or up.
The coupon cannot be used for paying flight tickets, train tickets, hotel rooms and day trips.
Travel Advice or Question? Ask us here

China Highlights
Shanghai Travel Guide