Shenzhen Food and Restaurant
Shenzhen is a typical immigrant city. So you can find cuisines of many other cities of China here. Additionally, Thai cuisine, Vietnam cuisine, Japanese cuisine, Indonesian Cuisine and many other Western-style fast-foods are available in Shenzhen too. Besides the traditional hotels and restaurants, various theme restaurants like cafe, tea house and snack bars are also very popular.
Longzai Rice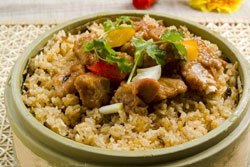 The most remarkable feature of the steamed rice lies in that the rice is permeated with the fragrance of lotus leaves. It is because the rice is steamed with the wrap of lotus leaves for quite a long time. Of course, this is just one factor of this delicious food.
Longzai rice with lotus leaves tastes like Baozai rice as they are both savory and delicious. There are many flavors of Longzai rice such as mushroom chicken, cured meat, sauced meat and seafood rice. You can choose the flavor as you like. Baozai rice usually has some crispy rice in it and it is pretty interesting to eat it with spoon. Eating Longzai rice is relatively easier. The refreshing fragrance of lotus sends forth from the rice gradually. The inspiration of creating Longzai rice comes from the traditional Cantonese food—glutinous rice chicken.
Crystal Meat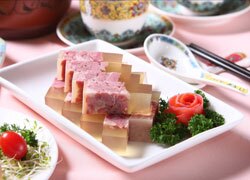 The meat looks crystal in appearance and it is a good choice to dispel the effects of alcohol. The crystal meat is made by pork without the skin, white sugar and slices of melon. You should first cook the pork thoroughly and chop it into pieces. Then, preserve the meat with white sugar for one day. After that, put some slices of melon on it and braise it thoroughly. The meat is tender, fragrant, delicious, a little fat but not greasy.
Caoke
Decoct mesona chinensis benth in water and get its liquid. Filter the sediment in the water and add some tapioca to it. Mix it thoroughly and heat it up. Then put the boiling mixture in a cask or an aluminum pot to cool. The cream after the condensation is called Caoke which looks brown and crystal with a refreshing fragrance.
Mugwort Rice
This snack is made of one kind of mugwort growing on the ridge of fields. Pound this mugwort and wrap it with the rice flour. The flavor of mugwort is sweet with special fragrance in it. Chewing it carefully, the fragrance will come into your throat and your nose. When I was young, I always went to pick up mugwort with my sister. The thing impressed me most was the mugwort growing on the coastal barrier which looked plump. The rice made by this mugwort is especially savory.

China Highlights
Planning a trip? Ask us here 800-2682918 (USA & CA)
86-773-2831999 (Int'l)
Q:
rakesh tuladhar
Asked on 2012-09-03
Reply
i am visiting shenzhen in september.i want to khow the weather and what type of clothes i should bring.can i have some indian and nepai type of restaurant in shenzhen?
Dear Rakesh Tuladhar, In September, it is hot in Shenzhen. The average temperature will be 25-30℃(77-86℉). Sometimes it will be rainy, but not heavily. You could wear T-shirts and shorts. Here are some information of Indian restaurants for reference. 1. Malay Scenery马来风光 Address: No.3085, Shennan Dong Road, Luohu District (罗湖区深南东路3085号骏庭酒店1楼) 2. Spice Circle时派圈印度餐厅(天俊大厦店) Address: No.3018, Dongmen Nan Road, Luohu District (罗湖区东门南路3018号天俊大厦群楼1楼旁) 3. Indian Meichu Restaurant印度美厨 Address: No.42, Zhenhua Road, Futian District (福田区振华路42号) Lussie Lu Replied on 2012-09-04
Q:
Deyri Yani
Asked on 2012-08-29
Reply
Hi miss, can I ask the most recommended restaurant (which is cheap and delicious) in Futian district and Luohu? And where I can find the best Longzai Rice and Crystal meat at those areas? Thank you!
Hi Deyri, here is two restaurants for you.
1. Xiaoxiao Xiangcai (Hunan Dishes) 小小湘菜馆
Add:No. 102, Fuhua Road, Futian District, Shenzhen 深圳福田区福华路102号
Tel:(0755)83039726 (0755-83039726)
2. Zhong Fa Yuan Muslim Restaurant
No.2012,Chunfeng Road,Luohu District, Shenzhen 深圳罗湖区春风路2012号
For the best Longzai Rice and Crystal meat, you can go to the supermakets to have a look. Good luck!
Whitney Liao Replied on 2012-08-30
Q:
Jessica
Asked on 2012-08-11
Reply
What isi there price for one day tour in shenzhen
one tour to Splendid China and Folk Culture Village(including night performance) and Window of the World is US$150 per person(based on 2-5 people), private English speaking guide and driver, lunch at local restaurants were included.

Leon Long Replied on 2012-08-13
Q:
Adnan
Asked on 2012-08-10
Reply
Is there halal muslim restaurant to recommend?
Dear Adnan, There are many Muslim restaurants in Shenzhen, you could check the information on our website. Please click:http://www.chinahighlights.com/shenzhen/restaurants/muslim-restaurants.htm Lussie Lu Replied on 2012-08-11
Q:
Natasha
Asked on 2012-07-24
Reply
Is there any Halal restaurant recommend?
Shenzhen Travel Guide