Lingering Garden
Accolades
The Lingering Garden is one of 9 "Classical Gardens of Suzhou" on the UNESCO World Heritage List. These 9 gardens are regarded as masterpieces of Classical Chinese garden style. The Lingering Garden also features two UNESCO Intangible World Heritages called the Pingtan and the Guqin styles of Classical music.
History
Lingering Garden (留园, Liú Yuán) was inscribed in the UNESCO World Heritage List in 1997. It is located outside the Changmen gate (阊门) of Suzhou in Jiangsu Province. It was commissioned by an official named Xu Taishi (徐泰时) in 1593. A main feature in the garden is an artificial miniature mountain called Shi Ping Peak that is modeled after Tiantai Mountain in Putao.
In 1798, another official took the garden and reconstructed it. He added pine and bamboo groves and renamed the garden Cold Green Village. He added some stone signs and made a section of the garden called Stone Forest. The Taiping War between the Qing Empire and the Taiping army damaged the garden, and in 1873, a Qing Dynasty official repaired the garden. The garden was renamed Liu Yuan in 1876.
The garden fell into shambles during WWII, but management was taken over by the government, and it was reopened to the public in 1954. In 1997, the garden was recorded by UNESCO as a World Heritage Site. It is now one of 9 gardens in Suzhou on their list.
The word "Liu" in Chinese means stay. So Liu Yuan 留园 means "stay garden." It means a garden in which to stay and relax or have leisure at. So if you want to see a garden designed for relaxation and not for fun like the Lion Grove Garden, go and shade in the green shadows of the bamboo plants and pine trees.
Features
The garden measures about 23,000 square meters or 5.6 acres. It is divided into four distinctly themed sections that are called East Garden, Central Garden, West Garden, and North Garden. The Central Garden is the oldest part, and it has buildings around a pond. The Eastern Garden has the miniature mountain called Shi Ping Peak that is modeled after Tiantai Mountain in Putao.
The garden also showcases demonstrations of two UNESCO Intangible World Heritages called Pingtan (评弹) and Guqin music. Pingtan music is a style of Classical music in which singers sing and talk. It may be performed by solo performers or by two performers. The singers may provide their own accompaniment with hand-held percussion such as clappers (板) or a drum. In some way, it is like rap music.
In contrast, Guqin music isn't primarily vocal music. It is instrumental music played on a traditional instrument called the guqin that has about 7 strings and that can be played in a variety of ways. It is like a harp or a Japanese koto (箏).
China Highlights can help you customize a tour to Suzhou with a visit to ancient gardens in the city, or just see our Suzhou Tours.
Nearby Attractions
About 500 meters or about 1/3 of a mile to the west is the Xiyuan Temple.
Transportation
Address: 338 Liu Yuan Road, Jin Chang District. 江苏省苏州市金阊区留园路338号. You can show the address to a driver.
Bus Route: You can take Tourist Bus No. 1 or 2 or take Bus No. 54, 85, or 406.
Questions and Answers About Lingering Garden
Siriwan kriengkrairut
2012-03-24
Show Answer
I have limited time to tour Suzhou. If you have to choose only one garden in Suzhou due to time constraint, which one do you recommend? Thanks.
Hi Siriwan, if you just have a little time, I recommend you to visit Humble Administrators Garden. And we provide the day tour that includes most of famous gardens, if you are interested in it, check out this link: http://www.chinahighlights.com/suzhou/day-trips/suzhou-garden-highlights.htm Mercier Zeng replied on 2012-03-26
April Offer $25 Coupon
Send your inquiry before Apr. 30, 2014, and we will email you a $25 coupon.
The coupon is valid till Dec. 31, 2014, for paying tour packages worth $250 or up.
The coupon cannot be used for paying flight tickets, train tickets, hotel rooms and day trips.
Travel Advice or Question? Ask us here
You might like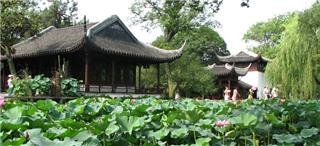 Free Things to Do in Suzhou

China Highlights
Suzhou Travel Guide