Tongli Water Town
Tongli is an aged town located a short drive from Suzhou, which is about a hour drive outside of Shanghai. Tongli is over 1000 years old and has only recently been changed into a tourist attraction. The town is characterized by stone bridges and well preserved ancient architecture including private gardens, temples and houses.
15 small river lanes crisscrossed the town, over which spans around 49 stone bridges in variety of styles. Bridges are important parts of the town. The most famous bridges among the 49 bridges in Tongli are the three bridges called Taiping (peace), Jili (luck) and Changqing (celebration) bridges, which has been important landmarks of the place and regarded as the sacred architecture by the locals. Whenever there is an important occasion, such as wedding, people would like to walk through the three bridges, which is supposed to bring peace, fortune and happiness in their lives.
Buildings well preserved from the Ming and Qing Dynasties standing by the rivers fill the town. The traditional gardens are well worth seeing. The Tuisi Garden makes a good example. The garden was constructed between 1885 and 1887 by an imperial scholar. In the garden, pavilions, terraces, halls, rockeries, ponds and other elements of the garden were harmoniously integrated together.
Questions and Answers About Tongli Water Town
Jill
2012-06-02
Show Answer
Have been told about Zhou zhaung, would we go there from Suzhou or Shanghai, or do you think Tongli would be a better choice? I am interested in the water towns only.
You can visit Zhouzhuang or Tongli from either Shanghai or Suzhou. It is said that Tongli is less commercial than Zhouzhuang. You can visit short videos about by openning the following links: Zhouzhuang: http://www.chinahighlights.com/community/video/zhouzhuang-water-town.asp Tongli: http://www.chinahighlights.com/community/video/tongli-ancient-town.asp Would you need us to provide private car/driver and guide to make your tour more memorable? For the price, you can just let me know your travel date and number of people in your group. Ruby Zhao replied on 2012-06-02
Is there a third choice? Wu Zhen is also a great option. sallyhuang1123 replied on 2012-06-03
mona
2012-05-26
Show Answer
ni hao,I want to book a hotel in tongli but there is no information about it can you help me please?and how is the weather in 1st summer?
Dear Mona, There are some guest houses or inns in Tongli. However, these guest houses and inns may not have English-speaking service and facilities are quite basic. It is suggested that you could stay at Suzhou which only 15-20 minutes drive from Tongli. According to last years' data for the weather in Huangshan, the lowest temperature is 20 degrees and the highest temperature is 27 degrees in June. As a travel agency, we are glad to arrange tours to Suzhou and Tongli for you. Please feel free contact me at nancy@chinahighlights.net if you need any tour arrangement. Nancy Nancy Deng replied on 2012-05-27
Shu Yi
2012-04-27
Show Answer
Would be in Suzhou a couple of days in late May. Was hoping to got on a day trip or a 1day 1 night trip to a nearby watertown. Would you recommend Tongli or Xitang? And how could I get to Xitang from Suzhou. Which place is more attractive. Are there accommodation in Tongli or Xitang too?
Hello Shu Yi,Tongli and Xitang is very similar but i suggest you Tongli which is closer to Suzhou. I have sent you a proposal. Please check your email. Simon Huang replied on 2012-04-27
MUHAMMAD.U.KHAN
2012-03-14
Show Answer
MEANS OF TRANSPORTATION TO VISIT TONGLI FROM SUZHOU,ANY BUS SERVBICE IF SO PLEASE GUIDE ROUT AND PLACE TO CATCH IT.
Hi,you can go there by train or by bus. It is not far from Suzhou. 1 Railway: Suzhou Railway Station, Suzhou to Tongli 2 Bus: Suzhou the North Bus Station, Suzhou to Tongli or Suzhou the South Bus Station, Suzhou to Tongli Hope you have a nice day! Peter replied on 2012-03-15
April Offer $25 Coupon
Send your inquiry before Apr. 30, 2014, and we will email you a $25 coupon.
The coupon is valid till Dec. 31, 2014, for paying tour packages worth $250 or up.
The coupon cannot be used for paying flight tickets, train tickets, hotel rooms and day trips.
Travel Advice or Question? Ask us here
You might like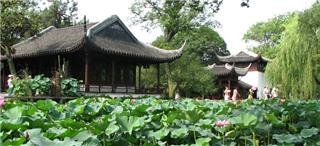 Free Things to Do in Suzhou

China Highlights
Suzhou Travel Guide