High Altitude Areas in China
China's topography is diverse, with magnificent plateaus, rolling mountains, vast plains, deep valleys and basins surrounded by mountains. The terrain is lower in the east and higher in the west. There are usually high plateaus in the East China, basins in Central China, and plains in East China.
The city with the highest altitude in China is Shigatse in Southwest Tibet, with an average altitude of 4000 meters, while the city with the lowest altitude in China is Tianjin, in North China (about 150 kilometers from China's capital city of Beijing), with an average altitude of 3.3 meters. The tallest mountain in China and also in the world is Mount Everest, at the border of China and Nepal, with a height of 8844 meters.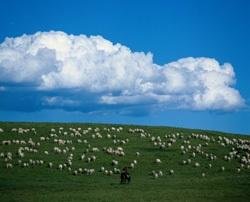 Qinghai-Tibet Plateau
The highest terrain is Qinghai-Tibet Plateau, with an average altitude of 4000-5000 meters. It is the largest plateau in China, and is the headstream of many major rivers in Asia. Most of Qinghai-Tibet Plateau is located in Southwest China, including Tibet Autonomous Region, Qinghai Province, West Sichuan Province, South Xinjiang Uygur Autonomous Region, and some parts of Gansu Province and Yunnan Province. The whole plateau also covers some areas in Bhutan, Nepal, India, Pakistan, Afghanistan, Tadzhikistan and Kyrgyzstan, with a total area of 2.5 million square kilometers, among which 2.4 million square kilometers are in China.
What is High Altitude?
High Altitude: 1500-3500 meters. Given enough time, most people can get acclimatized to this height.
Very High Altitude: 3500-5500 meters. Acclimatizing to this height depends on individuals.
Extreme High Altitude: above 5500 meters. Nobody can endure at such an altitude for a year because function of human body will decline seriously. Even Tibetan people and Sherpa usually live in areas below 5500 meters.
More information and tips on traveling in high-altitude areas.
Famous Tourist Destinations/Attractions at High Altitudes
Shigatse 4000 m (4374 yd)
Lhasa 3658 m (4000 yd)
Huanglong 3558 m (3891 yd)
Shangri-La 3280 m (3587 yd)
Qinghai Lake 3260 m (3565 yd)
Jiuzhaigou 3100 m (3390 yd)
Golmud 2808 m (3071 yd)
Xining 2261 m (2474 yd)
Click the map for a larger version
Related Links

China Highlights
Questions and Answers About High Altitude Areas in China
April Offer $25 Coupon
Send your inquiry before Apr. 30, 2014, and we will email you a $25 coupon.
The coupon is valid till Dec. 31, 2014, for paying tour packages worth $250 or up.
The coupon cannot be used for paying flight tickets, train tickets, hotel rooms and day trips.
Travel Advice or Question? Ask us here