Beijing Subway Map
Our Beijing Subway map is diagrammatic, showing Beijing's 14 subway lines, with lines color-coded and station names in English and Chinese characters. See Beijing Subway for more information.
Click the map to enlarge it.
The Latest Beijing Subway Map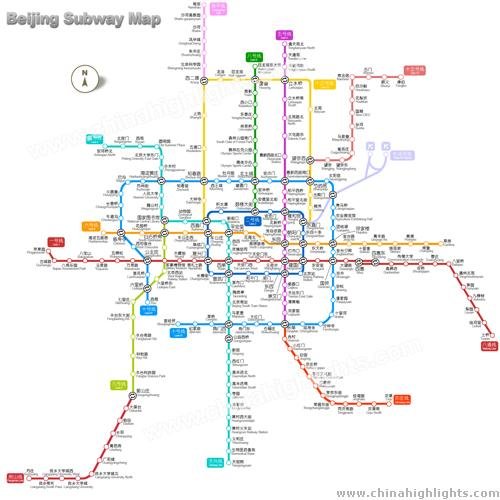 China Highlights
Planning a trip? Ask us here 800-2682918 (USA & CA)
86-773-2831999 (Int'l)
Q:
Les Hammond
Asked on 2013-01-02
Reply
Exactly how old is this "Latest Map" Is line 8 open to the Birdsnest from line 10?
I checked the latest Beijing subway map, the main change is the Line 8 has extended to end at Huilong Guangdong Dajie. So you still could get on Line 10, then connect Line 8 to Birdsnest. Karen
Karen Yang Replied on 2013-01-04
Q:
Unuuu
Asked on 2012-11-27
Reply
how to go Shoudu jichang by metro
Dear Sir or Madam, There is no metro getting to the airport. You could take Line 2 subway to Dongzhimen station(东直门站), then take airport express to the airport. It costs about CNY25/US$4 per person. Please click this link to realize the airport express: http://en.bcia.com.cn/traffic/express/index.shtml Lussie Lu Replied on 2012-11-29
Q:
Catherine
Asked on 2012-11-06
Reply
Hi, im heading to Beijing on 15th November and staying at Wanfujing street. I would like to plan for a day trip to Zhongshan Park to see tulips, then Summer palace and also to Yashow Market.. Can you advise on the transport route.Thanks
Hi Catherine,I'm deadly sorry for missing your last information. It is CNY990 for 2 persons, including entrance fees, lunch, English speaking tour guide, driver and car. Whitney Liao Replied on 2012-11-21
Hi Catherine, we can arrange a private car and English speaking tour guide for you, to cover all these places. Just let me know the number of people in your group, okay?
Whitney Liao Replied on 2012-11-07

how much? total 2 pax guest Replied on 2012-11-07
Q:
Pamela
Asked on 2012-11-02
Reply
I am staying at pentahotel Beijing3-18 Chongwenmenwai Street, Dongcheng District, Beijing 100062 China.How can I get to the Beijing North station (or nearest station) from my hotel and what is the best way to get there? I want to catch a 612am train to Badaling.Also, from my hotel, what subway line should I catch to the following locations and what times of day is best to travel to these places by subway?:Beijing ZooTianenmen SquareForbidden CityDonghuamen snack streetSilk Alley
Q:
Han
Asked on 2012-11-02
Reply
i arrived beijing at 1.30am. what''s the best way to get to cuandixia?
Hi Han, Cuandixia is about 130km from the airport, 3hrs by taxi. It is not suggested that going there in mid night. You can stay one night in Beijing, then go there the next day.
Whitney Liao Replied on 2012-11-03
Beijing Travel Guide