Beijing Subway Map
Our Beijing Subway map is diagrammatic, showing Beijing's 14 subway lines, with lines color-coded and station names in English and Chinese characters. See Beijing Subway for more information.
Click the map to enlarge it.
The Latest Beijing Subway Map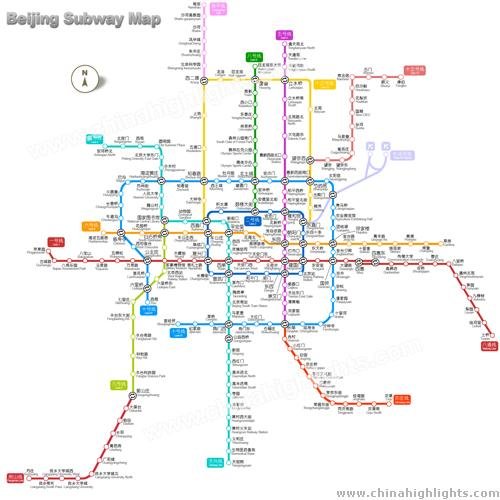 Questions and Answers About Beijing Subway Map
ary
2013-10-07
Show Answer
hello, we are group of 7 people, we will depart from shanghai by train next january. can you arrange accomodation (3br apartment) and city tour (great wall, temple of heaven, summer palace, olympic stadium, forbidden city shopping yaxiu silkmarket) ?
We are happy to help you plan tours in Beijing. For the train ticket, may I know the date so that we can check if it is the spring period?
The ticket is not 100% guaranteed if your departure date is during spring period, Jan 16-Feb 24.
Carol Wang replied on 2013-10-08
We can try our best if reservations are made early.
Carol Wang replied on 2013-10-08
we plan to depart from shanghai by train to beijing 7 jan 2014 can you send us the itinerary and budget cost? do you provide tou guide during our city tour? guest replied on 2013-10-08
denise patarello
2013-09-19
Show Answer
we are going on a cruise out of Tianjin and landing in Beijing several days ahead on 10/4 . Or cruise is on 10/7 and leaves from Tianjin. I found Holiday Inn Central Plaza. Is that a good choice for Beijing? I need a recommendation near the cruise dock in Tianjin. Thanks.
Hi,
Holiday Inn Central Plaza is located in Guanganmen commercial and civic area. It is about 10 minutes drive away from Forbidden City. The feedback point from our formers guests is 4.62/5. If you need, I would like to book this hotel for you.
Do you also need a hotel stay in Tianjin? From our usual experience, the ship always departs at afternoon and we could arrange the transfer from Beijing to Tianjin port. It is not necessary to stay one night in Tianjin.
You will have about 3 days in Beijing. If you need, I would like to arrange a Beijing tour for you to see the Forbidden City, Great Wall, Summer Palace, Temple of Heaven or other attractions.
If anything, jsut let me know.
Regards,
Coco
Coco Yang replied on 2013-09-19
Les Hammond
2013-01-02
Show Answer
Exactly how old is this "Latest Map" Is line 8 open to the Birdsnest from line 10?
I checked the latest Beijing subway map, the main change is the Line 8 has extended to end at Huilong Guangdong Dajie. So you still could get on Line 10, then connect Line 8 to Birdsnest. Karen
Karen Yang replied on 2013-01-04

China Highlights
Beijing Travel Guide