Beijing Subway
Beijing was the first Chinese city to be equipped with a subway, in 1969.
Beijing now has 15 subway lines (Lines 6, 7, 8, 9, 10, 14 and 15 are still under construction, and Lines 8, 10 and 15 have fully opened their first sections) and one Airport Express Line, which cover most areas of central Beijing and some outlying areas, and makes transportation in Beijing much more convenient.
Taking the subway is definitely the fastest transportation in Beijing, because passengers can avoid the frequent traffic jams on the surface.
Subway Prices
The price for the subway is 2 yuan for a journey on one line, except for the Airport Express whose price is 25 yuan. Passengers also can pay by Transportation Smart Card, which also costs 2 yuan per journey. Tickets are issued for one-day use only.
Taking the subway is a very cheap way to travel around Beijing. See how to see Beijing's top attractions by subway?

subway logo
Subway Access
Exits: Generally speaking, each subway stop has four exits in four directions. Passengers should choose the most convenient exit, to avoid crossing roads on the surface, by reading the signage at the crossings of passageways.
Subway logo: The Beijing subway logo, located at subway access poits, is a white 'G' with a 'B' inside it on a square blue background. Pickpockets
Take good care of your personal things because there might be thieves operating, especially in crowded carriages have on rush hours.
The Timetable of Beijing Subways
| Line | Stops |
| --- | --- |
| Line 1 | Pingguoyuan–Guchenglu–Bajiao Amusement Park–Babaoshan–Yuquanlu–Wukesong–Wanshoulu–Gongzhufen–Military Museum–Muxidi–Nanlishilu–Fuxingmen–Xidan–Tian'anmen West–Tian'anmen East–Wangfujing–Dongdan–Jianguomen–Yong'anli–Guomao–Dawanglu–Sihui–Sihui Dong |
| Line 2 (Circle Line) | Xizhimen–Chegongzhuang–Fuchengmen–Fuxingmen–Changchunjie–Xuanwumen–Hepingmen–Qianmen–Chongwenmen–Beijing Railway Station–Jianguomen–Chaoyangmen–Dongsishitiao–Dongzhimen–Yonghegong (Yonghe Lama Temple)–Andingmen–Gulou Dajie (Drum Tower Street)–Jishuitan |
| Line 4 | Gongyixiqiao–Jiaomenxi–Majiabu–Beijing South Railway Station–Taoranting–Caishikou–Xuanwumen–Xidan–Lingjinghutong–Xisi–Ping'anli–Xijiekou–Xizhimen–Beijing Zoo–National Library–Weigongcun–Renmin University–Haidian Huangzhuang–Zhongguancun– East Gate of Beijing University–Yuanmingyuan (the Summer Palace)–Xiyuan–Beigongmen Anheqiao North |
| Line 5 | Tiantongyuan North–Tiantongyuan–Tiantongyuan South–Lishuiqiao–Lishuiqiao South–Beiyuanlu North–Datunlu East–Huixinxijie Beikou–Huixinxijie Nankou–Hepingxiqiao–Hepingli Beijie–Yonghegong (Yonghe Lama Temple)–Beixinqiao–Zhangzizhonglu–Dongsi–Dengshikou–Dongdan–Chongwenmen–Ciqikou–Temple of Heaven (east entrance)–Puhuangyu–Liujiayao–Songjiazhuang |
| Line 6 | Caofang–Changying–Huangqu–Dalianpo–Qiannian Road–Shilibao–Jintai Road–Hujialou–Dongdaqiao–Chaoyangmen–Dongxi–Nanluoguxiang (Nanluogu Lane)–Beihai North–Ping'anli–Chegongzhuang–Chegongzhuang West–Baishiqiao South–Huayuanqiao–Cishousi–Haidian Wuluju |
| Line 8 | Huilongguan East Street–Huoying–Xixiaokou–Yongtaizhuang–Lincuiqiao–South Gate of Forest Park–Olympic Park–Olympic Sports Center Stadium–Beitucheng–Anhuaqiao–Guloudajie (Drum Tower Street) |
| Line 9 | National Library–Baishiqiao South–Baiduizi–Beijing West Railway Station–Liuliqiao East–Liuliqiao–Qilizhuang–Fengtai Dongdajie–Fengtainanlu–Keyilu–Fengtai Science Park–Guogongzhuang |
| Line 10 | Xiju–Liuliqiao–Lianhuaqiao–Gongzhufen–Xidiaoyutai–Cishousi–Chedaogou–Changchunqiao–Huoqiying–Bagou–Suzhoujie–Haidian Huangzhuang–Zhichunli–Zhichunlu–Xitucheng–Mudanyuan–Jiandemen–Beitucheng–Anzhenmen–Huixin Xijie Nankou–Shaoyaoju–Taiyanggong–Sanyuanqiao–Liangmaqiao–Agriculture Exhibition Center–Tuanjiehu–Hujialou–Jintaixizhao–Guomao–Shuangjing–Jinsong–Panjiayuan–Shilihe–Fenzhongsi–Chengshousi–Songjiazhuang–Shiliuzhuang–Dahongmen–Jiaomen East–Jiaomen West–Caoqiao–Jijiamiao–Shoujingmao |
| Line 13 | Xizhimen–Dazhongsi–Zhichunlu–Wudaokou–Shangdi–Xierqi–Longze–Huilongguan–Huoying–Lishuiqiao–Beiyuan–Wangjingxi–Shaoyaoju–Guangximen–Liufang–Dongzhimen |
| Line 15 | Fengbo–Shunyi–Shimen–Nanfaxin–Houshayu–Hualikan–Guozhan–Sunhe–Maquanying–Cuigezhuang–Wangjing–Wangjing West |
| Batong Line | Sihui–Sihui East–Gaobidian–Communication University of China–Shuangqiao–Guanzhuang–Bali Qiao–Tongzhoubeiyuan–Guoyuan–Jiuke Shu–Liyuan–Linheli–Tuqiao |
| Changping Line | Nanshao–Shahe University Park–Shahe–Gonghua Cheng–Zhuxinzhuang–Life Science Park–Xierqi |
| Daxing Line | Gongyixiqiao–Xingong–Xihongmen–Gaomidian North–Gaomidian South–Zaoyuan–Qingyuanlu–Huangcunxi Dajie–Huangcun Train Station–Yihezhuang–Biopharmaceutical Industrial Bas–Tiangongyuan |
| Fangshan Line | Guogongzhuang–Dabaotai–Daotian–Changyang–Libafang–Guangyang Cheng–Liangxiang University Town North–Liangxiang University Town–Liangxiang University Town West–Liangxiang Nanguan–Suzhuang |
| Yizhuang Line | Songjiazhuang–Xiaocun–Xiaohongmen–Jiugong–Yizhuangqiao–Yizhuang Cultural Park–Wanyuan Jie–Rongjing Dongjie–Rongchang Dongjie–Tongji Nanjie–Jinghailu–Ciqu South–Ciqu |
| Airport Express | T3-T2-Sanyuanqiao-Dongzhimen |
Beijing Subway Map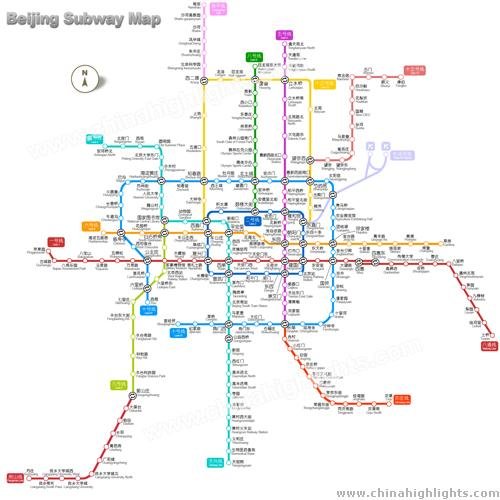 Questions and Answers About Beijing Subway
saad
2014-04-14
Show Answer
How do go from Beijing Institute of Technilogy main campus in Beijing to OX Street muslim community by bus or my tube or by train please. And what kind of travel card or weekly card or monthly card would be pheasible and cheaper? tube or bus? Thank you.
Dear Sir or Madam, I am sorry I don't know the places you mentioned, so couldn't give you any information. Lussie Lu replied on 2014-04-15
Wendy
2014-01-26
Show Answer
Hello, arriving in Beijing on 19th April and would like to know the most cost effective way from the airport to the Hotel Home Inn on Beiwei Road Beijing
Hi Wendy, I suggest that you take a taxi. Whitney Liao replied on 2014-01-27
Kim
2013-06-23
Show Answer
hello, what is the least costly way to go from Beijing airport to miyun Beijing at the shihao intentional hotel?
Dear Kim, There is no direct bus from the airport to the hotel. You need to take No.850 bus (850路快)from Gangshancun south stop(岗山村南路) which is about 200 meters from the airport. Then get off at Shanzifen stop, and change to No.89 bus(郊89路)to Huayuan Market(华远市场站) which is about 300 meters from your hotel. The total cost is less than CNY22/US$3.6 per person. If you would like to take a taxi to get there, it costs CNY200/US$33 per car at least. Lussie Lu replied on 2013-06-24
Tom Murphy
2013-04-09
Show Answer
Arriving in Beijing on 4/17........I want to take the subway to our hotel.Can you tell me how I would get from the PEK airport to the Shangri-La Hotel,29 Zizhuyaun Road, Haiden Dirstrict, Beijing?
Dear Tom, There is no subway from the airport to the hotel. You could take Line 4 shuttle bus to Zizhu bridge station(紫竹桥站) where is about 400 meters from the hotel. Then you could take a taxi to get to the hotel. It costs about CNY16/US$2.6 per person by the shuttle bus. Please click here to realize the details: http://en.bcia.com.cn/traffic/airbus/index.shtml Lussie Lu replied on 2013-04-09
voradeepak
2011-11-26
Show Answer
how do I go from Beijing airport to miyun [beijing shihao international
Dear Voradeepak, It is about 67 km from the airport to the hotel. I am not sure if there is a suitable bus to take. I suggest you ask the staff of the airport. They will tell you how to take a bus to get there. Lussie Lu replied on 2011-11-26
April Offer $25 Coupon
Send your inquiry before Apr. 30, 2014, and we will email you a $25 coupon.
The coupon is valid till Dec. 31, 2014, for paying tour packages worth $250 or up.
The coupon cannot be used for paying flight tickets, train tickets, hotel rooms and day trips.
Travel Advice or Question? Ask us here

China Highlights
Beijing Travel Guide