Wangfujing Shopping Street
Wangfujing is one of the most famous shopping streets, not only in Beijing but in all of China.
It is anchored by large upscale shopping malls at each end of the pedestrian mall. The street is a shopper's paradise, filled with shops selling paintings and traditional Chinese arts and crafts, trendy boutiques and upscale chain stores as well as restaurants serving everything from McDonald's cuisine to Peking Duck.
Take time to wander through Beijing Department Store, at one time a dowdy place to shop by foreign standards but popular with middle-class Chinese of decades past. Renovated in recent years, Beijing Department Store is now trendy and upscale, rivaling almost anything you'll find in Manhattan. Still displaying a wide variety of merchandise, the store remains ever popular with Chinese shoppers.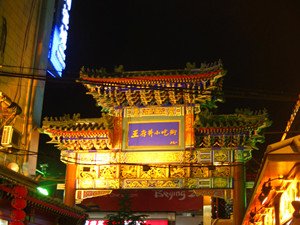 The Snack Street in Wangfujing Shopping Area
Just up the street from the Beijing Department Store is another Wangfujing landmark: the Foreign Languages Bookstore. The store sells books, art supplies, videos and CDs on several floors, but the street level is the place to buy coffee table books about China in a variety of languages as well as cookbooks and books to help you learn the Chinese language.
Always Something Going On
The pedestrian mall is a beehive of activity, especially during the warm months when sidewalk cafes flourish. Exhibitions frequently take place in the center, especially in front of Beijing Department Store. Toward the northern end of the mall is a large bronze statue of an old-fashioned Chinese man pulling an empty rickshaw. People line up to climb into the rickshaw to have their pictures taken by family and friends.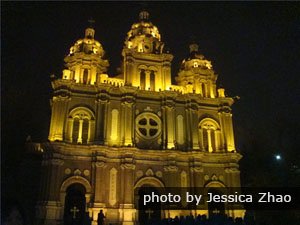 The huge St.Joseph's Cathedral
At the northern end of the pedestrian mall is the huge St. Joseph's Cathedral, a Catholic church that was built several centuries ago by Portuguese Jesuits. The cathedral itself is open only for Masses, but its courtyard makes a pleasant place to sit and relax after the hustle and bustle of walking up the mall. Chinese couples, wearing traditional Western wedding clothes, flock here on Sundays to have their wedding pictures taken.
The north end of the pedestrian mall heats up in late afternoon and evening for the night food market. Dozens of food stands sell everything from fried scorpion and snake kebobs to the less exotic pork and chicken kebobs, dumplings (pot stickers) fruit and congees (bean puddings). Wandering from stand to stand, it's possible to put together a fun and inexpensive meal.
The Line 1 subway stops at the south end of Wangfujing Street.
Questions and Answers About Wangfujing Shopping Street
jb
2013-01-22
Show Answer
Does Beijing have a wedding street? I am coming next week and would like to such for mine and my bridesmaids dresses
Hi Jb, what kind of street you are interested in? I recommend the Hutong to you. It is amazing and romantic. You can have a try.
Whitney Liao replied on 2013-01-23
amy
2012-04-17
Show Answer
My sister and I are planning a trip to Beijing this May.Are there accommodations in private homes, with : 1. ensuite/personal use bathrooms2. near a subway station3. Non-smoking?
Sorry i do not whether there is family at Beijing would rent their rooms for visitors. You would try to stay at some apartment service (bedroom +living room +bath room) or experience the traditional courtyard accommodation. http://www.chinahighlights.com/hotel/beijing-hotels/free-town-apartment-hotel-of-beijing.htm http://www.chinahighlights.com/hotel/beijing-hotels/beijing-soluxe-courtyard-hotel.htm Karen Yang replied on 2012-04-18
April Offer $25 Coupon
Send your inquiry before Apr. 30, 2014, and we will email you a $25 coupon.
The coupon is valid till Dec. 31, 2014, for paying tour packages worth $250 or up.
The coupon cannot be used for paying flight tickets, train tickets, hotel rooms and day trips.
Travel Advice or Question? Ask us here

China Highlights
Beijing Travel Guide