Chengdu Facts
Name: Chengdu (成都; Chéngdū (/chung-dew/)
Meaning: 'become a capital city'
Previous names: Daxu, Daxi
Features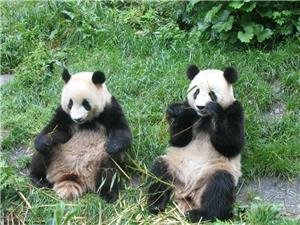 Two pandas in Bifengxia Giant Panda Base
Leisurely life pace and many parks and tea houses make it one of China's most livable megacities.
An emerging city for international investment in western China.
Home of Giant Pandas
Main Attractions
Ancient: Wenshu Monastery, Du Fu Thatched Cottage, Dujiangyan Irrigation Project, Jinsha Ruins, Jinli Old Street, Wu Hou Temple, Wide and Narrow Alleys, Lizhuang Ancient Town, Wangjiang Pavilion Park, Qingyang Palace
Amusement: Chengdu Happy Valley, Chengdu Zoo
Performance: Magical Face Change of Sichuan Opera
Hiking and Natural: Qingcheng Mountain, Emei Mountain
History
A growing industrial city in the southwest of China.
3000 BC: Just north of Chengdu, an unknown Bronze-age people constructed Sanxingdui and Jinsha
316 BC: The Qin Empire conquered the area
221 AD: The famous Liu Bei captured the city. It became the base for his empire in the Three Kingdoms era
1241: The Mongols captured Chengdu from the Song Empire
1949: The Communists captured the city from the Nationalist government
Geography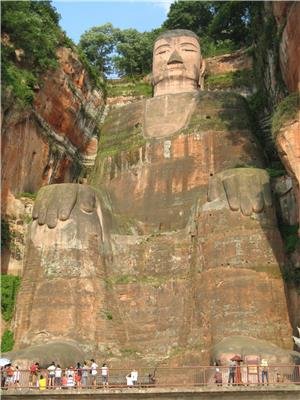 The Giant Buddha in Leshan
Significance of city: It is the second largest city in the western part of China and one of the cities in China with the most potential for international investment in the 2010s
Municipality terrain: plain with rivers
Average altitude: 500 m (1,640 feet)
Main rivers: Jin River and Funan River
Location Information
Municipality location: 30.47N to 31.01N, 103.42 to 104.35E; southwestern China.
Municipality Population: (2010) 14,000,000
Municipality Area: 12,132 sq km (4,684.2 sq mi)
Metro area: 1,617 sq km (624.3 sq mi)
Metro population: 6,730,749
Metro population density: 4,162/sq km (10,781/sq mi)
North to south distance: 166 km (103 mi)
East to west distance: 192 km (119 mi)
City center: Tianfu Square (30.65N, 104.06E)
Climate
Highest recorded temperature: 40.0 °C (104 °F)
Lowest recorded temperature: -5.9 °C (21 °F)
Humid subtropical, annual precipitation: 918 mm (36 in)
The climate is milder than in the large cities in central China and Chongqing.
Economy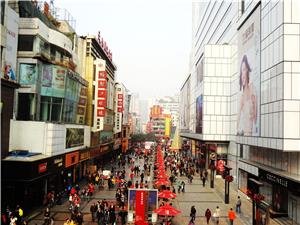 Chunxi Road
Average GDP (nominal): (2010) 43,417 RMB (6,442 USD)
Development: developing; fast growing
Industry: 50% tertiary industry (services), 45% secondary (automobile, electronics, construction), 5% primary (agriculture)
CBD: 30.65N, 104.06E
Shopping Streets: Chunxi Road
Transportation
Chendu Shuangliu International Airport served 25 million customers in 2010. It is China's sixth largest airport and important air transportation hub in western China.
1 north-south subway line with stations
2 main ring roads
4 train stations
1 high speed rail line to Dujiangyan
Questions and Answers About Chengdu Facts
Sushma Pillay
2013-12-11
Show Answer
I''m visiting. Chengdu for 3days in December. Are there any day tours available?
Hi Sushma, yes, we have several day tours in Chengdu. Which date can you do the tour and how many persons are there in your group? i am glad to send you a proposal when i have this information. Simon Huang replied on 2013-12-11
Dear Simon I have just one whole day in Chengdu which is Tuesday, 24th December. I wanted to do a day tour to Panda base and Leshan Buddha. I noticed this tour is available only on Sundays. Is there any suggestions you may have? Regards Sushma guest replied on 2013-12-12
Hi Sushma, yes, we can still arrange the tour for you on 24th. But the time doesn't permit visit to both Panda Base and Leshan Buddha. We can choose only of them. It is USD210 for tour to Panda Base and USD403 for tour to Leshan Buddha. Which option do you prefer? guest replied on 2013-12-12
L jones
2013-11-16
Show Answer
How do I book to see the pandas and hold one, how much does it cost, I am a single traveller
Hi L jones,
We can arrange a one day panda tour for you. You can clear panda's house, feed them with fresh fruits and bamboo. In the panda center, if you denote CNY1300 for panda, you can hold panda baby for few seconds. The program is subject to change without notice and is totally dependent on the program of the day at the Panda Base. We can not guarantee that the programs listed above will be all provided.
I have emailed you the detail itinerary, please check it when you are free.
Christy Luo replied on 2013-11-16
April Offer $25 Coupon
Send your inquiry before Apr. 30, 2014, and we will email you a $25 coupon.
The coupon is valid till Dec. 31, 2014, for paying tour packages worth $250 or up.
The coupon cannot be used for paying flight tickets, train tickets, hotel rooms and day trips.
Travel Advice or Question? Ask us here

China Highlights
Chengdu Travel Guide