Jiuzhaigou Weather in January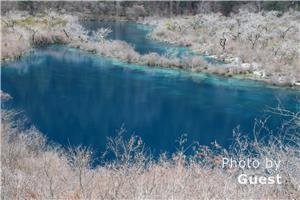 Weather: January is quite cold. Average daily low and high temperatures are a chilly -6 °C (21 °F) and 7 °C (45 °F). There is about 8 mm of total snow each January, and it snows on about 5 days of the month. You'll be more comfortable on sunny days when the temperature increases to 7 °C or 8 °C (47 °F). The freezing weather closes several mountain passes. See the current weather and forecast>>
Clothing: Pay special attention to protecting yourself against the cold. Wear sweaters and trousers with a thick overcoat or down clothing when going outside. The scenery is usually snowy, so remember to bring a pair of snow glasses to protect your eyes and shoes with good traction.
Altitude Sickness: Most visitors suffer from it. Jiuzhaigou Airport is at 3,500 meters altitude. The area of the park that most tourists visit lies between 2,000 meters (6,561 feet) at the entrance to about 3,000 meters (9,800 feet). This is quite high. Most people will get altitude sickness the first day or two. Most people find that the low temperatures and high altitudes make a long walk difficult. The altitude sickness varies from person to person, so it is suggested that you consult your doctor. Visitors with heart disease and high blood pressure should take precautions when traveling there.
Things to Do
Chinese New Year is the biggest Chinese holiday season, and most people get about a week off. Chinese New Year usually falls in February, though in a third of the years, it falls in January.
Large crowds come to the valleys then. People come with their family and friends, celebrate with special food at the hotels and restaurants, and they set off fireworks, particularly at midnight of the eve. It is the equivalent of the Christmas and New Year's holidays in the West.
You might want to avoid the crowds at Jiuzhaigou during the Spring Festival holidays and see the winter scenery on other days. But if you go to the region during the holidays, you might have fun with fireworks, enjoy the holiday food, buy souvenirs, and experience the customs.
Nuorilang Waterfall: The waterfall is in Shuzheng Valley. It is considered the most beautiful waterfall in Jiuzhaigou, and it is the widest waterfall (300 meters wide). It is located in the center of Shuzheng Valley and is regarded as a symbol of Jiuzhaigou. In winter it is a spectacular frozen waterfall that hangs on the rocks.
Shuzheng Valley is the lowest valley of the three main valleys. It is the valley where the entrance to the park is. There are many plank walkways to walk on. You can take these to see the frozen ponds. But be careful lest you slip!
Low Season
January is in the middle of low season for visitors. The snow is quite charming this month, but the leaves are off most of the trees except the evergreens.
Due to the cold weather, tickets to scenic spots are cheap. Many areas like Huanglong and other valleys are considered too cold for visitors and access may be difficult. Check hotel rooms carefully since hot water supply is limited, or let us arrange accommodation for you.
If Chinese New Year falls in the month, expect large numbers of visitors at the airports, hotels, and the main sites during the Spring Festival period. Expect higher rates for hotel rooms and greater difficulty reserving flight and train tickets. Book in advance, and we'll can help you get discounted rooms and tickets.
China Highlights Tours
China Highlights offers several Jiuzhaigou tour packages. Some of them are tours combining a tour of Jiuzhaigou with other major regional attractions such as a Yangtze River cruise. We can tailor-make a tour to suit your needs. Change it to suit! About 90% of our clients tailor their trip to suit their price & interests!
Further Reading
Jiuzhaigou Climate Information by Month
Questions and Answers About Jiuzhaigou Weather in January
April Offer $25 Coupon
Send your inquiry before Apr. 30, 2014, and we will email you a $25 coupon.
The coupon is valid till Dec. 31, 2014, for paying tour packages worth $250 or up.
The coupon cannot be used for paying flight tickets, train tickets, hotel rooms and day trips.
Travel Advice or Question? Ask us here

China Highlights