Jiuzhaigou Weather in October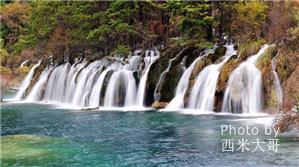 Weather: The weather cools down a lot. Average daily low and high temperatures are 7 °C (45 °F) and 17 °C (63 °F) in October. There is about 49 millimeters of total rainfall each October, and precipitation falls on about half of the days of the month. The soil freezes during the last ten days of the month, and some of the peaks are covered with snow. See the current weather and forecast>>
Though Huanglong Valley that is another popular park valley is only about 50 kilometers away in a straight line, it is about a kilometer higher in altitude. By this time of year, it rains or snows about 19 days of the year, and there is about 70 mm (2.7 inches) of precipitation. There is usually snow cover by the end of October, and the leaves fall off the trees. Temperatures range between -4 °C (25 °F) at night and a cool 8°C (46 °F) during the day.
Clothing: Most of the time, clothing suitable for autumn and an overcoat are sufficient. Take rain gear and wear shoes with good traction on a rainy day.
Altitude Sickness: You'll probably experience it during an extended stay because most of the park lies between 2,000 meters (6,561 feet) and 3,000 meters (9,800 feet). The airport is unusually high elevation at 3,500 meters. Take precautions if you have high blood pressure, heart disease or other medical issues. Walk downhill instead of uphill to avoid overexertion.
Things to Do
The optimal time for beautiful scenery is the tourist high season from early September to early November. This is the time that the trees are colored with beautiful leaves. In October, there are the week long October 1 National Day holidays, and sometimes the Mid-Autumn Festival is in early October. During these holiday dates, more than 20,000 or 30,000 people a day try to crowd inside.
Mid-Autumn Festival: It is the second biggest holiday season in China. It is sort of like Thanksgiving in America. Moon cakes featuring the fruits and nuts of the season are the favorite festival food, and families gather together for reunions. If you arrive around the Chinese Mid-Autumn Festival, you can enjoy the moon cakes and special beverages in high altitude scenery. The harvest moon in a clear sky might brighten up the mountain scenery with silvery shimmers. We can tailor-make a tour to suit your needs.
Hike in Rize Valley: Jiuzhaigou is picturesque in autumn when the mountains, valleys, and lakes are shrouded in autumn colors. The grand vistas of yellow, red, and green are mixed with the blue and green hues of the ponds to create wonderful autumn scenes for hiking.
Rize Valley is a good place to see fall colors in China. It is an upper altitude valley above 2,300 meters that is about 18 kilometers (11 miles) long. There is a variety of scenery and colorful carbonate pools. You can hike down to Nourilang Falls at an elevation of 2,300 meters or 7,700 feet. It is one of Jiuzhaigou's main attractions.
Enjoy Huanglong Valley: It is a major park nearby that is a UNESCO Heritage site and a nature preserve, and it is about 4 hours away. It is less visited than Jiuzhaigou. Since there are no park buses, you can walk and enjoy the hundreds of multicolored ponds such as Mirror Ponds if you are in good shape. Oxygen is available at the top if you need it. Wear shoes with good traction and gloves during your walk.
High Tourist Season
October is high tourist travel month, so hotel room rates are at their highest. The prices for flight and train tickets are higher also. October 1 to 7 is the National Day holiday in China. Avoid visiting during this period, or place your bookings well in advance and expect crowded transportation and tourist attractions. For a third of the years, the Mid-Autumn Festival also falls in October.
We can book rooms and tickets for you at a discount compared to if you tried to arrange these yourself. It is a waste of your time to stand in line in crowded train or bus stations waiting for a possible ticket. Since many hotel rooms in the area don't have hot water, so let us book your accommodations for you and check on the quality ourselves.
China Highlights Tours
We offer a Jiuzhaigou combo package tour of Jiuzhaigou and regional attractions such as a relaxing Yangtze River tour. Following a mountain hike in Jiuzhaigou or Huanglong, you can relax in the sun on a Yangtze cruise ship.
Our 3-day Jiuzhaigou Tour will allow you to enjoy Jiuzhaigou and nearby Huanglong Valley. We'll help you select the best hotels in the area and create a tour to your specifications.
Further Reading
Jiuzhaigou Climate Information by Month
Questions and Answers About Jiuzhaigou Weather in October
Evelyn
2013-11-25
Show Answer
Hi, I plan my trip to Jiu Zhai Gou on 19~24 Oct 2014, we like to see the yellow & red leaves sceneryin autumn as we come from tropical country. Is it good time? What was the weather in Jiu Zhai Gou in october this year? TThank you.
Dear Evelyn,
Jiuzhaigou is one of the top places to experience autumn in China. October is a very good time to visit there. Weather in October is about 7 ° C (44.6 ° F) to 20 ° C (68 ° F). We can book hotels and flights if you need. Could you please tell me how many people in your group?
Christy Luo replied on 2013-11-25
Dana
2013-10-08
Show Answer
Hi, we will be there 13-16 Oct. Have any of the leaves started turning colours yet (eg. Red, yellow)...or does this happen much later in the month?
Hi Dana, very few will turn colours during this period. end of October or November will be good.
Simon Huang replied on 2013-10-09
Ru Qiong
2013-09-24
Show Answer
We will go to Ziuzhaigou from 9 to 12 October. What''s about the temperature at that time? The leaves turns yellow and red yet?
Dear Ru,
The temperature is around 12℃ during that time. Most of leaves are not turn yellow and red.
Nancy

Nancy Deng replied on 2013-09-24
grace
2013-09-09
Show Answer
normally winter start end of oct or mid of nov? becz i''m going to jiuzhaigou on 26 oct,scare the huanglong will close...
In China winter come in November. In Jiuzhaigou/Huanglong area it may come earlier due to high altitude there. The main factor is snow, but it is hard to predict if it will snow there in your travelling time, as you know weather condition is always out of anyone's control. I suggest you check the weather condition about 1 week before through following web site.
http://www.weather.com.cn/english/
Carol Wang replied on 2013-09-09
kj
2013-08-26
Show Answer
Hi, I am planning for a week tour from Oct 20. Will it snow? I am worried that my hotel and flight booking will go to waste if it snows.
Dear Kj,
Thanks for your question. According to last year's data, there is no snow during that time. But it is hard to say this year. Hope you will have good luck with having a nice weather.
Nancy

Nancy Deng replied on 2013-08-26
Tks Nancy. If it snows, will the place or hotel be closed? Or will the place still be open to visitors? guest replied on 2013-08-26
Hi Kj, The Jiuzhaigou Valley Scenic and Historic Interest Area will not closed unless there is a heave snow, but Huanglong Scenic and Historic Interest Area may close it is snow. As for hotels, it depends on which hotel you stay. It is suggested that you contact with your hotel directly. Nancy Nancy Deng replied on 2013-08-26
April Offer $25 Coupon
Send your inquiry before Apr. 30, 2014, and we will email you a $25 coupon.
The coupon is valid till Dec. 31, 2014, for paying tour packages worth $250 or up.
The coupon cannot be used for paying flight tickets, train tickets, hotel rooms and day trips.
Travel Advice or Question? Ask us here

China Highlights